Check Out This Week's Episode of Monger!

Episode 039 – Podcast Tasting Special…Bom Petisco
Join Monger's first New Product Tasting special as we try out Bom Petisco and Bon Appetit imported tinned seafood.  Joined by Washington DC sales rep, James Ford and Orlando sales administrator, Kira Evans, we taste tinned Tuna in Curry Sauce, Tuna in Olive Oil and Oregano, Sardines in Hot Tomato Sauce and Stuffed Squid.  All from Portugal and Spain, available now at Samuels along with Giuseppe's Market.
Episode 038 – From Sushi to Sizzle with David Valleau
Meet David Valleau, VP of Sales for Blue Ocean Mariculture. Before working with one of our favorite fish, Hawaiian Kanpachi, David has seafood accomplishments on both the east and west coast.  From working for some of the country's most influential seafood companies to helping Tuna fisheries become Marine Stewardship Council certified.  This week, David discusses why he is so inspired to be with Blue Ocean Mariculture and what makes Hawaiian Kanpachi such an excellent fish.
Check out their Instagram @HawaiianKanpachi and online at bofish.com
Episode 037 – Raising the Bar with the Garces Group
The Garces Group is one of Philly's most well-known and favorite restaurant groups. You may have eaten at Amada, Volver, The Olde Bar or one of their many locations in Philly, Atlantic City or New York. Today on Monger, we sit down with chefs Nate Johnson and Brooks Tanner as they speak with us about surviving in today's culinary climate while always raising the bar and inspiring each other.
Check them out on social media @garcesgroup, @garcesevents and @garcesfoundation. You can learn about all the restaurants and the seriously impressive Garces Foundation that have helped countless immigrants in the Philadelphia area at garcesgroup.com
Episode 036 – Passyunk's Podcast, Chef's Lee Styer and Joncarl Lachman
February 24th – March 6th is East Passyunk Restaurant Week. Before the week kicks off, we host two of the area's finest chefs whom played a large role in creating one of the most diverse culinary streets in the country. As owner and chef of Fond Restaurant, Lee Styer applies his experience from learning under such greats as George Perrier and Jean Marie Lacroix.  Joncarl Lachman is owner and chef of "Noord Eetcafe." Joncarl has travelled the world and offers an inspiring Dutch influenced menu at his popular spot.  Hear the two friends trade stories about chef life on Passyunk Ave.
Check them out on Instagram @fondphilly and @noordphilly
Episode 035 – The OG's of East Coast Oyster Farmers
Nothing beats local seafood, so the Monger team sat down with the fine folks at Cape May Salt Oyster Company. Cape May Salt Oysters transformed the world of Oyster aquaculture and played a pivotal role in keeping these bivalves a sustainable seafood choice. Brian Harman and Melissa Harabedian speak about the rich history of east coast oysters, their growing process, and a lesson on harvesting Oysters in snowstorms. Samuels always provides Cape May Salt and Stormy Bay Oysters from this legendary supplier.
Check them out on Instagram @capemaysaltoysterco
Episode 034 – Hollywood and High Tech with Niceland Seafood
Samuels Sales Agent, Joe Buonadonna guest hosts this week's show with Niceland Seafood.
Guests include Niceland Seafood Chairman, Oliver Luckett and Sales Aquaculture Specialist, Patrick Dunaway. With QR codes on all products, Niceland provides full traceability and connecting consumers to the source of their seafood.  Oliver has an exciting background as Head of Innovation at Walt Disney to social media champion for hundreds of celebrities.  Now, his company is providing Samuels Seafood Icelandic Cod, Wolffish, Redfish, Arctic Charr, Atlantic Salmon and more.  P.S., Stick around until toward the end for an epic Kayne West story.
Episode 033- Addicted to Florida Bivalves
Who needs this cold?  Monger travels just outside of Orlando to Southeastern Seaproducts in Melbourne, Florida. Owner Mark Maynard tells us about the high tech process of harvesting Clams and Oysters from warmer water and shipping them all over the country.  It's harder than you may think.  But thanks to "suspended animation" and simple rubber bands holding Oysters closed, this innovative company does it every day.  Learn how!
Episode 032 – Local Fish, Going the Distance with Lund's
If you've tasted Squid, Black Sea Bass or Fluke from Samuels Seafood, there are good chances the fishermen of Lund's Fishery in Cape May, New Jersey caught it.  We travelled directly to one of the largest seafood processing facilities on the eastern seaboard to our friend's at Lund's. Lund's is a family owned and operated fishery with over 50 years of history and stories.
Episode 031 – The Scoop on Skuna
How do you craft raise Atlantic Salmon? Emma Rooney and Adam O'Brian from Skuna Bay Salmon discuss how their company, Skuna Bay Salmon, took Salmon aquaculture and sustainability to new levels while providing a closer relationship between farmer and chef.  The two describe the beautiful environment their fish are raised along with the wide scope of chefs and territories all over the country to which they educate and sell Skuna Bay Salmon.
Visit them on Instagram @skunabay and their website skunasalmon.com
Episode 030 – What is a Fishmonger?
Ever wonder what it means to truly be a fishmonger?  From scaling fish without making a mess to seeing fish all over the world, Anthony D'Angelo and Nick Anastasi join the Monger podcast and look into what a fishmonger really is.  Anthony is Sam D'Angelo's oldest son, and a real innovator at Samuels who has 30 years of seafood under his belt. Nick's roots go back to Ippolito's Seafood where he learned to cut, clean, sell and market fish.  He is now a leader at Samuels Seafood.  Enjoy a conversation with the "fish fraternity."
Episode 029 – Simply Put. 2019's Best Products & Podcast
After busy Christmas fish slinging comes a hectic, all hands on deck New Year's Eve.  Once the trucks rolled out on December 31st, Bill and Joe sat down and discussed 2019, which was Samuels's most innovative year introducing products. Astan Tuna, Jail Island Salmon, Oishii Shrimp and Kurobuta Pork are some of the products Samuels rolled out and the Monger Podcast served as the red carpet.  Listen to the guys tell the stories of what makes these products most memorable.
Happy New Year to all and thank you for listening!
Episode -028 – Yo Cuz! Anthony Gargano Talks Sports & Seven Fishes
Recorded live from Giuseppe's Market at Samuels Seafood on Christmas Eve, 2019, we welcome 97.5's Anthony Gargano to the show.  Anthony "the Cuz" Gargano is Philly's favorite everyman. He brings on the passion, enthusiasm and the heart of every Philadelphia sports fan!  He's also a great guy and a familiar face to Samuels. We discuss his take on the Feast of the Seven Fishes, the ballad of Carson Wentz, and what food means to his family and culture.  Happy Holidays to all Monger listeners!
Check out The Anthony Gargano Show on 97.5, weekdays 10 am-2 pm or his podcast "The Anthony Gargano Show."
Episode 028 – A Shucking Great Podcast with Sam Mink
A quintessential staple in the Philadelphia seafood scene is the Oyster House, located on Samson Street.From one of the best happy hours in the city to the exciting show put on by the masterful Oyster shuckers, the Oyster House is famous and we really enjoyed sitting down with owner, Sam Mink.  Sam took the business over from his father and has been a huge part of the "Oyster Culture" in Philadelphia.
Check them out on Instagram phloysterhouse and oysterhousephilly.com
Episode 027 – Anastasi Seafood, A Philly Fish Landmark
Two great families of Philadelphia fishmongering come together this week on the podcast. We sit down with Sal Anastasi, owner of Anastasi Seafood along with "Sammy Brown" D'Angelo of Ippolito's Seafood and Samuels & Son Seafood.  Anastasi Seafood is located in South Philly's iconic Italian Market, and has been providing seafood for 80 years. Listen to Sal and Sammy talk about their beginnings in the Philadelphia fish market, to the vast changes they've made to survive and still be the best in the business.  From falling in live Eel tanks to opening new store locations, this is an episode to catch!
Episode 026 – Jules@Market, Best of Philly Seafood
Jules Soto went from running a catering business in a church basement for 18 years to owning 2019's Best Seafood restaurant, a proud title by Philadelphia Magazine's famous "Best of Philly." The difference that her restaurant, Jules@Market, offers is the integrity of the products she works with.  Jules brings both sustainability and farm to table concepts to new levels. She uses sustainable choices such as Marine Stewardship Council certified Crabmeat along with underutilized aquaculture fish including Mauritius Red Drum to educate her guests and offer them brand new seafood options.
Check out Jules@Market online at julesatmarket.com and on Instagram, Jules@Market
Episode 025 – Thanksgiving Special…Thankful Mongers
What do you think Samuels Seafood fishmongers are thankful for? Throughout the day and night, this team works hands on with their fish, checks quality and even makes sure that our live Lobsters stay in tip top shape!  Can you imagine a long week of purchasing, processing and selling seafood from around the world?  They love it, and this week, you'll hear why. We hear from food safety and quality control specialist, Sam Justice, purchasing agent, Tyler Lindenmuth along with sales agents Marisa Thompson, Quinn Sullivan and Jason Wilson.
Happy Thanksgiving from Samuels Seafood!
Pictured, Marisa Thompson
Episode 024 – Florida Bound with Chef Brandon McGlamery
Take a trip with us to Orlando, Florida as we visit one of the areas most acclaimed chefs, Chef Brandon McGlamery.  Brandon is a two time James Beard Semifinalist and a Steward of the Monterey Bay Aquarium for Sustainable Seafood. Listen as we discuss his early years cooking in California under the likes of Jeremiah Tower along with bringing fine, yet fun dining to an area most famous for Mickey Mouse.  Chef also talks about fishing for Tripletail, Andrew Dice Clay and his three restaurants, Prato, Luke's Kitchen and Bar and Luma on Park.
Visit Brandon's restaurants @eatatlukes, @pratowp, @lumaonpark
Episode 023- "Jawn Appetit" Podcasters Visit Samuels
Philly Magazine listed "Jawn Appetit" as one of Philly's top podcasts to listen to and this week, Monger sits down with Roy and Chanel Burton. Each week, Jawn Appetit gives you our takes on the hottest establishments in Philly and tell you where you can find the best eats in (and around) the City of Brotherly Love. The podcasting team joins us after a detailed tour of the Samuels Seafood facility where they had a chance to see from where their favorite restaurants source seafood and learn "the way of the monger."
Be sure to check out Jawn Appetit on iTunes, Apple Podcast and Soundcloud
Episode 022 – Laurel Raffan Repping "Fish of the Future"
From cutting edge aquaculture to virtual reality headsets, Laurel Raffan from Open Blue Cobia shows us exactly why her company's fish have been referred to as "the fish of the future." Open Blue Cobia's popularity has been growing due to it being responsibly raised in Panama, irresistible to eat, and one of the most versatile fish to work with.  Laurel is joined mid-podcast by Samuels Sales Agent, Adrienne Diaz. The two discuss a brand new Open Blue product, yet to hit the market, being women in the fish business, and why Scrapple taste so good.  Laurel was selected last year as a NFI (National Fisheries Institute) Future Leader's Class of 2018 and we are proud to have her on Monger.
Open Blue has an excellent Instagram @openbluecobia and you can learn more at openblue.com
Episode 021 – Behind the Musi
Right after Eater named his restaurant, Musi, as one of their 16 Best New Restaurants in America, Chef Ari Miller (and his charming mother) join us for a podcast.  Enjoy a captivating story of this one time journalist in Tel Aviv before he began studying under an old school fish monger named "Musi."  After years of mongering, Chef Ari tells us about the unique style of cooking and storytelling he does at his BYOB located in the Pennsport section of Philadelphia.  We hear about how a monger trains "Rocky style" and goes above "farm to table" to truly embrace seafood from all over the world and claim his spot as one of the best new restaurants in the country.
Visit Musi on Instagram @musiphilly and musiphilly.com
Episode 020 – Jail Island: The New Standard of Sustainability
What are the benefits of aquaculture raised Atlantic Salmon?  Being sold exclusively in the U.S. by Samuels Seafood, Jail Island is still innovating as they are giving back to the wild.  Listen to Adam Sopenoff of Cooke Aquaculture and Dr. Kurt Samways of the University of New Brunswick discuss responsible harvesting of Jail Island Salmon and the Fundy Salmon Recovery Project. This is the first project in the world to collect young fish, care for them in an ocean environment and release them when they are ready to spawn and promote Salmon stock back to healthy levels.  For every pound of Jail Island Salmon sold, a portion of proceeds is donated to this recovery project.
Visit fundysalmonrecovery.com and come to Samuels Seafood to purchase Jail Island Salmon
Episode 019 – Monger Meats Kurobuta Pork
What a twist we have this week as fishmongers discuss the marvels of Kurobuta Pork.  We sit down with Gregg Mooers of Berkwood Farms.  Berkwood Farms is a coalition of independent Midwest family farmers and one of the largest American suppliers of 100% pure heirloom Kurobuta Pork, also known as Berkshire Pork. Gregg discusses the healthy and environmentally friendly manner in which Berkwood Farms pigs are raised to provide unbeatable flavor and marbling.  Because of the exquisite quality of Berkwood Farms Pork, Samuels has been proudly providing various cuts including Bellies, Bacon, Baby Back Ribs, Loins and even Burgers! Gregg discusses the Kurobuta Pig lifestyle, Bacon balls and living in Iowa.
Go hogwild with Berkwood Farms on Instagram @berkwoodfarms and ask for it here at Samuels Seafood.
Episode 018 –Everybody Loves Rehman
Saidur Rehman, or Sadie as he is known, is the seafood merchandiser for McCaffrey's Food Markets.  McCaffrey's has Pennsylvania retail locations in Yardley, Doylestown, Blue Bell and Newtown with one on the way in New Hope.  They also have two New Jersey locations in West Windsor and one in Princeton.  Sadie has completely raised the bar on being a retail fish monger.  He tells us about breaking down a 900 plus pound Swordfish to fill his cases and getting his customers to care about the sustainability efforts put into seafood.  He's joined by his Samuels Sales Agent, Mark Adams. The two have been working together for 30 years.
Visit McCaffrey's on Facebook @OfficialMcCaffreysSuperMarkets and online at mccaffreys.com
Episode 017 – Goddess of Food & Drink in Delaware
Owners of Bardea, Scott Stein and Chef Antimo DiMeo sit down with us on the one year birthday of their Wilmington, Delaware restaurant.  Bardea, named after the Italian term for the goddess of food and drink, earned a James Beard semifinalist nomination for Best New Restaurant in 2019.  We learned that Bardea absolutely masters the art of offering guests a unique variety of fish, provided whole.  You'll hear why the vibe in Bardea has been electric and they are proving Wilmington is more than just a spot off I -95 between DC and Philly. Here's the story of fish and fruition in The First State.
Check out Bardea on Instagram @bardeawilmington or online at bardeawilmington.com
Episode 016 – A Tale of Two Mongers
From slinging fish at legendary Ippolito's in South Philadelphia to becoming top sales reps in top regions all over the east coast, Jessica Digregorio and Anthony Mendicino join us to discuss what it takes in the fish business.  Jessica and Anthony are prime examples of true mongers who started at a young age selling fish to some of the hottest chefs in the country by learning from Sam D'Angelo himself.  Here, they discuss hectic holidays at Ippolito's, working with all types of different chef personalities, and the possibility of their kids becoming future mini mongers!  This is a great story for anyone looking to become or learn about the life in seafood sales.
Episode 015 – Chef's Night Out in DC Part 2
Here is the conclusion to last week's Chef's Night Out event in DC.  Samuels and DC's best chefs partied the night away while learning about the newest responsibly raised aquaculture products around. Listen to Washington Redskin's Executive Chef, Connor McGuire discuss feeding hungry NFL players with seafood. Chef Gregory Lloyd, Executive Chef of Le Diplomate, sits down with Jazmine Klimpl of Hawaiian Kanpachi and asks her all the questions a chef would ask a fish farmer.  You'll also hear Executive Chef and partner of The Salt Line, Kyle Bailey, who graciously hosted the event. Chef Bailey discusses a variety of topics from making Lobster Rolls using Live Lobsters to holding a large scale chef event with Susan Bacus Morgan, Chief Creative Officer of Samuels Seafood.  The night got interesting and we're glad we got it recorded for you.
Episode 014 – Chef's Night Out in DC Part 1
Join a party with the best chefs in Washington DC! On Monday, September 9th, Samuels Seafood celebrated sustainable aquaculture with a Chef's Night Out.  "Farmed to Table" was an exciting night held at Chef Kyle Baily's The Salt Line in DC.  Samuels and our customers ate, drank and discussed sustainable new aquaculture products well into the night.  After some catching up and a few drinks, many of the chefs made their way to the podcast lounge.  This week, hear from Chef Massimo Vicidomini from RPM explains how he sources the best ingredients from all over the world. Jonathan Taub from Bub & Pops lets loose and shows his Philly roots. The whole gang from Kusshi Sushi tells the story of how they got fired…only to take over the same spot, becoming sushi-rolling entrepreneurs.  Be sure to catch part 2 next week.
Episode 013 – Angelo Lutz, The Kitchen Conisgliere
Listen to a tale of crime, redemption and of course, cooking seafood.  Angelo Lutz is the owner of Kitchen Consigliere in Colllingswood, NJ.  He also made national headlines and achieved fame when he was indicted of racketeering and gambling charges in 2001. After serving nearly seven years in federal prison, Angelo was released and worked toward his passion of cooking, eventually opening his old school Italian restaurant, "Kitchen Consigliere."  Angelo tells us the full story from prison to his time in the media spotlight to finally opening his own restaurant.
Visit them on Instagram @kitchenconsiglierecafe and online at kitconcafe.com
Episode 012 – Life at Sea for Viking Captains
Right outside where we recorded this podcast, Swordfish and Tuna were being taken off the boat, graded and sent to Samuels!  Captain Pete Dolan and Danny Mears are captains of fishing vessels for Viking Village, a fishing community in Barnegat Light, New Jersey.  Viking Village supplies some of the highest quality Sea Scallops and finfish in the country.  We caught these captains right after a long trip with their crews in the Atlantic Ocean. It was very exciting to learn about how the captains catch their fish and spend their time at sea.  We also hear about the beautiful and sometimes scary things commercial fishermen experience.  The late summer and early fall is a great time for local Viking Village seafood, now you can hear the fishermen's story right from the source.
Check out Viking Village online at vikingvillage.net
Episode 011 – Fishing the Seas of Senegal
From the tropical beaches of Senegal, Les Grands Viviers sends some of the most exotic fish in the world to Samuels every week.  The owner of the company, Adama Diane, made the trip across the pond to sit down with us as he tells the story of the local Senegalese fishermen whose livelihoods are based on fishing in the east Atlantic Ocean.  He also discusses some of the responsible fishing measures being put into place in his home country. Some of the unique fish caught in these waters are Parrotfish, Rouget, Scorpionfish, Jumbo Squid, John Dory and Grouper. Adama highlights the contrast between artisanal boats and commercial vessels along with painting a picture of the fishmonger life in Senegal.  The group also discusses nightlife in Senegal and doing aerobics underwater.
Episode 010 – From Stock Markets to Swordfish
Listen to two fishmongers from New York who have made their mark at Samuels & Son Seafood selling seafood throughout the country and buying fish from around the world.  John Monteleone has experience in the stock market who found a unique match switching gears to selling large quantities of seafood to retailers and wholesalers everywhere.  Joe Sarcona, garnered his experience in the heart of the Bronx, at the legendary Fulton Fish Market before joining the purchasing team at Samuels. Here, Joe sources giant Swordfish, Tuna, live Shellfish and more.  Anthony D'Angelo makes a guest appearance and speaks with the gang about all the changes recently made in the Philadelphia fish market scene.
Episode 009 – Starting an Aquaculture Revolution
Dave Mergle is a leader in seafood marketing and a key force behind the launch and success of Skuna Bay Salmon's iconic "Craft Raised Salmon" brand.  Dave also has experience as a market leader of Blue Ocean Mariculture, producer of Hawaiian Kanpachi.
Join us as Dave muses on about helping change the viewpoint of farm raised Salmon among chefs, switching gears to a different species in Hawaii, and the experience he attained by working for brands such as Red Bull and Stella Artois.  Dave has a great story of the hardships and successes of the sustainable aquaculture industry today.
Looking for info on Skuna Bay Salmon and Hawaiian Kanpachi? Check them out on Instagram @skunabay and @hawaiiankanpachi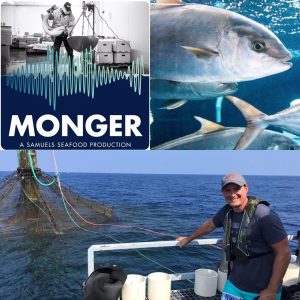 Episode 008 – Fish & Brits in Baltimore
Award winning Executive Chef Mark Levy has cooked all over the world from Britain and France to his acclaimed Baltimore restaurant, Magdalena in the Ivy Hotel.  Right before the 4th of July, Chef Levy stopped by with Chef Scott Bacon, also of Magdalena to discuss their seafood-heavy menu and "Fish Unknown," which is a global movement to give attention to lesser known species.  The stories veer into Dominican Republic cigars, entertaining U2's Bono (and his kids) and how they first became Samuels customers.  You'll also learn about the care they put into each seafood dish that has made Magdalena "the jewel of Baltimore."
They have a great Instagram account, check out @magdalenabaltimore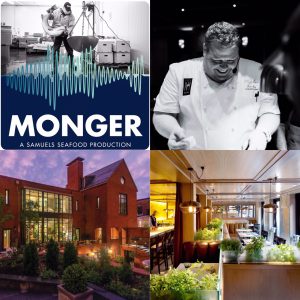 Episode 007 – The Shrimp King Comes to Philly
This week on Monger, Bill hosts one of the country's biggest importer and exporter of seafood.  Marty Mazzetta of Mazzetta Company discusses his company's brand new product, Oishii Shrimp. While sharing stories of this great tasting Shrimp with Mazzetta, we are joined with Chef Mike Cisternino of Mazzetta Company and Samuels' very own, Joe Lasprogata.
Marty and Mike discuss the work and inspiration behind one of the most innovative Shrimp products to date. Oishii Shrimp go from swimming to frozen within four hours and unlike most Shrimp, Oishii are harvested live.  Meanwhile, Marty and Joe speak about the 30 year history between Samuels and Mazzetta, and how much has changed in the seafood industry.  Marty also shares a touching story about how 9/11 affected seafood importing/exporting.
Oishii Shrimp range from U/10 to 16/20 count and are now available at Samuels Seafood.
Read all about them on our blog page at samuelsandsonseafood.com
Listen Here! fishmonger.podbean.com/e/episode-007-the-shrimp-king-comes-to-philly/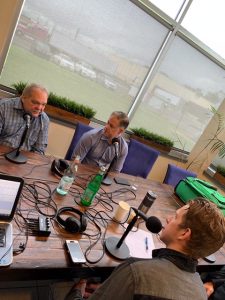 006-Making Seafood Sustainable
"If you're getting Salmon from Samuels and Son Seafood, there's a very good chance it's BAP certified."
This week, Bill hosts Shaun O'Loughlin and Justin Grant from Global Aquaculture Alliance (GAA), one of the most influential non-governmental organizations dedicated to sustainable aquaculture.  They are joined by Denise Gurshin of Best Aquaculture Practices (BAP). The team discuss the many products they certify around the world, their new podcast, Aquademia, and advancements made in fish farming.  Featuring Samuels special guest, Joe Lasprogata.
Remember to listen to the GAA podcast, Aquademia, for enough sustainable seafood information to make you an expert.
Listen to the episode right here: fishmonger.podbean.com/e/006-making-seafood-sustainable-with-gaa/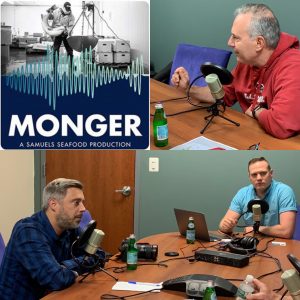 7.10.19 Episode 005 Young Guns in the Fish Biz
In this week's seafood podcast, we circle back to recap the 2019 Seafood Expo North America in Boston.  It was a really exciting whirlwind of a show, especially considering we started this podcast there.  So this is an interesting interview that took place right after the show back in Philly.
Some of our best young guns sit down with seasoned fishmonger (and podcaster), Anthony D'Angelo, while he serves as guest host.  The trio discuss everything exciting that happened this year.  (Hint, do you know what an isopod is?) Along some of the hot topics; What is seafood sustainability? What are chefs looking for?  And you'll hear the exact moment when the show's producer, Joe Mintzer, came up with the name "Monger" for this seafood podcast.
If you're interested in hearing the first hand experiences of young fishmongers working with seafood wholesale, sustainable seafood and top chefs, you'll love this week's seafood podcast.
If you haven't already, check out the past three episodes recorded in the middle of the Seafood Expo North America to get the full experience of fish mongering weekend in Boston. Subscribe to our Podcast, Monger, using the Apple Podcast app or Podbean!  Remember to review and rate us.  You can also send us feedback and questions to willb@samuelsseafood.com
Listen Here: fishmonger.podbean.com/e/005-young-guns-in-the-fish-biz/
Pictured below; Samuels Sales Agent, Maria Kanapi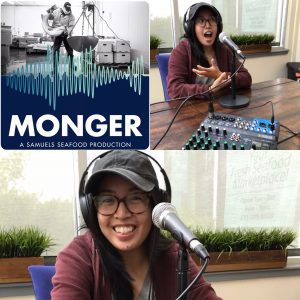 Day 3 of the Boston Seafood Show, the last of the trilogy!
Listen Here: fishmonger.podbean.com/e/004-the-boston-seafood-expo-day-3/
This was a very special episode as it took place on the last day of the seafood expo.  Not only did we have conversations with our friends at the Monterey Bay Aquarium Seafood Watch, but also the Marine Stewardship Council. These are two of the biggest groups in the world promoting responsible seafood.  We also had some fish farmers from Norway and Mauritius Islands discussing fish such as aquaculture raised Halibut, Red Drum and Dusky Kob.
And of course, we had the pleasure of hosting Sam D' Angelo himself, founder and owner of Samuels.  He was joined by Marty Mazzetta of Mazzetta Seafood.  These two have been doing business selling and buying shrimp for decades.  I was literally jumping up and down when we nabbed this interview.  At the end, you get to hear a breakdown of the entire show.  But I'll leave you guessing at how that goes.  This whole thing is very educational and fun.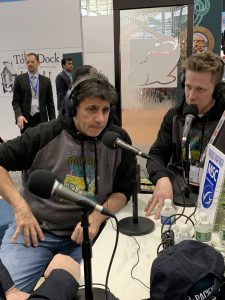 Subscribe to the new #MongerPodcast on your podcast app, or at podbean.com.
Day 2 of the Boston Seafood Show, Available Now!
Listen Here: fishmonger.podbean.com/e/003-the-boston-seafood-expo-day-2/