Dusky Kobi: The Best Fish You've Never Heard of

Our featured item this week is a fish you may not be familiar with: Argyrosomus japonicas, or as we call it, Dusky Kobi! While Open Blue Cobia is facing production issues, there pretty much isn't any available in the entire market. Until this issue resolves, please keep in touch with your Samuels Agent for up-to-date information.  In the meantime, Dusky Kobi is a great alternative to Cobia. If you are looking for an interesting tropical alternative, this unique species of Drum Fish is succulent and firm with large flakes and tons of fresh flavor. Dusky Kobi is also a popular sushi fish, but it's extremely versatile and easy because it has very few bones and an addictive flavor that pairs well with anything.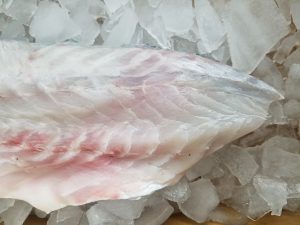 Dusky Kobi is also an eco-friendly fish raised off the Mauritius Islands. The unique geography of Mauritius provides a pristine environment for aquaculture operations. The site was selected after extensive surveys to ensure excellent water quality whilst protecting the environment. Certified with the Global Gap, and Friends of the Sea, a key consideration in all aspects of the company is to protect and enhance the environment while providing high quality, tasty fish. This fully integrated company also has full control from hatchery to processing ensuring complete traceability. Talk to your Samuels Agent today about adding this sustainable, versatile fish to your menu.
You can find Dusky Kobi on special all June for $12.99/lb. These skin-on, pin-bone-out fillets will make a great addition to any menu thanks to their versatility and great flavor. Don't hesitate, place an order today!