Open Blue Cobia – A New Taste for Your Spring Menu

Open Blue Cobia is the superior white fish with virtually endless possibilities. It may just be the best thing you've never had… yet. Often compared to Swordfish or Chilean Sea Bass, Open Blue Cobia has an amazing sweet flavor with a fresh finish, firm texture, and large flake. This superfood also has a higher fat and Omega-3 content which adds to the health factor and keeps the fish tender and moist in any cooking application. It's ideal for grilling, broiling, searing, baking, and many more creative possibilities including raw applications. When cooked, customers can't get enough of the crispy texture of the skin and the succulent flesh. When raw, the buttery, succulent fish really shines, especially with citrus and fresh herbs.
Open Blue Cobia can also stand up to bold flavor profiles and makes an ideal pair with the fresh produce, greenery, and herbs of spring. That's right, from the sweeter fruit flavors like peach or mango in a fun spring salsa – to the spring asparagus, scallions, and greens like chard, and kale, Cobia's meaty and unique sweet flavor takes any dish to the next level.
Some chefs go as far to say that no other fish is as versatile as Open Blue Cobia. Open Blue even won the Seafood Excellence Award for most convenient product at the Brussels Seafood Show. But the accolades don't stop there.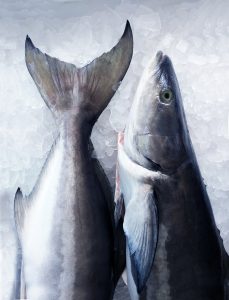 They are the world's first Cobia company to achieve four-star Best Aquaculture Practices (BAP) and Aquaculture Stewardship Council (ASC) certification. In addition, they have achieved certification from Friend of the Sea, Global Gap, and BRC Global Standards. This glowing report also includes a Seafood Watch "Good Alternative" rating. Open Blue has achieved this acclaim through offshore distance, vertical integration, and a deep commitment to raising fish in harmony with the ocean.
Open Blue has proven that deep-water offshore aquaculture in fully submersible pens not only has lower environmental impacts than traditional shore options, but can actually help ocean ecosystems and the Cobia itself by giving the fish ample room to grow and thrive without upsetting the balance or oversaturating already nutrient-rich ocean beds near the shore. That's why Open Blue raises their Cobia eight – ten miles off the shore of the beautiful Panama Coast, fully submerged at depths of up to 250 feet, in their native tropical waters.
This vertically integrated company also operates its own hatchery and nursery where the fish are spawned, eggs are hatched, larvae are weaned and the Cobia grow strong enough for the open ocean. This ensures full traceability.
Open Blue Cobia is quickly becoming a favorite of many chefs because of its versatility, sustainability, and amazing flavor. We invite you to share in the excitement and be inspired by a world of culinary possibilities. We've seen chefs work a ton of magic on this fish, creating dishes that wow guests with flavor and beauty. If you haven't tried it, it may be time to make Open Blue Cobia your next spring fling and even your summer love.