Open Blue Cobia – Freshness & A New Taste for Your Summer Menu

These days, it's hard not to be health conscious. Eating healthy is now more convenient and inexpensive than ever, and not to mention, often adventurous. For those just taking the plunge into the healthy route of food, there could be some hesitancy to try new things. This is especially true when you're trying to break the habit of eating red meat, or at least consuming less of it. Sure, red meat is insanely delicious (who can refuse a perfectly cooked filet mignon?), but it's been linked to a host of health problems. Good news: There are a number of awesome-tasting and healthy alternatives to red meat, such as one of the best kept secrets of seafood: Open Blue Cobia from Panama, the superior, health conscious fish with virtually endless possibilities. It may just be the best thing you've never had… yet.
Open Blue Cobia recently conducted a series of focus groups across the country to find out what people really thought about this wonderful and largely unknown fish. Its flavor is fresh, clean, and buttery. The company found that Cobia's versatility in the kitchen was the biggest selling feature. No kidding! It's a fish that can do just about anything when you get your hands on it. Whether it's sushi, sashimi, crudo, or ceviche, Open Blue Cobia rules in the realm of uncooked applications. We've seen chefs work a ton of magic on the fish, creating dishes that wow guests with flavor and beauty. Got a hankering to break out that grill this summer? In the vein of Open Blue's blind tastings, they also discovered that Cobia was rated one of the absolute best fish for grilling. Grill on, friends! Consumers couldn't get enough of the crispy texture of the grilled fish – it was still very moist in the center too!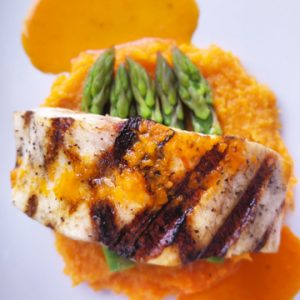 Let's be honest: healthy eating can get pretty boring sometimes. Don't get stuck in the rut of munching on veggies all day, wishing for some excitement in your diet. Open Blue Cobia is something that's relatively unknown, making it a brand-spanking new fish that will open your eyes to a landscape of possibilities for good-for-you meals. It's truly a healthy, meaty, white fish alternative to red meat. To begin with, seafood in general is low in carbohydrates and high in potassium, selenium, and B vitamins. Cobia has all this and more – it's been found that a diet rich in fish can prevent diseases and improve mental health, so keep those brain functions up and do your body some good.
According to the American Heart Association, healthy adults should be eating fish at least two times a week. Open Blue Cobia is chock full of vitamins, minerals, and Omega 3 fats, so you'll never feel guilty after eating it (unlike that fried chicken you've been craving.) Did you know your body doesn't actually produce Omega 3 fats? We have to get them from our diet, and Open Blue Cobia is a phenomenal way to get those fats on a weekly basis. Open Blue has made it easier than ever to get what we need in our diet: from fresh fish (whole or filleted), to a ring of frozen alternatives in the form of portions, strips, and buffet cuts, there's an endless variety of Cobia to work with, whether you're a consumer in the seafood aisle or a chef working late in the kitchen.
Open Blue Cobia won the Seafood Excellence Award for most convenient product at the Brussels Seafood Show this month, speaking to the fish's versatility and applicability.