Open Blue Cobia – The Fish of the Future


Sustainably raised, eight – ten miles off the shore of the beautiful Panama Coast, fully submerged in the deep open ocean at depths of up to 250 feet, in their natural habitat, you'll find Open Blue Cobia. That's a further commute than most of us are used to, but Open Blue strives to do what's right and not just what's easy. This comes from a simple philosophy that Open Blue holds true: "feeding current and future generations in harmony with the ocean."  The sustainability achievements Open Blue has accomplished, along with the quality and taste of their award winning Cobia is certainly worth the time and effort they have invested.
Open Blue's aquaculture practices go above and beyond all required environmental legislation. They are the world's first Cobia company to achieve both four-star Best Aquaculture Practices (BAP) and meet the strict regulations of the Aquaculture Stewardship Council to receive an ASC certification. In addition, they have achieved certification from Friend of the Sea, Global Gap, and BRC Global Standards. This glowing report also includes a Seafood Watch "Good Alternative" rating. Open Blue has achieved this acclaim through offshore distance, vertical integration, and most importantly the fish itself, Cobia, the fish of the future.
Deep ope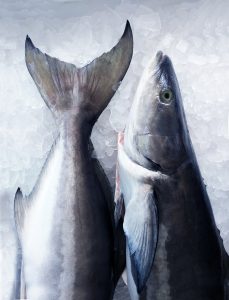 n ocean offshore aquaculture in fully submerged sea stations has lower environmental impacts than traditional near shore operations and can actually help ocean ecosystems by reducing fishing pressure on wild fish species. Raising Open Blue Cobia offshore, far from sensitive ecosystems and in strong ocean currents, gives the fish ample room to grow and thrive in a ratio of 97% ocean and 3% fish. Open Blue has a clear purpose, to provide the purest, healthiest fish that nourishes current and future generations.
This vertically integrated company also operates its own hatchery where the fish are spawned, eggs are hatched, and larvae are weaned ensuring full traceability. Thirty days after hatching from an egg, the fish are moved into Open Blue's nursery facilities where the fish grow strong enough to be transferred to the open ocean sea station. Open Blue only uses B.A.P. certified sustainable feed as well that includes fish meal and oil, crustacean meal, and necessary minerals and plant proteins.
During the open ocean stage, the Cobia grow very quickly. In fact, this is why Cobia was named "the fish of the future" in Josh Schonwald's book, The Taste of Tomorrow. It's a perfect fish for sustainable aquaculture because it reaches 11-pounds in about a year while a Salmon usually takes three. Cobia was also named the fish of the future because of its supreme taste, versatility, and health factor.
Often compared to Swordfish or Chilean Sea Bass, Open Blue Cobia has an amazing sweet flavor with a fresh finish and a firm texture and large flake. This superfood also has a higher fat and Omega-3 content which adds to the health factor and keeps the fish tender and moist. It's a strong fish that holds up well and can really stand up to bold flavors. It's a sashimi grade product that tastes great in raw applications. Cobia is ideal for almost any cooked application as well, including grilling, broiling, searing, baking, and many more creative possibilities.
Open Blue Cobia is truly the fish for our future. Talk to your Samuels Agent about making the future today. Available fresh in a variety of cuts.