Sushi Taro – Omakase for the Connoisseur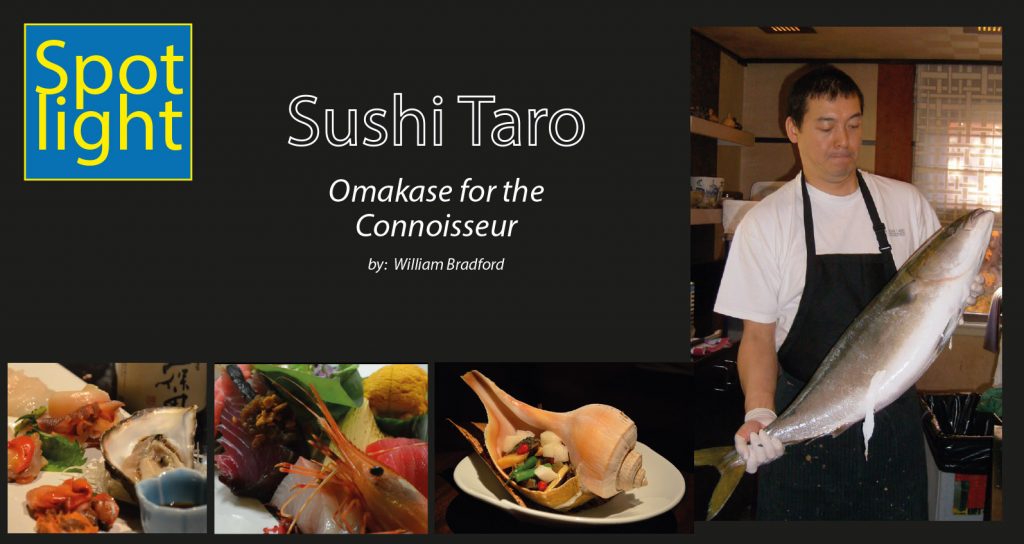 Sushi Taro
Omakase for the Connoisseur
by: William Bradford
Led by brothers Nobu and Jin Yamazaki, Washington, DC-based Sushi Taro is known for an approach that is best described as a balance of artistic and authentic. With July's announcement that the Michelin-starred sushi staple would continue operating on a take-out only schedule, area diners breathed a collective sigh of relief. Since its debut back in the '80s, it has been the go-to for an unrivaled dining experience.
In 1986, Nobu and Jin's father, a Japanese businessman, decided to help his brother-in-law transform his restaurant in Dupont Circle from Chinese to sushi. It was a business savvy decision to make the change, considering the new sushi craze that was then blossoming in cities across the US. After bringing in chefs from Japan, Sushi Taro was born. Just a teenager at the time, Chef Nobu moved to the US without knowing any English. A few years later, he enrolled in the Corcoran School of Arts and Design and eventually graduated with a Fine Arts degree. Shortly after graduation, Nobu was looking for some solid work and began working at the restaurant before embarking on a three-year culinary apprenticeship in Japan.
Upon returning to his family's restaurant, Nobu recalls that the first several years behind the counter consisted of hard work – and more hard work – until his artistic skills finally came into play. "I was lucky it was my family's restaurant, I had freedom to create many different dishes. That's when my experience at the art school came into my work," Nobu says.
Nobu and Jin eventually fused their creativity with ambition and transformed what was once a standard tempura and Salmon friendly sushi bar into one of the most authentic Japanese restaurants DC had ever seen. Anyone who has experienced its one-of-a-kind dining knows that when you think of Sushi Taro, you think of omakase. This restaurant has a long history with the popular style of dining in which the chef serves guests hand selected dishes that are the most seasonal and of highest quality that night. For Sushi Taro, it's an opportunity to dazzle diners. "We just wanted to give options to our customers who want to try something different," Nobu says. He says the trust between a chef and the guests can lead to an unforgettable, blissful experience. Sushi Taro's omakase experience is a personal one. One in which Nobu knows what his regulars like and dislike. Meanwhile, he knows how to work the bar and provide first timers an experience that suites their tastes but opens them up to new things at the same time.
Imaginative and authentic are two words to describe some of the mouthwatering options Sushi Taro offers. Imagine a Red Crab Leg marinated in a jalapeño-infused soy sauce and served sashimi style. Another highlight is Nobu's tomato-cured dry aged Tuna. Full bodied classics such as Japanese Mackerel and Anchovies are a few of Nobu's favorites to serve raw. He has a well-instilled love for wild caught Japanese fish due to the care and respect that goes into upholding its pristine quality. Nobu said a fish doesn't have to be rare or expensive, it just has to taste good! Lately, Nobu is enjoying working with Wild Alaska Salmon because he is so pleased with the quality and freshness this seasonal fish has to offer.
While Washington DC is open to indoor dining at limited capacity, Sushi Taro made a confident decision to open up as takeout only. Nobu and Jin want their staff and customers to enjoy their food without the chance of a busy, crowded restaurant posing a risk.
Think about it, sushi is the perfect food for take-out. There is no need to reheat or place in the refrigerator. It's prepared, packed and easy to eat. What better to way raise your spirits than house-made udon noodles or fatty Tuna? Two things you'll be delighted with at Sushi Taro in Washington DC.
Check out @sushitarodc on Instagram or visit them online at sushitaro.com