The Sky Is Blue and the Spring has Sprung with Open Blue Cobia

I love all the seasons, but Spring is my favorite. I can't get enough of the warm spring days and flowers starting to burst through the ground, and of course the daylight getting longer. Because of the longer daylight, my chickens and ducks are laying more eggs! Great foraged spring produce is also upon us. Here at Samuels, we have herbaceous Ramps, Fiddlehead Ferns, Morel Mushrooms, and many great menu items to start your spring menu off right.  All of these items are available this month at Samuels. And Open Blue Cobia pairs perfectly with fresh produce to enhance any spring menu.
Open Blue Cobia is an incredible product that is great served as crudo, sushi, grilled, steamed, or roasted. Such a versatile fish can be used with any flavor profile.  The clean waters and the feed that Open Blue Cobia are raised on make for an outstanding fish that is supple, succulent, and sweet. This Cobia has become a favorite of mine for its versatility and shelf life. Open Blue Cobia is a great addition to any menu or family table.
Open Blue Cobia has great texture and clean flavor that really lends to raw applications. I like it crudo style with different types of salt, olive oil, and citrus.  Sliced very thin, this Cobia has a great supple texture. Paired with a wasabi, sesame, seaweed salt, and miso glaze, we have an award winning combination. Candied kumquats give it a little punch and frizzled sweet potatoes give the crunch, which adds to great mouth feel and texture.
Let us head to Greece to do a grape leaf wrapped Cobia. This is a fun presentation for the Open Blue Cobia. I like to marinate the fish in a little dill, lemon, Santa Ines Olive Oil, black pepper, and a pinch of salt. I then wrap the fish in a grape leaf (that you can find jarred or fresh,) heat the grill to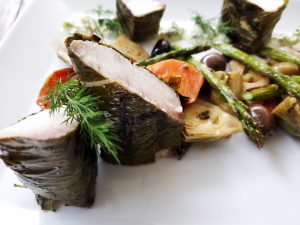 medium high, and place the Open Blue Cobia on the grill. I then grill it on each side for about two – three minutes. You can set aside and prepare the accompaniments. Artichokes barigoule are my favorite with olives, tomatoes, and fennel. Fresh asparagus and Fiddlehead Ferns set this dish off. And a simple yogurt sauce with dill and lemon complete this dish.
Whether you enjoy Open Blue Cobia raw or cooked, it is a great fish. This super-fish is higher in omega 3's than Salmon with a low impact to the environment. Open Blue Cobia is also versatile, tasty, fun to cook and it has great fat content so it stays juicy. It is a great fish for both a home cook and a professional chef because it's foolproof.