History

Samuels Seafood History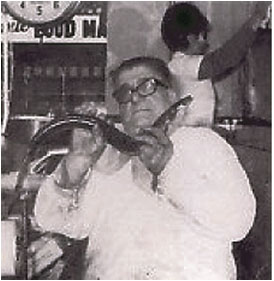 1895 – Gaetano Darigo makes his living as a commercial fisherman in Sicily.
1919 – Giuseppe Ippolito comes to America and marry's Gaetano's daughter.
1929 – Giuseppe partners with his father-in-law in his growing seafood business.
1934 – Gaetano retires leaving Giuseppe in charge. Horse-drawn wagons replace pushcarts expanding their marketplace.
1945 – Giuseppe opens his first fresh seafood market in Philadelphia and names it "Ippolito's"
1950 – Giusseppe's daughter Rose D'Angelo, expands the store and continues to grow the family business.
1966 – Giuseppe brings his ten-year-old grandson, Samuel D'Angelo to work in the fish market.
1970 – Learning the business from his mother, Sam is already a buyer in Philadelphia.
1974 – Sam takes over the reins from his grandfather and expands the original store.
1987 – Ippolito's opens a second location in Philadelphia.
1989 – Samuels and Son Seafood is born, focusing on the commercial and wholesale seafood market.
1989– To underscore the premium quality of Samuels products, marine biologist, Joe Lasprogata joins the company's senior staff.
1990 – Samuels launches Aunt Connies Famous brand of Seafood, Salads, Prepared Foods, and Sauces
1991 – Samuels expands its product line by bringing in Gulf and Pacific Coast products via express air cargo.
1993 – Acquisition of Huff Fish Co. increases production capacity to efficiently serve large commercial customers.
1994 – Samuels purchases Coastal Seafood overhauling the cutting facilities and freezer storage to meet rigid quality standards.
2000 – Samuels unveil their new corporate logo and expands custom product line offering of " Lauren Bay" and "Aunt Connie's famous"
2001 – Samuels adds a full range of fresh sushi products to serve the growing Asian and Specialty Markets.
2003 – Website launched to improve customer interaction, notification and ordering nationwide.
2004 – Sam's children, Anthony, Sammy, and Lauren join the company's Sales and Buying Team.
2006 – Services expands to Pittsburgh.
2007 – Offering overnight delivery service nationwide.
2007 – Sammy Brown heads the Retail Division.
2009 – New 60,000 sq ft state-of-the-art facility opens at Lawrence St.
2011 – Service expands west to Las Vegas establishing a west coast market.
2013 – Sam's youngest daughter, Donna joins the family business.
"At Samuels & Son Seafood, we've built a 100- year tradition bringing superb seafood to market. I would like to personally welcome you to the next hundred years"
– Sam D'Angelo, Owner