Featured Product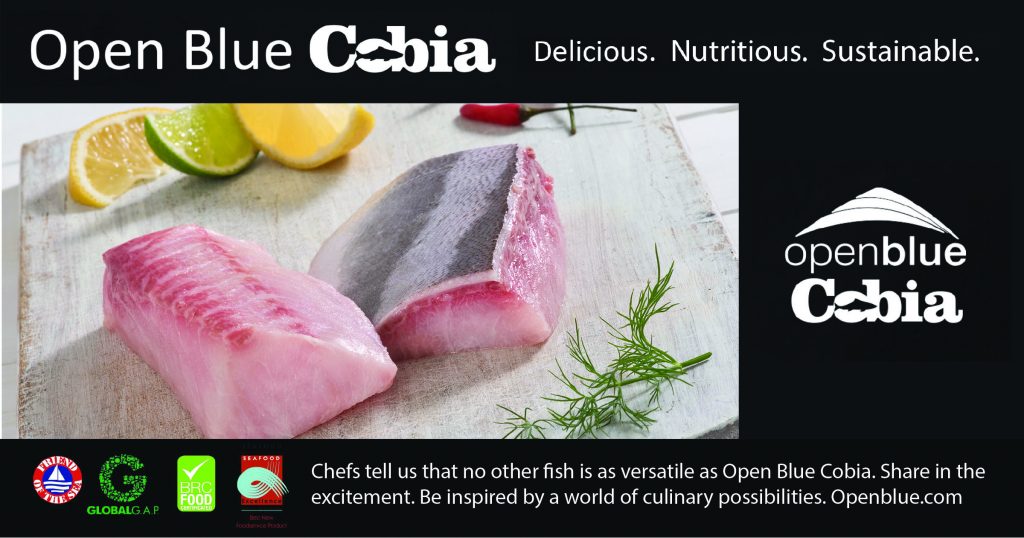 Celebrate with a Cobia Cornucopia
By Jessica Jewel Tyler
As the weather gets cooler and guests await bountiful plates of warmth and comfort, it's the perfect time to add a full-bodied fish with a cornucopia of options to your menu, Open Blue Cobia. This unique and superior white fish, most closely compared to Swordfish or Chilean Sea Bass, has an amazing sweet flavor with a fresh finish, firm texture, and a large flake. It's wonderfully complemented by a light hint of citrus and herb but can also stand up to the bolder, warmer flavor profiles and fresh produce of the fall harvest.
Open Blue Cobia is hearty enough to sit center-plate with mushrooms and potatoes, brussel sprouts and bacon, or the lovely roasted squash and zucchini of the season, yet delicate enough to "fall back" in a robust tomato sauce or Asian curry. Because of its unique taste and versatility, Cobia also helps to add an extra dimension of flavor to chowders and fish stews.
This is a superfish that can be prepared in virtually any application. And because of the higher oil content, Cobia stays tasty and moist in every dish. Open Blue Cobia is great for grilling, broiling, searing, baking, and many more creative possibilities including smoking or even slathering in barbeque. It's also the perfect season to enjoy Cobia roasted to highlight the addictively crispy texture of the skin and the sweet and meaty flavor of the flesh.
Open Blue Cobia may just be the most versatile fish in the ocean. Open Blue even won the Seafood Excellence Award for most convenient product at the world's largest seafood show, Seafood Expo Global in Brussels. But the accolades don't stop there. They are the world's first Cobia facility to achieve four-star Best Aquaculture Practices (BAP) and Aquaculture Stewardship Council (ASC) certification. In addition, they have achieved certification from Friend of the Sea, Global Gap, and BRC Global Standards. Their glowing report also includes a Monterey Bay Seafood Watch "Good Alternative" rating.
The sustainability achievements Open Blue has accomplished, along with the quality, taste, and convenience of their star studded Cobia is only achieved through a passion the company holds for "feeding current and future generations in harmony with the ocean." Open Blue Cobia is leading the charge in innovative and responsible open ocean aquaculture, so that chefs can create delicious, original dishes without compromise.
This sustainable fish is raised in its native environment eight to ten miles off shore of the beautiful Panama Coast, fully submerged at depths of up to 250 feet. The ideal environment provides pristine waters with swift currents for healthier, tastier fish, while the offshore distance, helps protect sensitive coastal areas. This method has been proven to not only have lower environmental impacts than traditional shore options, but it can actually help to rebuild ocean ecosystems.
Open Blue Cobia is quickly becoming a favorite of many chefs because of its versatility, sustainability, and amazing flavor. The thick fillets are also perfectly sized for a convenient, no waste option that can achieve anything. We invite you to share in the excitement and be inspired by Cobia's Cornucopia of possibilities. Before you know it, you may even see this superfish next to your cranberries and stuffing.
---
A Samuels Exclusive…Now Available!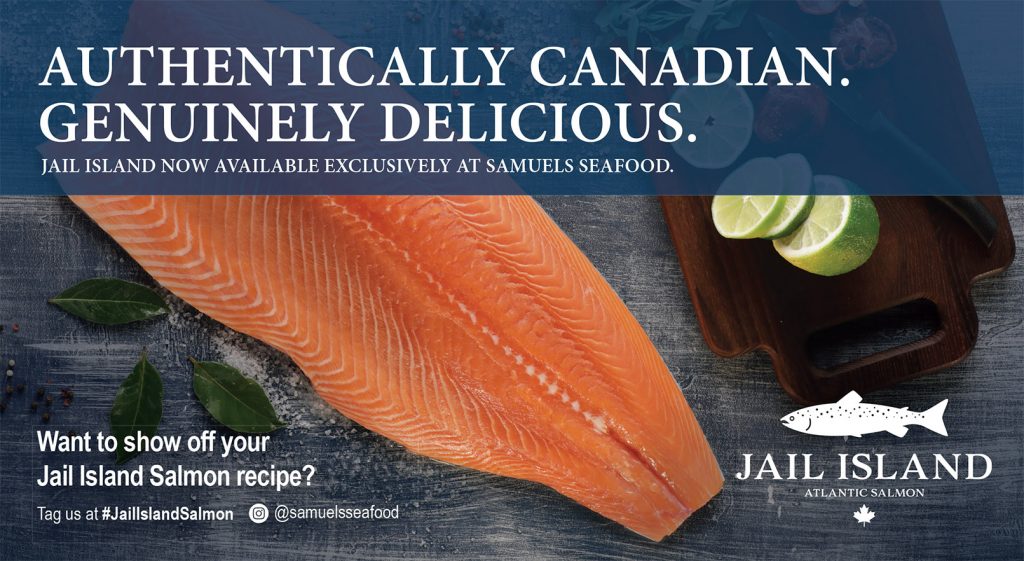 JAIL ISLAND SALMON: AN ORIGIN STORY
Proudly and Exclusively Distributed in the USA by Samuels Seafood.
Jail Island Salmon Company was the first Salmon producer to market its product under its own brand, named after a small island in Lime Kiln Bay on the edge of the Bay of Fundy. From that moment on, this Salmon became so highly coveted that it was asked for by name. Acquired by Cooke in 2003, Jail Island Salmon is now sustainably raised and harvested all over East Coast Canada. Delicate Salmon with clean, buttery flavor and refined texture is the true mark of Pure Canadian Salmon and Jail Island Salmon is, and will always be, truly authentic Canadian Salmon.
Special care is taken to ensure that Jail Island Salmon mirrors the wild Atlantic Salmon's lifecycle as closely as possible. Carefully selected broodstock are spawned in freshwater hatcheries, where eggs are kept and nurtured to the smolt stage. They are then transported to the natural salt waters of the ocean, from the Bay of Fundy up to the rocky shores of Newfoundland. The Bay of Fundy is home to the highest tides in the world and this natural flushing power of twice-a-day 28 ft tides creates a constant flow of clean, nutrient-dense water and oxygen – the perfect environment to raise fish.
Much like in the wild, it takes two and a half to three years for Jail Island Salmon to reach harvest size, upon which each Salmon is hand-graded for consistent quality year-round. Jail Island Salmon is then delivered to Samuels Seafood in as little as 48 hours from harvest for peak freshness. Every Salmon's journey is traceable back to the egg.
Beyond sustainably raising Salmon, Jail Island producers are just as preoccupied with preserving a healthy marine ecosystem in and around their ocean sites. This is why, in an effort to revive wild Atlantic Salmon stocks, for every pound of Jail Island Salmon that is sold, Samuels will donate a portion of proceeds to the Fundy Salmon Recovery project. The goal of the project is to recover and preserve the inner Bay of Fundy wild Atlantic Salmon population, a currently endangered species.
The disappearance of wild Atlantic Salmon poses a real environmental issue. Fundy Salmon Recovery is the first project in the world to collect endangered inner Bay of Fundy Salmon that have spent their critical early life stages in the wild, and then care for them in an ocean environment at a dedicated marine farm site. The fish are released back into the wild to naturally spawn the next generation of wild Atlantic Salmon. Survival of the species depends on human intervention, innovative thinking, and the collaboration of dedicated partners.
Last year, the project's recovery efforts resulted in record breaking returns of wild Atlantic Salmon. Samuels is proud to support an initiative that is working to enhance and sustain such an important ecosystem.
Jail Island is more than just a delicious center of plate option – it is food to feel good about. Authentically Canadian. Genuinely delicious. Impacting an earnest cause. And now it's available exclusively through Samuels Seafood. Contact your Samuels Agent to get a taste.
For more information on Fundy Salmon Recovery and for updates on 2019 Salmon returns, visit: www.fundysalmonrecovery.com
c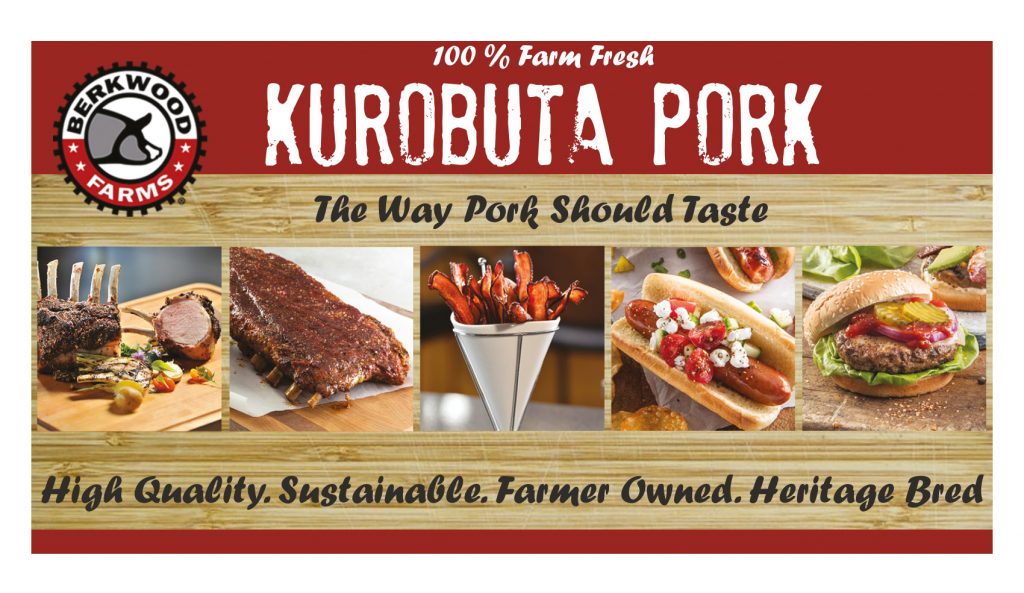 Berkwood Farms Kurobuta: Samuels Certified
By Jessica Jewel Tyler
Seafood comes naturally to Samuels and Son Seafood. This is no surprise because the last five generations of our family have been fishmongers. But there's more to fishmongers, than just fish – It's about passion and dedication to doing things the right way. Throughout the years, working with other reputable, experienced mongers of everything from Bacon to Butter, we continue to highlight products that represent our same values. We are proud to offer you Kurobuta Pork, also known as Berkshire Pork, from Berkwood Farms because of their reputation and experience, quality and taste, sustainability and so much more.
America's top chefs take pride in the entrées they present to their clientele, which is why we work to provide the best quality Pork to our customers. Kurobuta Pork comes from a special breed of pig that is specifically raised and heralded for its intensely flavorful meat and uniquely structured meat fibers which allow the meat to hold more moisture. Kurobuta Pork has a distinctly rich and juicy depth of flavor with supreme tenderness. And you can even see the difference! Unlike your average Pork, Kurobuta has a beautiful red with exquisite marbling.
The quality and taste of Kurobuta is proven by science – Kurobuta took home top honors in 19 of 20 categories in a nationwide scientific study conducted by the National Pork Board. This Japanese pig was once reserved for royalty, but now, Berkwood farms raise 100% authentic and natural Kurobuta Pork with strict attention to amazing flavor and quality.
Berkwood Farms, like Samuels, is a family-owned company that strives for excellence, by never sacrificing quality. This coalition of over 60 independent, mid-west American, family farmers takes pride in the product they produce, and work hard to ensure their animals are raised in a healthy, humane, and environmentally friendly manner. All of the farmers adhere to a strict code of responsible and humane animal husbandry and many of the farmers are the 2nd, 3rd, 4th, and even 5th generation of their family to raise Kurobuta Pork.
The producers are very conscientious of how the Pigs are raised and do so with the utmost care and attention. There is no cross-breeding, just 100% pure Kurobutas descended from Kurobutas that have been purebred for hundreds of years. At Berkwood Farms, they raise Kurobuta pigs the way nature intended. Their pigs are never given added hormones or growth promotions and have plenty of land to roam and play. In fact, Berkwood farms standards meet and exceed all other welfare standards, because happy pigs taste better. In addition to their health and unique genetic make-up, Berkwood Farm's Kurobuta Pork is superior because of their vegetarian diet consisting of all-natural corn and soybeans.
Berkwood Farm's Kurobuta Pork is cut fresh and hand-inspected for the quality of each cut, its visual constancy, and above all consistent flavor. They use no artificial ingredients or preservatives and you can rest assured that with Berkwood Farms you are getting a quality product every time. This isn't "the other white meat." This juicy, delicious ruby-red Pork is unlike anything you've ever tasted. Samuels is featuring Kurobuta Bacon, Bone-in and Boneless Loin, French Rack, Baby Back Ribs, Kielbasa, Porkers, Lard, and Fatback. Never settle for a pale imitation when you can have the real thing. The quality and taste of Berkwood Farm's Pork products is unmatched anywhere.
---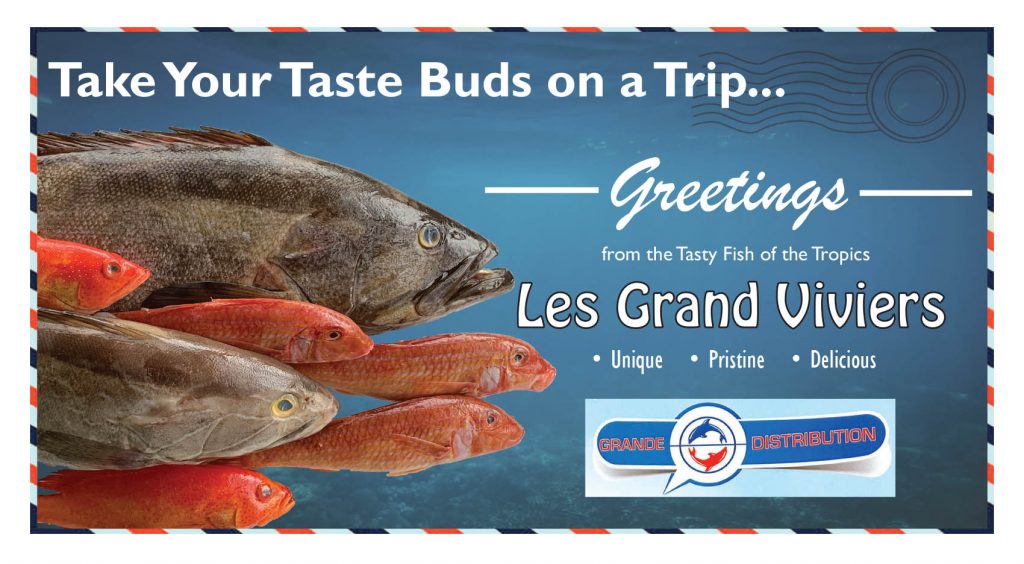 Les Grands Viviers: Specialty Delights from the Tropic
By Jessica Jewel Tyler
Imagine bringing wild fish into your kitchen that no one has ever seen before! From the boats of Senegal, Les Grands Viviers is providing some of the most amazing fish that will really wow your guests. This contingent group of local fishermen is uncovering all the tasty treasures that the beautiful East Atlantic Ocean has to offer. They take pride in what they do because they have depended on the sea for their livelihood for ages and they use the knowledge that have been passed down through generations.
Small boats, holding four or five fisherman at a time, set out for 8-12 hours each day to fish. As the waters are paramount to the success of the villages, simple hand-lines, which pose no threat to this environment, are used. The catch is then immediately taken to the family owned packing facility where fish are sorted with close attention to quality and detail. One of the most popular options is Rouget, which is on special for the month of August!
Rouget, also known as Red Mullet, is a delicious little fish that packs a wonderfully sweet and robust flavor, similar to Shellfish, with a higher oil content. Sometimes it's also compared to fish like Orange Roughy, Sea Bass, and Ocean Perch, but it's size and stunning appearance make it amazing for whole fish presentations. This beautiful reddish-pink fish with flashes of yellow is considered a delicacy in the Mediterranean where it's often steamed, stewed, or grilled whole. Now is the perfect time to try Rouget on your menu for a delicious summer dish.
Rouget is so sweet and delicate and yet it packs a ton of taste. Prepared simply with Santa Ines Extra Virgin Olive Oil, lemon, and herbs, the rich flavor really shines, but Rouget is also known to stand up to the most robust flavor profiles. It pairs beautifully with the heavier Mediterranean flavors such as olive, tomato, and fennel, in addition to bright and bold summer ingredients like energetic citrus and refreshing mint. Rouget is simply amazing on the grill and topped with a tapenade or salsa for a unique, effortless summer meal, but the possibilities are endless. This simple, versatile fish really allows you to be creative. We can't wait to see what you'll do with it this summer!
Some other options include include Strawberry Grouper, John Dory, and Scorpionfish. Strawberry Grouper is just as delicious as its name suggests. Although Strawberry Grouper gets its name from its colorful spots, this rich, flaky fish tends to be sweeter and more succulent than other Groupers. John Dory is very popular in the U.K and Australia. It's an amazing fish with dense white meat and a firm, flaky texture. Its delicate sweet flavor is compared to Turbot or Sole. Scorpionfish are also quite a treat with their eye-catching appearance and mild, slightly sweet flavor sometimes compared to Lobster. In the wild, Scorpionfish use their poisonous spikes to defend their sweet flesh. When cooking however, their spines can be removed with shears or left on for a dramatic whole presentation, because cooking will completely denature the venom.
Les Grands Vivers provides a marvelous variety of delicious, premium fish with many possibilities. These showstopping fish also include; Parrotfish, Doctorfish, Sepia, Sea Bream, Pink and Striped Snappers, Octopus, Jumbo Squid and more depending on seasonality. We even see some Mahi and Giant Grouper occasionally, especially during summer and rainy seasons. Talk to your Samuels Agent if you want to impress your guests this summer with stunning fish from Les Grand Viviers.
---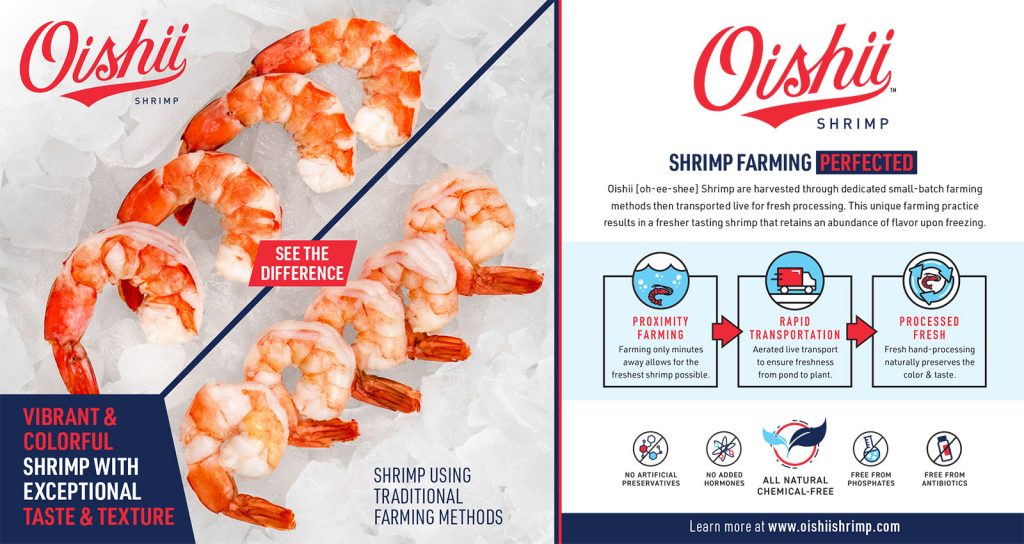 Make Your Summer More Delicious
By Jessica Jewel Tyler
Are you ready to throw conventional Shrimp aquaculture practices out the window in favor of the freshest, tastiest Shrimp you could imagine? This summer, Oishii White Vannamai Shrimp will give you just that. Using ground-breaking technology, Oishii Shrimp go from swimming to frozen, and on their way to you, within 4 hours, resulting in an unreal, straight from the water freshness that redefines delicious Shrimp. In fact, Oishii, in Japanese, is the word for delicious.
Oishii Shrimp was born out of the passion for crafting superior Shrimp. And through years of research, a decade of planning, and amazing scientific advancements, Oishii has become a game changer with exceptional color, texture, and flavor. Oishii Shrimp is also an environmentally friendly product that is Best Aquaculture Practices (BAP) certified with 3-stars. This ensures the top standard for sustainability and encompasses all quality assurance and control through every stage of the Shrimp life cycle.
The key to this success lies in small-batch aquaculture methods, proprietary pond construction, strict water quality monitoring and most importantly, cutting edge techniques which allow Oishii Shrimp to be the first Shrimp harvested and processed live. That's right, live! This is the next level of freshness.
Chickens, Cows, and Pigs are all sent to their facilities for live, immediate processing that produces unparalleled quality. However, traditional Shrimp aquaculture methods haven't been able to replicate this method due to the nature of farm construction, methodologies, and location in relation to processing facilities – until now.
Whereas typical Shrimp operations may be located hours away, Oishii's production facilities are located within minutes of their aquaculture ponds. The Shrimp take a very short ride to the facilities in unique, aerated vessels that keep the Shrimp alive and swimming until they are ready for processing. Farming "close to the source" like this allows for pristine, healthy live Shrimp to be transported quickly and efficiently, ensuring freshness from the pond to the package.
Once the Shrimp arrive live at the plant, they are processed immediately, by hand to preserve the quality, vibrant color, and amazing presentation of each and every Shrimp. When comparing Oishii to other Shrimp you can see, and taste, the difference!
Chefs choose Oishii Shrimp to wow their guests with amazing plate presentation and impressive quality. That's because your creative, carefully constructed dishes rely on the taste and quality of your ingredients like superior Shrimp. The quality and taste of Oishii will dazzle in dishes whether it comes to adding the perfect satisfying crunch to your ceviches, salads, and cocktails or imparting the impeccably mild and sweet, slightly nutty, buttery flavor into your soups, stews, and pastas.
Oishii has completely changed the game when it comes to Shrimp, producing a quality of Shrimp that is second to none in every aspect. When it comes to fresh, high-quality, sustainable Shrimp that looks and tastes incredible, choose the one that says delicious right on the package – Oishii Shrimp.
---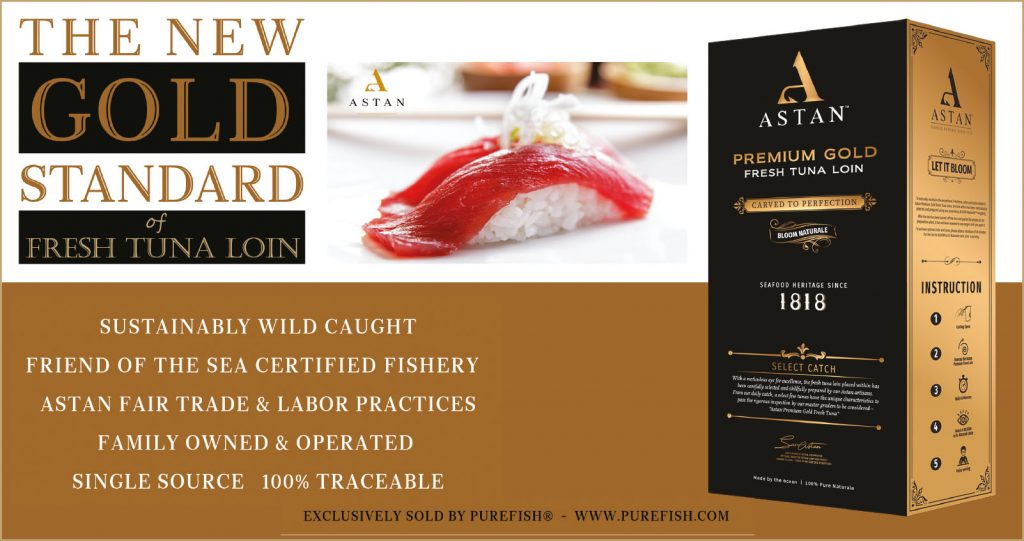 A Passion for Astan
By Jessica Jewel Tyler
The Astan family have been fishing pioneers since 1818. The founder, Max Astandoust's grandfather, started this legacy when he fell in love with seafood and the Caspian Sea. He then went on to invent the first modern technology for extracting Caviar. The Astan family continues this trailblazing with their innovative, new product: Astan Tuna. Providing chefs with some of the world's first traceable Tuna, Astan is here to shake up the seafood world with Tuna that comes with a reputation of quality, sustainability, and trust.
Today, their last name, Astandoust, further emphasizes this acclaim – "Doust," meaning passion, and "Astan," which relates to a Caspian Sea province, used together translates to "passionate fisherman." After 200 years, the Astan family knows excellence and continues to stake their famous name on the unsurpassed quality and freshness of their wild-caught Tuna.
This passion also comes through in how the fish are caught and how the business is run. The Astan family employs a single supply chain with full transparency protocol. By owning and operating all their own vessels and processing factories, Astan ensures that Astan Tuna is completely traceable and of the utmost quality.
This fully-integrated company also uses fair trade and labor practices, along with sustainable fishing practices like shorter long line catch methods. This method of catch uses a fraction of length on the long line for better control, meaning less by-catch and more pristine quality. In fact, they are Friend of the Sea Certified and produce zero unused by-catch. The company also prides itself on
attention to detail and a never-ending pursuit of supreme freshness. In most instances coming from hook to your plate in less than
72 hours, Astan Tuna is incredibly fresh with the succulent flavor and firm texture you expect from amazing, wild-caught Tuna.
This Yellowfin Tuna is caught daily from the beautiful waters off Sri Lanka and graded using a rigorous inspection of unique characteristics and a meticulous eye for excellence. Astan Tuna Premium Gold Loins are then skillfully carved and prepared by artisan Tuna carvers. The loins are lastly, packed carefully in Astan's exclusive "BLOOM-Naturale" wrapping that naturally maintains the exceptional freshness, color, and amazing taste unique to Astan Premium Gold. After the loin has been graded, carved, and packed by hand, it will not be exposed to oxygen until you open it.
When ready to be served, Astan Tuna Loins simply need to be exposed to air for 45 minutes and they will "BLOOM" to their perfect, natural state just like they were when freshly caught. With every Astan Tuna purchase, you'll receive pristine Tuna wrapped in this exclusive technology, along with a golden certificate stating where, how, and when your Tuna was caught and processed, and the confidence in knowing you purchased the best tasting, most sustainable, and truly traceable Tuna.
Astan is making history in the world of Tuna. Increasingly restaurant customers want to know with certainty where their food is coming from and how it affects the world around us. Astan is at the forefront of the movement to provide these answers along with an immaculate, bright and beautifully red Yellowfin Tuna Loin that tastes impeccably delicious in any application.
---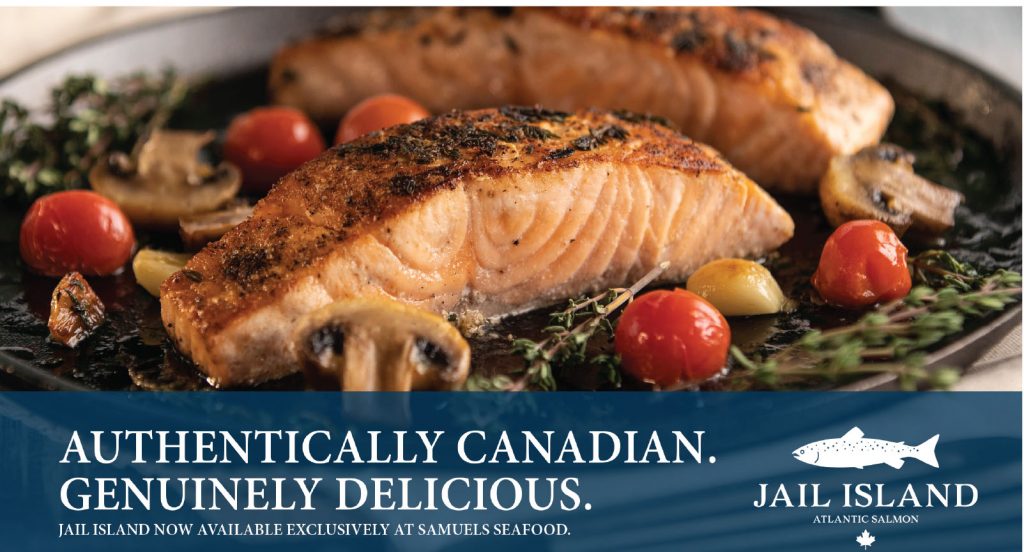 JAIL ISLAND SALMON
Now Exclusively Distributed by Samuels Seafood
By Jessica O'Kane
Samuels Seafood is excited to announce an exclusive distribution partnership with Jail Island Salmon. Jail Island is among the finest quality Atlantic Salmon from Canada.
With a truly delicate flavor and a satisfying medium-firm texture, Jail Island Salmon provides a superior food handling experience for chefs, and a first-class dining experience for guests. Straight from the natural ocean environment of Atlantic Canada, chefs and restaurateurs can count on Jail Island Salmon to deliver exceptional Canadian quality, freshness, and taste – Just like nature intended.
Jail Island Salmon are sustainably raised in the cold, clean waters of the North Atlantic off the East Coast of Canada. These are the very same waters that have seen countless generations of wild Atlantic Salmon on their epic journey out to sea and back.
Special care is taken to ensure that Jail Island Salmon's life cycle mirrors that of wild Atlantic Salmon's as closely as possible. Much like their wild ancestors, Jail Island Salmon start their lifecycle in freshwater before making the trek out to the natural salt waters of the ocean. Hand-graded for consistent quality year-round, Jail Island Salmon is delivered to Samuels Seafood in as little as 48 hours from harvest for peak freshness. From East Coast Canada to East Coast USA – it is not a long journey. The journey is, however, completely traceable, from egg to plate.
Beyond sustainably raising Salmon, Jail Island producers are just as preoccupied with preserving a healthy marine ecosystem in and around their ocean sites. This is why, in a nod to Atlantic Salmon's wild heritage, for every dollar spent on Jail Island Salmon, Samuels will donate a portion of the proceeds to the Fundy Salmon Recovery project. The goal of the project is to increase the number of spawning Salmon in the inner Bay of Fundy, a currently endangered species. The project has already seen record breaking numbers of wild Atlantic Salmon returns thanks to the World's First Wild Salmon Marine Conservation Farm on Grand Manan Island in New Brunswick, Canada. Samuels is proud to support an initiative that is working to enhance and sustain such an important ecosystem.
Jail Island is more than just a delicious center of the plate option – it is fish to feel good about. Jail Island is an authentically Canadian and genuinely delicious Salmon that is impacting an earnest cause. And now it's available exclusively through Samuels Seafood. Contact your Samuels Agent to get a taste.
For more information on Fundy Salmon Recovery, visit: fundysalmonrecovery.com.
---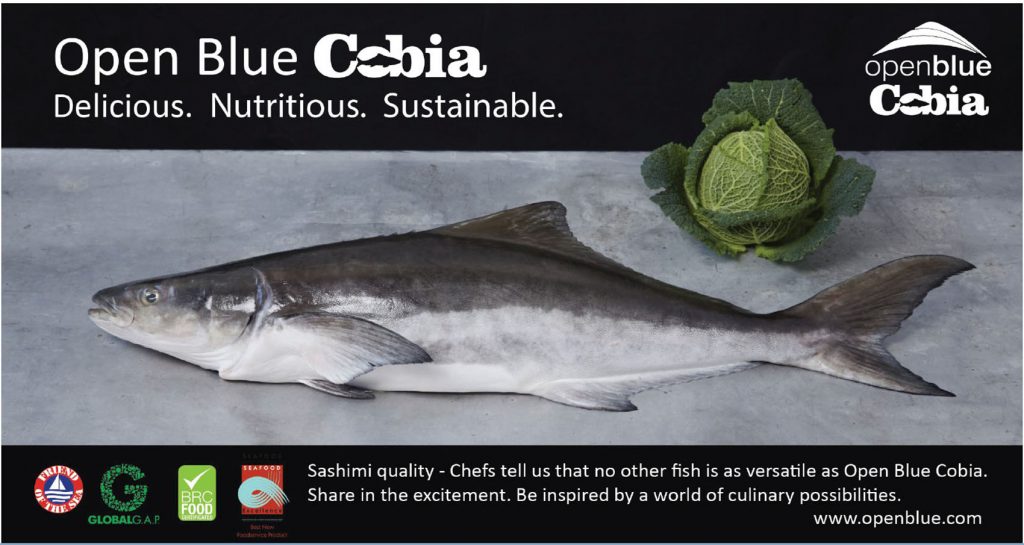 Open Blue Cobia – A New Taste for Your Spring Menu
by Jessica Jewel Tyler
Open Blue Cobia is the superior white fish with virtually endless possibilities. It may just be the best thing you've never had… yet. Often compared to Swordfish or Chilean Sea Bass, Open Blue Cobia has an amazing sweet flavor with a fresh finish, firm texture, and large flake. This superfood also has a higher fat and Omega-3 content which adds to the health factor and keeps the fish tender and moist in any cooking application. It's ideal for grilling, broiling, searing, baking, and many more creative possibilities including raw applications. When cooked, customers can't get enough of the crispy texture of the skin and the succulent flesh. When raw, the buttery, succulent fish really shines, especially with citrus and fresh herbs.
Open Blue Cobia can also stand up to bold flavor profiles and makes an ideal pair with the fresh produce, greenery, and herbs of spring. That's right, from the sweeter fruit flavors like peach or mango in a fun spring salsa – to the spring asparagus, scallions, and greens like chard, and kale, Cobia's meaty and unique sweet flavor takes any dish to the next level.
Some chefs go as far to say that no other fish is as versatile as Open Blue Cobia. Open Blue even won the Seafood Excellence Award for most convenient product at the Brussels Seafood Show. But the accolades don't stop there.
They are the world's first Cobia company to achieve four-star Best Aquaculture Practices (BAP) and Aquaculture Stewardship Council (ASC) certification. In addition, they have achieved certification from Friend of the Sea, Global Gap, and BRC Global Standards. This glowing report also includes a Seafood Watch "Good Alternative" rating. Open Blue has achieved this acclaim through offshore distance, vertical integration, and a deep commitment to raising fish in harmony with the ocean.
Open Blue has proven that deep-water offshore aquaculture in fully submersible pens not only has lower environmental impacts than traditional shore options, but can actually help ocean ecosystems and the Cobia itself by giving the fish ample room to grow and thrive without upsetting the balance or oversaturating already nutrient-rich ocean beds near the shore. That's why Open Blue raises their Cobia eight – ten miles off the shore of the beautiful Panama Coast, fully submerged at depths of up to 250 feet, in their native tropical waters.
This vertically integrated company also operates its own hatchery and nursery where the fish are spawned, eggs are hatched, larvae are weaned and the Cobia grow strong enough for the open ocean. This ensures full traceability.
Open Blue Cobia is quickly becoming a favorite of many chefs because of its versatility, sustainability, and amazing flavor. We invite you to share in the excitement and be inspired by a world of culinary possibilities. We've seen chefs work a ton of magic on this fish, creating dishes that wow guests with flavor and beauty.  If you haven't tried it, it may be time to make Open Blue Cobia your next spring fling and even your summer love.
---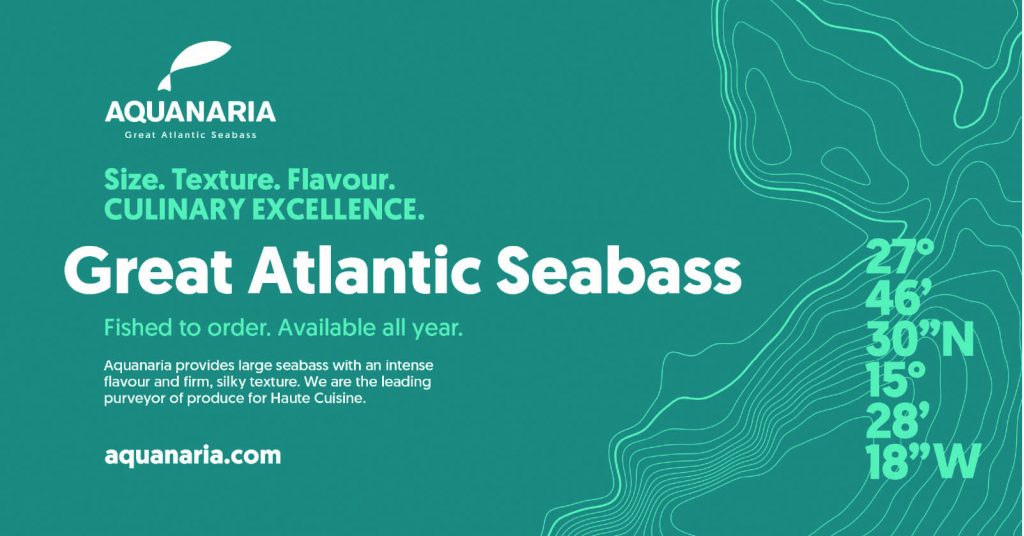 Aquanaria Sea Bass: Raising A Star Menu Item
By Jessica Jewel Tyler
Aquanaria offers a better way to harvest, both for the fish and for those who eat them. After more than four decades dedicated exclusively to this project, Aquanaria has achieved major advancements in the aquaculture of Sea Bass, better known as Bronzino. Today, they are the leading producer the most gourmet Bronzino that is preferred around the world.
Managing Director, Gustavo Larrazábal, is a tireless entrepreneur who ventured into aquaculture with a single objective: "to raise large size Bronzino … that achieve an exceptional gastronomic quality in a manner that is natural and sustainable. Today, Aquanaria's aquaculture process is aimed at generating the least possible stress on the environment, while also minimizing the stress on the fish in order to preserve its exceptional quality and fresh taste.
Aquanaria Bronzino is raised two miles off the coast of the Canary Islands, Spain. The distance into the open ocean helps protect the coastal sea beds, while the Atlantic tides of the picturesque islands provide the optimum conditions for the health and taste of the fish. With its strong currents and ideal and steady temperatures, Aquanaria Bronzino swim and fight against the currents until reaching the most favorable levels of fat and texture that make them such a great tasting, high-end product.
The Bronzino are also monitored and controlled throughout their entire life cycle. Aquanaria has the first hatchery center in the Canary Islands, where they produce juvenile fish (fry) throughout the entire year, which guarantees a constant supply of fry with complete traceability. When they are ready to be transferred to the breeding center in the Atlantic Ocean, they are fed a healthy and balanced diet with no land based proteins, ensuring a pure, clean taste.
Once the fish reach an ideal weight, they are harvested to order protecting its supreme freshness. The fish are harvested using the "thermal shock" method. This technique best preserves the pristine plate presentation of the fish, in addition to instantly killing the fish, reducing stress and lactic acid, which greatly improves taste and texture.
Within 48 hours, Aquanaria Bronzino is then delivered to any place in the world, in the best conditions for the best meals. Since ancient times, Bronzino has been one of the most valued fish in kitchens. This is true for several reasons: its flavor, texture, nutrition, and because it has very few bones that are very easy to remove. This gourmet treat, just got a whole lot better thanks to Aquanaria.
Aquanaria Bronzino is a high quality product with two distinguishing characteristics: an intensely rich and excellent flavor and a firm and tender texture. These two characteristics have made Aquanaria Bronzino a worldwide success demanded by the best chefs. Traditional kitchens as well as the newest and trendiest kitchens have found a star product in Aquanaria Bronzino
---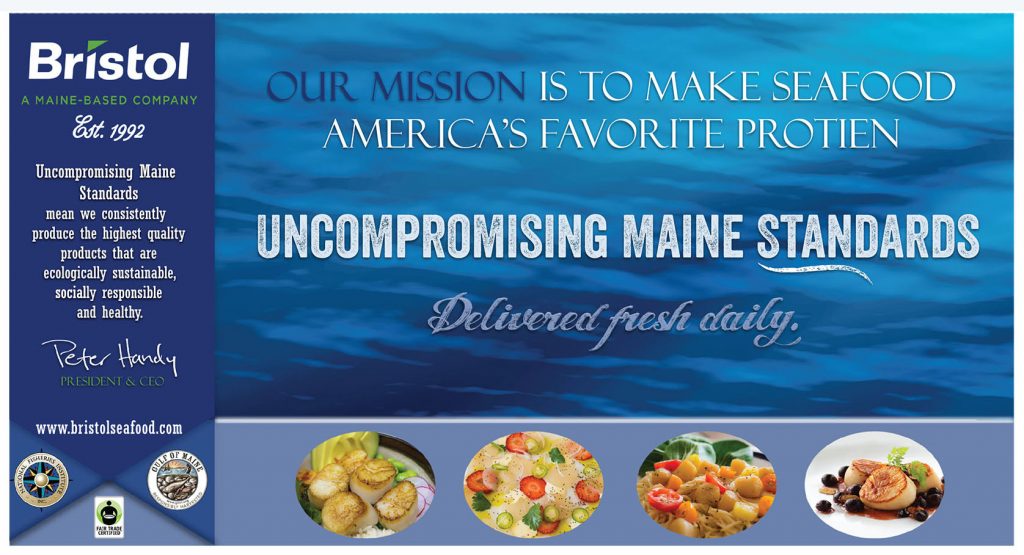 Bristol Seafood Sets Out to Make Seafood America's Favorite Protein
Americans only consume 16 pounds of seafood each year on average, but Bristol Seafood from Portland, ME aims to change that. Bristol's mission is to make seafood America's favorite protein. "We believe if we tell the truth, put quality first, and share the story behind our products, we can get more Americans to eat more seafood, more often," said Bristol Seafood owner and CEO Peter Handy. "We do this through our 'Uncompromising Maine Standards' — by delivering trusted premium quality products on a consistent basis."
With a heritage of more than 26 years on the Portland (Maine) waterfront, Bristol knows where to find the best tasting products that come from sustainable fisheries that meet the company's relentless Maine standards. Bristol offers Dry Scallops that are fresh and frozen.
Bristol's Chef Packs, which feature beautiful, whole Scallops of the highest quality, include three options: wild Scallops plucked from the Gulf of Maine or the pristine waters of Japan and Bay Scallops from the warm waters of Peru.
Wild and Local Scallops – Bristol's wild U.S. Sea Scallops are sustainably caught in the ice-cold waters of the Gulf of Maine and North Atlantic. Bristol's Chef Pack Scallops sear up beautifully and have a sweet authentic flavor. Bristol and their production team understand that chefs expect Scallops with consistent quality and size and only whole Scallops. That's why all of our Scallops are hand graded for quality and size consistency and broken Scallops and pieces are graded out of the pack. The result is all-natural, sustainable seafood that is simple to prepare and a pleasure to eat, every time.
Peruvian Scallops are sustainably ocean-ranched in the coastal bays of Peru. The Scallop are collected, shucked, and packed by small-boat fishermen and rated a "Best Choice" by the Monterrey Bay Aquarium's Seafood Watch Program. Their warm water environment gives them a soft, tender texture, sweet flavor profile. These top-quality Scallops that are all-natural, dry, and moderate in size, price, and range from 30- 50 per pound, making them the perfect size for seafood pastas, chowders, and appetizers.
Hokkaido Scallops come from Hokkaido, the most northern island of Japan, with a rich natural environment formed by the warm and cold currents that meet there. The Hokkaido Scallop fishery is certified sustainable and the Scallops are prized by chefs around the world for consistently producing extremely high quality Scallops. These Scallops are grown in the sea for 4 – 5 years, which results in large adductors that are firm and succulent with a rich sweet taste and a savory melt-in-the-mouth texture. Once harvested these Scallops are hand-shucked, graded for size and quick frozen to encapsulate their freshness. Bristol's Chef Pack Hokkaido Scallops are available in 10/20's and ship in the convenient Eco Pails.
Bristol believes that quality only matters if there is consistency and high standards. The company's state of the art facility is certified by the Global Food Safety Initiative (GFSI) for food safety, the Marine Stewardship Council (MSC) for sustainability and Fair Trade for social welfare. But even with the state of the art equipment, everything that leaves the Bristol facility is hand finished, which no matter what, is always the best way.
---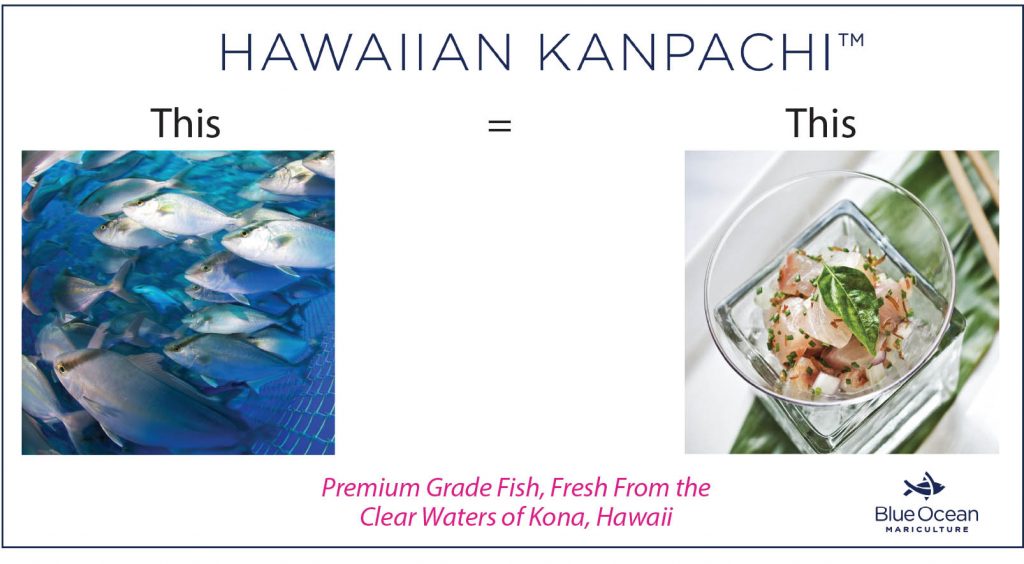 Hawaiian Kanpachi: From Sushi to Sizzle
by: Jessica Jewel Tyler
You may have heard of Kanpachi, but not like this! Say Aloha (Hello) to Hawaiian Kanpachi: the fish being taken from sushi to sizzle. In addition to being served at America's top restaurants, the fish has also been featured at several James Beard Foundation Dinners around the country and is showcased annually at the Hawaiian Food & Wine Festival. Hawaiian Kanpachi, also known as Yellowtail, is a premier member of the Amberjack family prized for its simply amazing flavor. This naturally fatty fish has a clean ocean flavor with notes of rich, nutty sweetness and a smooth, flaky texture.
Many chefs use Kanpachi for sushi or raw applications, however whether grilled, roasted, broiled, fried, steamed, poached, or smoked, cooked Kanpachi is bringing some sizzle into chef's kitchens. When served crudo style, the fresh, bold flavor and supple, delicate flesh really shines. But when cooked, the flavor is taken to another level. Hawaiian Kanpachi is steak-y, versatile, and rich in natural oils, so it stays succulent in any cooking application and works well with both simple and complex flavors. We love it seared, or lightly charred with a torch. This cooks just the top layer of flesh, but loosens up its oil content, making it extra buttery with delicious crispy skin.
Another treat Kanpachi offers are the collars. Considered a delicacy in Japan, Kanpachi Collars are the fattiest and most succulent part of the fish. This is a great way to utilize every part of this no waste fish. The collar gets cooked directly on the bone, which seals in it's rich, sweet flavor and tender juicy meat. And when grilled or broiled, they are just as addictive as chicken wings.
This versatile fish is also a sustainable U.S.A fish with amazing quality. Hawaiian Kanpachi is aquaculture raised, by Blue Ocean Mariculture, in the tropical waters off Kona Coast, Hawaii. Blue Ocean (the only Kanpachi Open Ocean Aquaculture operation in America) uses the most sustainable production methods. In fact, Hawaiian Kanpachi has been rated a "Good Alternative" by the Monterey Bay Aquarium's Seafood Watch program.
Blue Ocean's facility is fully integrated to mimic and optimize the natural life cycle of the fish from hatch to harvest and each step of the process is carefully monitored and controlled. The fish are hatched from native, locally and sustainably caught brood fish. The juvenile fish from the hatchery are then transferred to offshore ocean pens where they fed only the best feed from certified sustainable fisheries. The sea pens are fully submerged in the powerful currents of the deep, open ocean to minimize the impact on water quality and maximize fish health. The fish also benefit from very low stocking densities which promote less stress among the stock.
Hawaii's warm, tropical waters also promote faster growth; the fish grow to full maturity in 18 months, half the time of other species such as Salmon. When Hawaiian Kanpachi reach the ideal size, they are harvested to order and then rapidly chilled to ensure the freshest product from water to plate. The fish are available fresh year-round. If you're looking for an easy environmental choice, that's also versatile and delicious, say Aloha to Hawaiian Kanpachi, now on special for the month of January.
Hawaiian Kanpachi is available in 5-7lb whole fish and Collar on or off Fillets. Talk to your Samuels Agent for more information.
---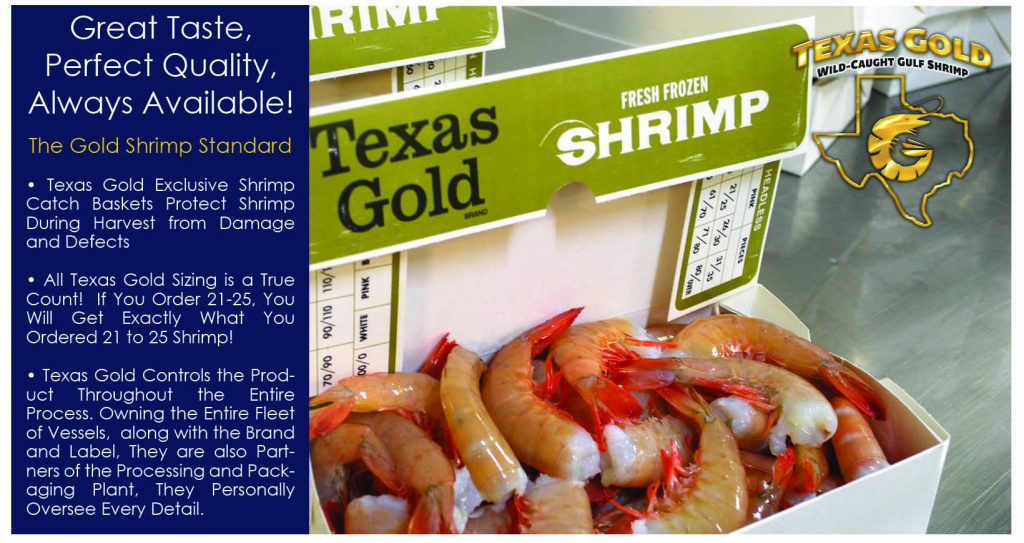 Texas Gold Shrimp: as Good as Gold
Texas Gold Shrimp has been in operation since 1977, but the story of this family business started in 1952 with the Zimmerman family and their boat repair shop: Marine Mart. This is where their history and passion for Shrimp all began.
At the shop, the family acquired a shrimp boat after years of repair work. From that moment, they expanded into Shrimping. The grandfather was an engineer, so he began to design and build his own Shrimp boats. They built almost 300 boats between 1960 and 2000 and many of these designs are still used today. Currently, they have the largest fleet in the Brownsville/Port Isabel, TX area and the most fuel efficient fleet in the Gulf of Mexico with boats that use at least 20% less fuel.
The Zimmerman family has innovated the Shrimping business in Texas and is now taking the Shrimp world by storm with their premier product, Texas Gold. It's because of the passion and commitment to doing things better that makes for such a high quality product. It's truly as good as gold.
Each package of Texas Gold contains beautiful brown Shrimp with a full-bodied, amazing flavor. The taste is fresh and clean with lovely notes of richness and sweetness. Because they own their own boats, label, and oversee every aspect of production, Texas Gold delivers consistent and delicious Shrimp every time.
The quality and consistency of Texas Gold starts with the care and attention to detail the boat crews put into handling the Shrimp once it is caught. To ensure every Texas Gold Shrimp is the highest quality, they are very quick and careful. The Shrimp are headed on the boat, as soon as they are caught, which results in a cleaner tasting Shrimp. And then they are frozen onboard at their peak of freshness.
Texas Gold doesn't cut corners; they treat each Shrimp like gold. During freezing, they protect their Shrimp in rigid, plastic baskets rather than large Shrimp sacks. This allows for fewer defects and broken pieces and also more even distribution. This even distribution helps the Shrimp to freeze more quickly and efficiently so that you receive only the freshest Shrimp straight from the Gulf.
When the boats return to the docks, the trained staff carefully unload and weigh all Texas Gold Shrimp. Once complete, all Texas Gold Shrimp are loaded onto trucks and delivered to the packaging facility in Port Isabel, TX.
All Texas Gold Shrimp are processed at this one facility and there are strict specifications about what goes into each package. Texas Gold Shrimp goes through three separate quality control checks during the grading and packaging process and there is a Texas Gold employee overseeing all operations. This is because Texas Gold is very particular about what is placed in the package and wants to provide only the best Shrimp.
Texas Gold is focused on quality. From the way the Shrimp is handled on the boats, to the way Texas Gold is packaged; they do everything possible to ensure Texas Gold is really as good as gold.
Available year-round in multiple sizes including; U–12, U-15, 16/20, 21/21, 26/30, 31/35, 36/40, 41/50, and 51/100.
---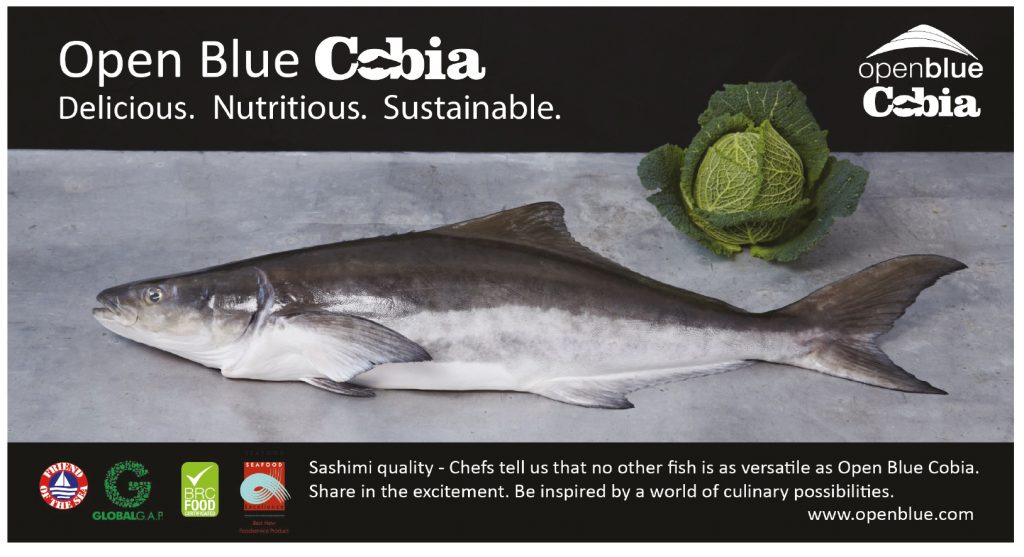 Sustainably raised, eight – ten miles off the shore of the beautiful Panama Coast, fully submerged in the deep open ocean at depths of up to 250 feet, in their natural habitat, you'll find Open Blue Cobia. That's a further commute than most of us are used to, but Open Blue strives to do what's right and not just what's easy. This comes from a simple philosophy that Open Blue holds true: "feeding current and future generations in harmony with the ocean." The sustainability achievements Open Blue has accomplished, along with the quality and taste of their award winning Cobia is certainly worth the time and effort they have invested.
Open Blue's aquaculture practices go above and beyond all required environmental legislation. They are the world's first Cobia company to achieve both four-star Best Aquaculture Practices (BAP) and meet the strict regulations of the Aquaculture Stewardship Council to receive an ASC certification. In addition, they have achieved certification from Friend of the Sea, Global Gap, and BRC Global Standards. This glowing report also includes a Seafood Watch "Good Alternative" rating. Open Blue has achieved this acclaim through offshore distance, vertical integration, and most importantly the fish itself, Cobia, the fish of the future.
Deep open ocean offshore aquaculture in fully submerged sea stations has lower environmental impacts than traditional near shore operations and can actually help ocean ecosystems by reducing fishing pressure on wild fish species. Raising Open Blue Cobia offshore, far from sensitive ecosystems and in strong ocean currents, gives the fish ample room to grow and thrive in a ratio of 97% ocean and 3% fish. Open Blue has a clear purpose, to provide the purest, healthiest fish that nourishes current and future generations.
This vertically integrated company also operates its own hatchery where the fish are spawned, eggs are hatched, and larvae are weaned ensuring full traceability. Thirty days after hatching from an egg, the fish are moved into Open Blue's nursery facilities where the fish grow strong enough to be transferred to the open ocean sea station. Open Blue only uses B.A.P. certified sustainable feed as well that includes fish meal and oil, crustacean meal, and necessary minerals and plant proteins.
During the open ocean stage, the Cobia grow very quickly. In fact, this is why Cobia was named "the fish of the future" in Josh Schonwald's book, The Taste of Tomorrow. It's a perfect fish for sustainable aquaculture because it reaches 11-pounds in about a year while a Salmon usually takes three. Cobia was also named the fish of the future because of its supreme taste, versatility, and health factor.
Often compared to Swordfish or Chilean Sea Bass, Open Blue Cobia has an amazing sweet flavor with a fresh finish and a firm texture and large flake. This superfood also has a higher fat and Omega-3 content which adds to the health factor and keeps the fish tender and moist. It's a strong fish that holds up well and can really stand up to bold flavors. It's a sashimi grade product that tastes great in raw applications. Cobia is ideal for almost any cooked application as well, including grilling, broiling, searing, baking, and many more creative possibilities.
Open Blue Cobia is truly the fish for our future. Talk to your Samuels Agent about making the future today. Available fresh in a variety of cuts.
---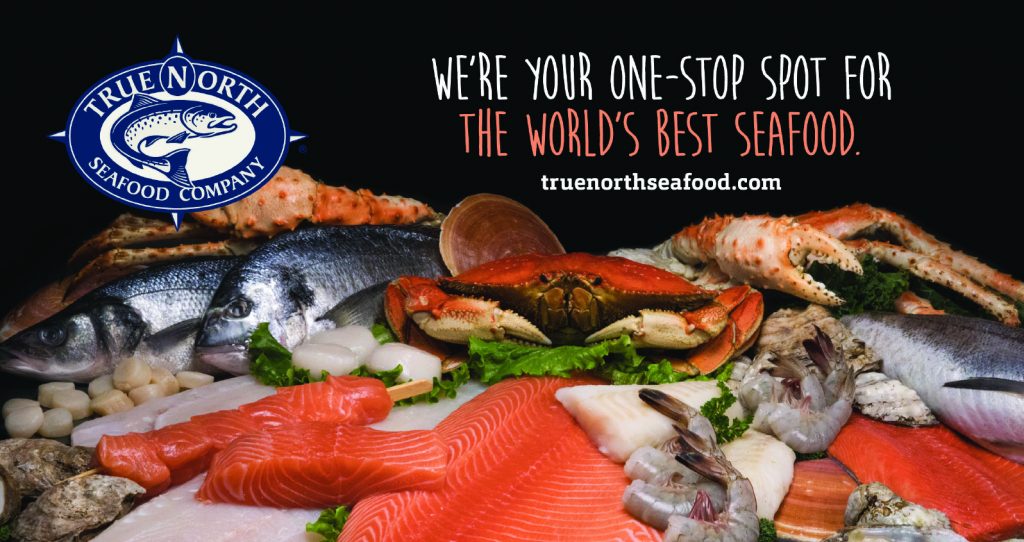 Head True North for Tasty Salmon
By Jessica Jewel Tyler
When it comes to delicious, sustainable, and traceable Salmon look North – True North that is. If you are looking for the delicate, buttery flavor and smooth texture of the freshest Atlantic Salmon you can get, it's swimming up North, on the Atlantic coast. Blacks Harbor, New Brunswick in Canada and the Gulf of Maine are where the cold, pristine waters provide the most perfect conditions for delicious fish and where True North Seafood has mastered the art of aquaculture in open sea enclosures.
Thirty years ago, the family-run company, True North Seafood was born in a small fishing village of Canada. Their goal was to provide fresh, naturally-raised, and environmentally responsible Atlantic Salmon. And today they are the largest and most trusted producer in North America.
The company utilizes natural methods mixed with ground breaking technology in aquaculture to further pursue their goal. It's a step-by-step approach that mimics the natural life cycle of the fish. The process begins in freshwater hatcheries where the eggs are nurtured until they hatch. Then, the baby Salmon (fry) are moved to indoor freshwater enclosures where they are raised until they are ready to be moved.
The next stop is True North's open water enclosures in the Atlantic Ocean, where they live and grow for 18 to 24 months before they are harvested. The Salmon thrive under True North's care in the brisk waters of their natural habitat. True North Seafood produces their own feed using all-natural ingredients including, omega-3 fatty acids, vitamins and minerals to promote healthy growth. True North takes the utmost care in raising the fish and even uses underwater cameras and sensors to monitor the Salmon to ensure that there is no overfeeding or stress.
True North also utilizes technology in their tracking and breeding. Researchers have developed the Offspring 50K Chip, which is essentially a genetic road map for Atlantic Salmon in North America. This allows for pin-pointed traceability and selective breeding of the best tasting Atlantic Salmon.
To ensure the freshest Salmon, True North harvests to order. This creates a process of harvesting and shipping daily and all year long, resulting in fish that typically arrive one week faster and one week fresher than other raised or wild Salmon.
Raising a market sized Salmon is a 3-year process, so True North goes above and beyond to raise it sustainably. They are even certified with Best Aquaculture Practices (BAP) – recognizing them as a company dedicated to the health and wellbeing of both the fish and their natural environment.
True North has spent the past 30 years perfecting their techniques to bring you fresh Salmon that tastes good and makes you feel good about serving it. This is a great, versatile fish for any cooked application, and it's simply amazing raw. We are proud to offer whole fish in 8 – 10lb through 14-16lb sizes in addition to fillets, portions, steaks, and even specialty cuts. Talk to your Sales Agent about adding the freshest sustainable and traceable Atlantic Salmon to your menu. Now it's a great time to head True North.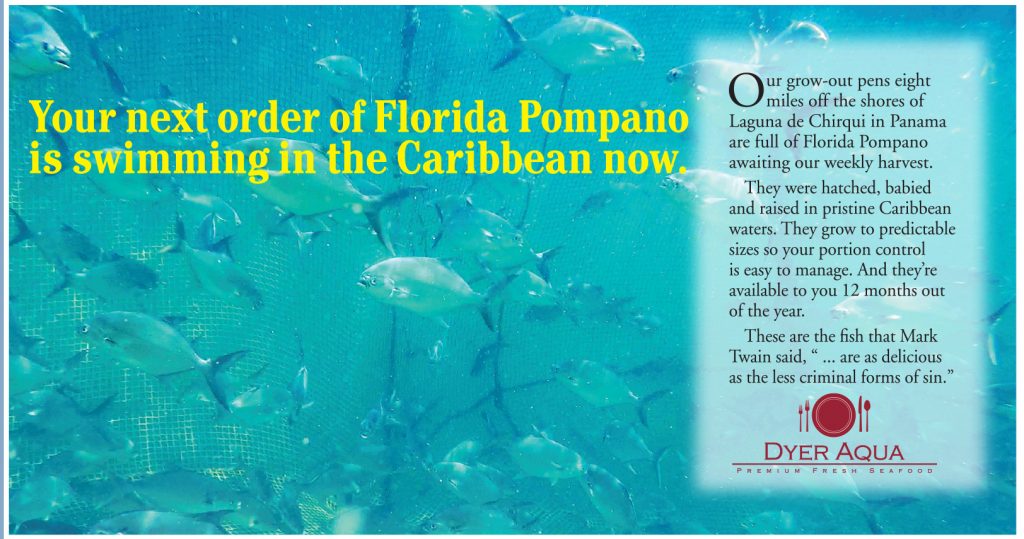 Pompano: " … as delicious as the lesser forms of sin." – Mark Twain
By Joe Dempsey
by the legendary Mark Twain. Many others have weighed in on the superior taste of Pompano, including David Starr Jordan and Barton W. Edleman. Jordan was founding president of Stanford University and the most respected ichthyologist in the U.S. Edleman was director of the California Academy of Sciences. They agreed that, "As a food fish there is none better than the Pompano, either in the fresh waters or the seas. This is practically the unanimous verdict of epicures and all others who have had the pleasure of eating the Pompano, fresh from the water. The flesh is firm and rich – and possesses a delicacy of flavor peculiarly pleasing to the palate."
The fish to which they are referring is the Trachinotus carolinus, popularly known as Florida Pompano, regardless of where it grows.
With such lofty accolades, one wonders why Florida Pompano is not highly placed on menus in leading restaurants – but this was not always the case. Until the mid-nineties, Pompano was frequently found and featured in many fine dining restaurants. Then, in 1994, the state of Florida passed a law banning commercial fishing with gill nets in oceanic waters overseen by the state. Since the majority of Pompano commercially harvested originated in these waters, the supply was functionally eliminated. Today, wild Florida Pompano are harvested with hook and line from August to October.
Early attempts at commercially raising Pompano met with failure. Not so with Dyer Aqua, a Samuels and Son supplier. Dyer very successfully raises Florida Pompano in the pristine Caribbean waters of Laguna de Chiriquí, Panama, eight miles off-shore.
Dyer harvests 3/4 to 2-pound fish weekly from its Panama open sea pens. These fish are under the watchful eyes of the Dyer crew from conception in their on-site company hatchery through harvest, sorting, and packing for shipping.
Dyer Aqua holds a 20-year commercial lease on 501 hectares with a current production rate of 250 tons/year and has plans to double production. Facility manager, Alcibiades Arauz oversees the entire operation from egg through harvest and shipping. This includes testing the waters. "We are required to test these waters every four months," Arauz says. "But we go beyond that and do weekly water tests on our own."
Dyer brings more than 22 years of aquaculture research and management to the table. "Our goal (and we are reaching it with every harvest) is to provide a consistent quality fish in average sizes with availability year round. We believe that's what it takes to return this fine fish to fine menus," Arauz said.
---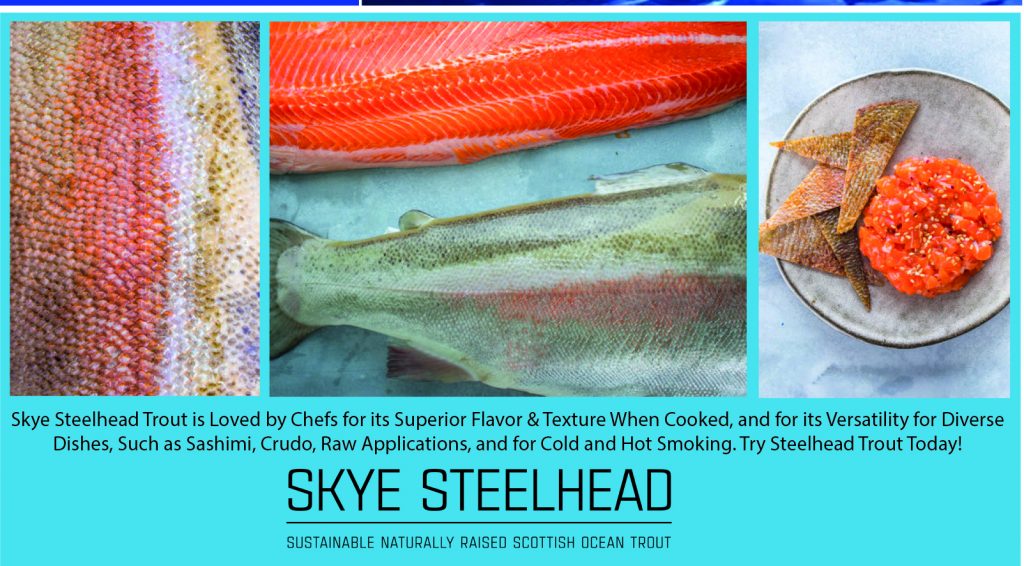 Skye Steelhead Gets the Gold for Natural and Sustainable Aquaculture 
by: Jessica Jewel Tyler 
Switch up your menu with Syke Steelhead Ocean Trout! This Salmon sibling is a similar but fattier fish than most Salmon, with a distinct, buttery flavor and delicate, melt-in-your mouth texture. It's loved by chefs for its versatility in applications from pan-searing, to smoking, or sashimi and other raw applications. Being rich in protein, vitamins, and omega-3 fatty acids, it's one of the healthiest fish you can eat. If that wasn't good enough, Purefish is bringing it to us responsibly harvested and naturally delicious.
PureFish has made huge advantages in bringing aquaculture Steelhead Trout the closest you can get to wild caught! Through uses of open pens, low stock density and high quality feed, Skye Steelhead Trout are living in ideal natural conditions needed for health, sustainability, and perfect flavor.
Skye Steelhead Trout start their lives in pristine Scottish spring water to ensure quality and health. Once the fish have matured, they are introduced to the salty sea. This process mimics the lifecycle of the wild anadromous Steelhead Trout, which is born in freshwater, migrates to the ocean, and returns to freshwater to spawn. This is important because it affects the meat quality. In fact, without this transition to saltwater, this Trout could not be considered a Steelhead and would not have its distinctive taste. Another important factor here is sustainability – Trout population in the wild can be sparse, less than 20 Steelheads return for every hundred that migrate because they are prey to a plethora of mammals from sea, land, and sky.
The ocean pens are located in the beautiful open waters off the picturesque Isle of Skye, Scotland. This makes the perfect location for overall health of the fish and environment. The powerful currents of the North Atlantic are constantly surging nutrient rich water through the farms, allowing the Trout to naturally swim against them. These strong currents not only create stronger and healthier fish, but keep a clean sea bed.
PureFish's philosophy is putting sustainability and quality first to produce fish that are better tasting and better for the environment. This fishery is even certified with both UK's RSPCA (Royal Society for the Prevention of Cruelty to Animals) and The Global G.A.P. (Good Agricultural Practices.)
They accomplished this environmental acclaim through ultra-low stock densities where the concentration is 99% water to 1% fish. The low density reduces stress, improves health, and allows a higher amount of muscle to develop which affects texture and taste. The pens are also put on rotation or fallowing – one pen is used and then moved to avoid negative environmental effects such as depleting nutrients or overloading waste in one area.
The fish come first here! They are given the highest quality feed and 24-hour vet monitoring. This fancy fish diet is composed of natural fish protein from other sustainable fisheries with 15% higher than average omega-3 fish oils added for additional health benefits for the fish and consumer. Even the antioxidants, carotenoids, needed for the health and enticing color of the trout, are responsibly sourced from natural microorganisms. Most importantly, the feed is free of land based animal protein, which contributes to the clean taste and high quality that's unmistakable, especially when enjoyed raw.
Steelhead Trout is available year-round, whole or fillet, ask your agent for more information.
---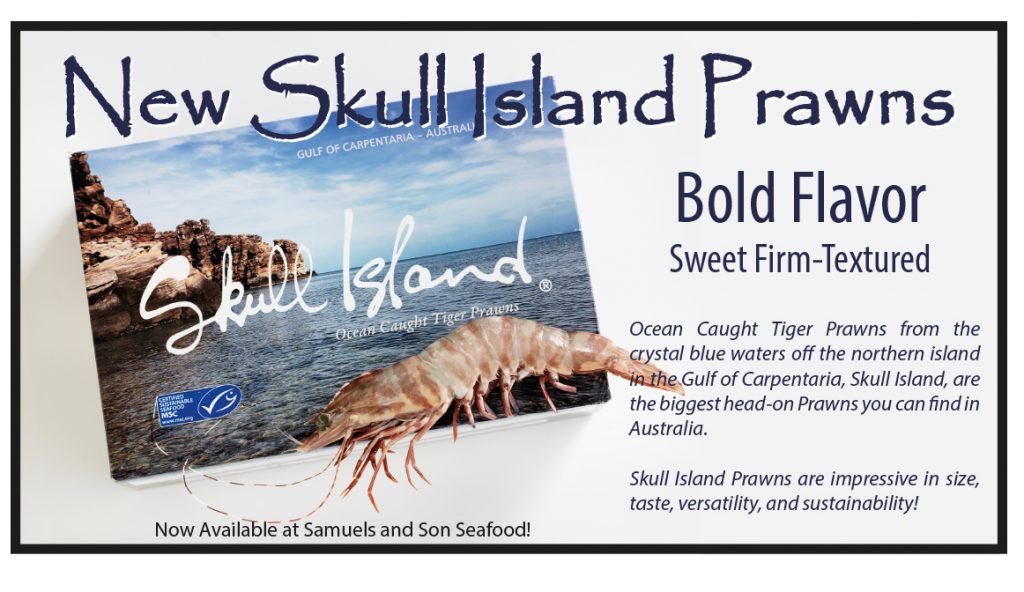 Look out! King Kong isn't the only behemoth hailing from Skull Island, Australia. Tiger Prawns from the warm, crystal blue waters off the northern island in the Gulf of Carpentaria, Skull Island, are the biggest you can find in Australia. Because of the large expansive seagrass beds, strong tidal movement, and ample nutrients available along the inshore protected waters off of Skull Island, the Tiger Prawns grow to massive sizes. Skull Island Tiger Prawns are ironically large, impressive creatures that can measure up to 10 inches in length and up to .25 pound in weight! The Tiger Prawns also have a striking shimmery tail that will surely catch your eye – A big, bold look with big, bold flavor!
Skull Island Tiger Prawns have a distinctively bold flavor that will leave you hooked! The surprisingly sweet and firm-textured Prawns cook up nicely boiled, broiled, steamed, sautéed, or "thrown on the barbie" with the head on or off. Either way, save those heads and shells to unleash the unparalleled hidden flavor of Tiger Prawns in your stock for stews, soups, or paellas. Skull Island Ocean Caught Tiger Prawns are massive in size and flavor, but they are small on bycatch waste. In fact, Skull Island Tiger Prawns are the world's first Marine Stewardship Council (MSC), certified sustainable tropical Prawn.
Skull Island Ocean Caught Tiger Prawns are the biggest Shrimp with the smallest environmental footprint. This was achieved by efficient and sustainable carbon-neutral harvesting. In order to maintain its efficiency, the fishery reduced its fleet from 312 boats to 52 boats equipped with more precise and productive technology. This reduced both carbon emissions and bycatch to insignificant numbers. Bycatch and specifically turtle bycatch was also reduced by the implementation of night fishing and seasonal fishing. The turtles love to play in the day time on this beautiful tropical island, and night fishing has allowed them to do so unharmed. The Tiger Prawns are also only caught during the months between August and November each year. The remainder of the year is closed to fishing to ensure minimal bycatch, and to ensure maximum replenishment of mature Tiger Prawns. With the fishing hiatus in place, the juvenile Tiger Prawns have ample time to grow into adults and reproduce. The Prawn stocks are then maintained at healthy, sustainable levels with annual scientific sampling and surveys, as well as multi-year scientific reviews of the status of the fishery. Talk about sustainability!
The sustainability efforts made for Skull Island Tiger Prawns by Austral Fisheries are extremely important because Tiger Prawns are at an excessive risk of being sourced from unsustainable fisheries. David Carter, Austral Fisheries CEO, quotes "I could not be prouder of the sustainability credentials of the fishery, or the quality of the prawn that we produce, or of the people that bring this all together for the ultimate dining experience." We agree! – With its impressive size, taste, versatility, and sustainability Skull Island Tiger Prawns are sure to provide the ultimate dining experience and wow factor in your kitchen.
Skull Island Ocean Caught Tiger Prawns are available at Samuels and Son Seafood, please ask your sales agent for more info.
---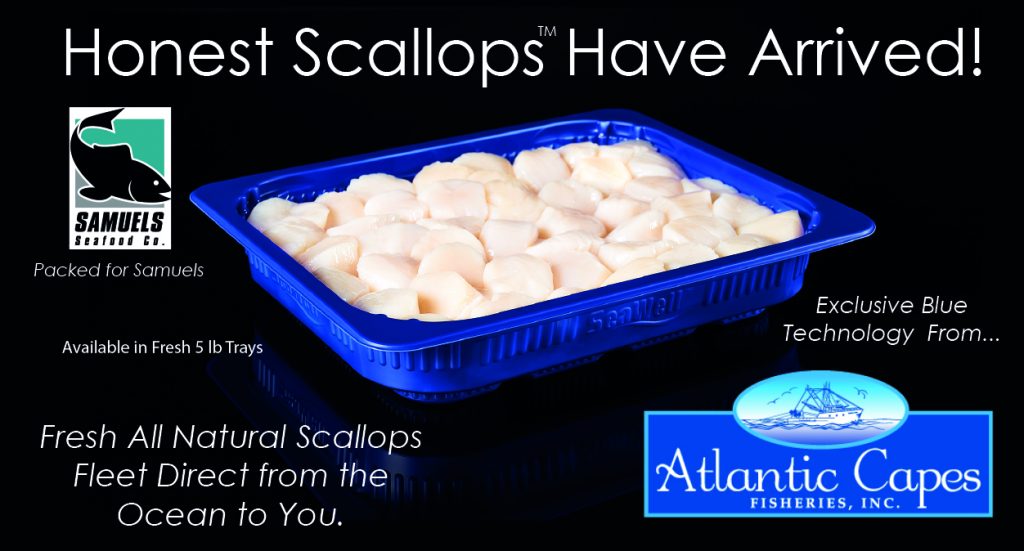 Atlantic Capes Fisheries: Scallop Kings on a Quest for Freshness
It's easy to recognize a Sea Scallop when it's sitting on your plate at dinner. These delicious little morsels are actually the adductor muscle, which the Scallop uses to open and close its shell in order to propel itself through the water. That's right – these babies can swim! Scallops galore, there's one company that knows all about the incredible power and prestige of the Sea Scallop: Atlantic Capes Fisheries.
One thing that separates Atlantic Capes Fisheries from the rest is their brand new, innovative Sea Well trays. Not just an ordinary Scallop tray, the Sea Well tray greatly extends the shelf life of your Scallops and reduces the growth of aerobic bacteria, coliforms, yeast, and mold. The Sea Well tray design can oftentimes triple the shelf life of your Scallops. It also provides a more secure package with lidding film, which allows for visibility through the film without having to open the package. Once the seal is broken, the shelf life is the same as anything else. The tray is something new and completely exclusive from Atlantic Capes that helps provide fresher, all natural Scallops directly from their boats to you. In fact the boat and captain name is listed on the tray.) Atlantic Capes has truly forged a path for do-gooder fishing; from their passionate commitment to sustainability of our oceans, to their amazingly powerful technological advances to keep your Scallops at top-notch quality over a longer period of time, the company is highly unique in their approach to fishing. Atlantic Cape's big Sea Scallops are all natural, local, sustainable, preservative-free, and second-to-none in terms of quality, especially now that they've incorporated their genius Sea Well Tray technology into their work.
Headed by CEO Daniel Cohen, a second generation master of the seafood business, Atlantic Capes has a strict commitment to sustainability and renewable resources – not to mention, they're the second largest Scallop company in the world, hauling in over 14 million pounds of Scallops a year. Daniel Cohen has been massively instrumental in the furthering of the sustainability of Sea Scallops, which is a subject he's endlessly passionate about. With this being cornerstone of his business, he has managed to build and grow an empire. Cohen, with the help of several local universities and government, invested over $1 million in the effort to research the sustainability of Sea Scallops and the fishing regulations associated with them. This could have something to do with the current abundance of Scallops.
Atlantic Capes Scallops are great for their versatility, beauty, freshness, and succulent flavor. Atlantic Capes Fisheries is largely based in Cape May, New Jersey and they catch all of their fish and shellfish in the mid-Atlantic. With a fleet of nearly 50 independent boat owners, Atlantic Capes Fisheries is one of the largest vertically integrated producers of Sea Scallops on the east coast. Because of strategic partnerships with fishermen from Maine to North Carolina, Atlantic Capes always has a consistent supply of wild caught US Scallops from the point of harvesting at sea, and through processing and packaging in their HACCP-certified facilities. From U/10 to 20/30's, they have a huge variety of Scallops to choose from, such as fresh Sea Scallops which are available with an array of origins, sizes, and packs. Atlantic Capes offers IQF items as well. Individually quick frozen methods reduce the amount of ice crystals that form on the meat and helps keep that fresh-from-the-sea flavor in. Their IQF Sea Scallops and IQF Bay Scallops are both amazingly tasty and the freshness really comes through on the palate. Atlantic Capes is also the company that brings you those beloved Cape May Salt Oysters and Elder Point Oysters! Here are two Oysters sustainably raised in the Delaware Bay that provide a succulent, briny flavor and have become a mainstay at raw bars everywhere.
For more information, please visit www.AtlanticCapes.com.
---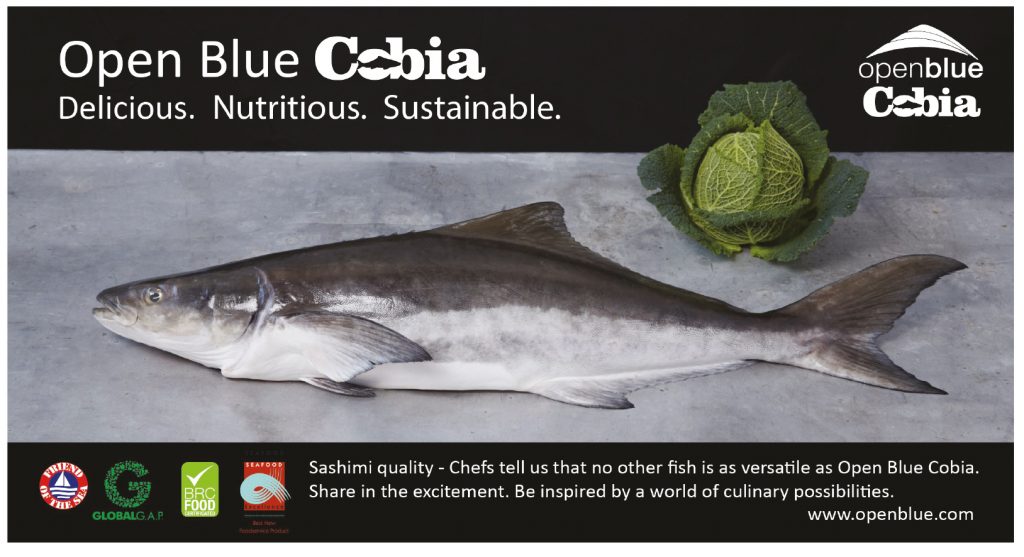 Open Blue Cobia – Freshness & A New Taste for Your Summer Menu
By: Catherine Dempsey
These days, it's hard not to be health conscious. Eating healthy is now more convenient and inexpensive than ever, and not to mention, often adventurous. For those just taking the plunge into the healthy route of food, there could be some hesitancy to try new things. This is especially true when you're trying to break the habit of eating red meat, or at least consuming less of it. Sure, red meat is insanely delicious (who can refuse a perfectly cooked filet mignon?), but it's been linked to a host of health problems. Good news: There are a number of awesome-tasting and healthy alternatives to red meat, such as one of the best kept secrets of seafood: Open Blue Cobia from Panama, the superior, health conscious fish with virtually endless possibilities. It may just be the best thing you've never had… yet.
Open Blue Cobia recently conducted a series of focus groups across the country to find out what people really thought about this wonderful and largely unknown fish. Its flavor is fresh, clean, and buttery. The company found that Cobia's versatility in the kitchen was the biggest selling feature. No kidding! It's a fish that can do just about anything when you get your hands on it. Whether it's sushi, sashimi, crudo, or ceviche, Open Blue Cobia rules in the realm of uncooked applications. We've seen chefs work a ton of magic on the fish, creating dishes that wow guests with flavor and beauty. Got a hankering to break out that grill this summer? In the vein of Open Blue's blind tastings, they also discovered that Cobia was rated one of the absolute best fish for grilling. Grill on, friends! Consumers couldn't get enough of the crispy texture of the grilled fish – it was still very moist in the center too!
Let's be honest: healthy eating can get pretty boring sometimes. Don't get stuck in the rut of munching on veggies all day, wishing for some excitement in your diet. Open Blue Cobia is something that's relatively unknown, making it a brand-spanking new fish that will open your eyes to a landscape of possibilities for good-for-you meals. It's truly a healthy, meaty, white fish alternative to red meat. To begin with, seafood in general is low in carbohydrates and high in potassium, selenium, and B vitamins. Cobia has all this and more – it's been found that a diet rich in fish can prevent diseases and improve mental health, so keep those brain functions up and do your body some good.
According to the American Heart Association, healthy adults should be eating fish at least two times a week. Open Blue Cobia is chock full of vitamins, minerals, and Omega 3 fats, so you'll never feel guilty after eating it (unlike that fried chicken you've been craving.) Did you know your body doesn't actually produce Omega 3 fats? We have to get them from our diet, and Open Blue Cobia is a phenomenal way to get those fats on a weekly basis. Open Blue has made it easier than ever to get what we need in our diet: from fresh fish (whole or filleted), to a ring of frozen alternatives in the form of portions, strips, and buffet cuts, there's an endless variety of Cobia to work with, whether you're a consumer in the seafood aisle or a chef working late in the kitchen.
Open Blue Cobia won the Seafood Excellence Award for most convenient product at the Brussels Seafood Show this month, speaking to the fish's versatility and applicability.
For more information, visit www.OpenBlue.com.
---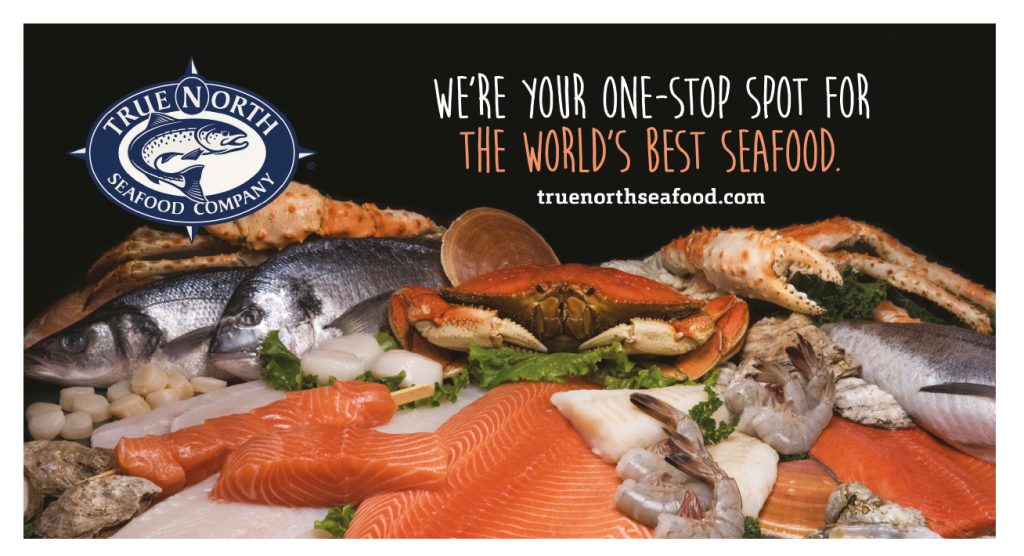 True North: The World's Best Seafood
By: Catherine Dempsey
There's nothing better than high quality seafood. When you get that perfect fish in your hands and you break it down to all of its little parts, it's extremely gratifying. To go on and create a dish that is unique, personalized, and well-executed is just the icing on the cake. But it all starts with just that one fish.
Great fish come from great places. That's where True North Seafood comes in. What started as a small family operation with an undying passion for the wares of the sea, True North Seafood has evolved into a global entity, producing some of the best seafood in the world from fish to shellfish. They've taken it upon themselves to be the leaders in the industry, providing farm-raised Salmon, wild-caught Salmon, Scallops, Crab, Oysters, Shrimp, and other value-added products to the growing marketplace. They work closely with local communities to harvest only the best of the best seafood, straight from their scenic backyard to your kitchen. But that's not all; Cooke Aquaculture is equal to the sum of all of its parts, which are varied and highly specialized.
One of True North's sister operations is Icicle Seafood, which is located in differing areas of Alaska (where some of the best fish thrive). With so many amazing options to choose from, Icicle Seafood specializes in Wild Alaska Salmon, Atlantic Salmon, Alaska Crab, Alaska Halibut, Pacific Cod, Black Cod (otherwise known as Sablefish), and Alaska Pollock. All delicious, all superior quality, and all worth trying if you have a hankering for something that is going to change the way you see seafood. Icicle Seafood began as a cannery in Petersburg, Alaska and has since grown into one of the most diverse product lines in the industry today. Their dedication to producing the best seafood is clear in every aspect of their business, from catch to processing and delivery.
Icicle Seafood's Alaska Halibut is extraordinary, from taste to texture. The flavor is delicate and mild and the flesh is firm and a beautiful pearly white; exactly how good Halibut should be. This Pacific Halibut is harvested from late March until mid-November, with the fishing grounds ranging from northern California to Nome, Alaska. It is available headed and gutted or fillets, portions and steaks. One way to prepare this succulent fish is to steam, roast, sear, or gently grill it; no matter what you choose to do with it, it's going to be impressive to all of your guests.
True North Seafood also specializes in Salmon products, among other tasty options. Their brand of Salmon is top quality no matter what you decide to create with it. Allow your creativity to flow free with all of these delectable seafood items – they're worth every ounce of your trust in them because the proof is in the unmatched flavor and excellent texture. True North promises to deliver truly fresher Salmon right to you, the chef. You're not going to get it much faster than this!
Wanchese Fish Company also supplies True North with the most fantastic Scallops on the planet and finfish from the Atlantic. You could eat their Scallops like candy – they are sweet and tasty, taking on the flavor of anything you cook with them which makes for a personalized meal fit for a king. The quality is undeniable, and Wanchese sources their Scallops from the amazing Atlantic Ocean.
True North Seafood is the leader in excellent seafood.
For more information, visit True North at TrueNorthSeafood.com or their parent company website, CookeSeafood.com.
---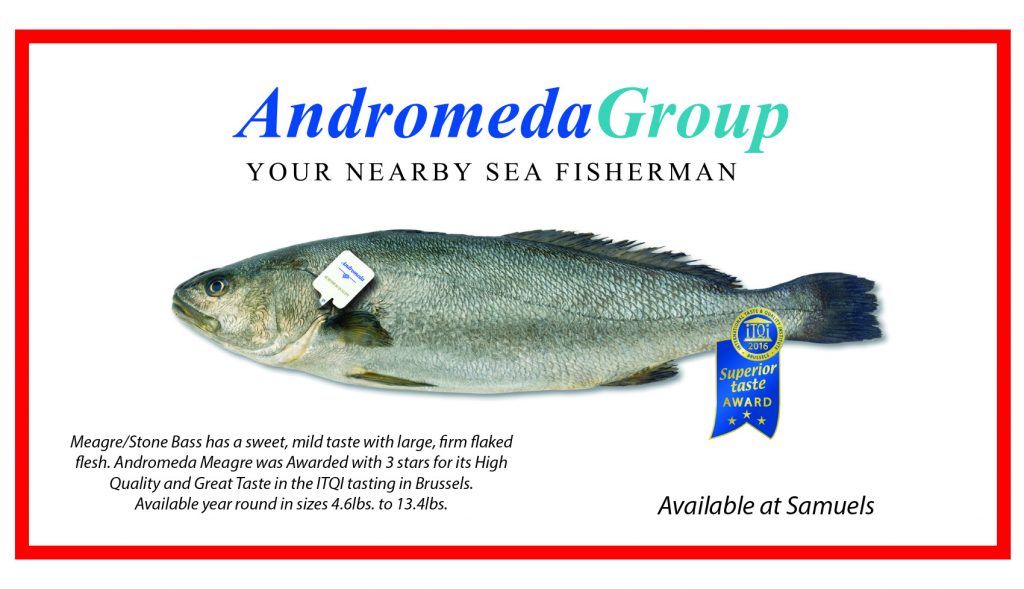 Andromeda Group: The Very Best Mediterranean Seafood
By: Catherine Dempsey
Bronzino are virtually perfect fish with an outstanding taste, color, and texture. Through stringent quality standards and an intricate quality assurance program, all of Andromeda Group's fish are raised to ensure the best product possible. Specially trained staff handle the fish from egg to adult so chefs can rest easy knowing that they're getting only the absolute best Stone Bass and Bronzino from Andromeda Group.
For 18 years, Andromeda Group has evolved into an international giant in the aquaculture seafood business. They offer some of the most exquisite Stone Bass and Bronzino on the market today, beginning as a company that produced fish eggs. Andromeda Group now has aquaculture farms, hatcheries, and harvesting facilities located across the region of Spain and Greece. At their farms, fry introduced to the sea come directly from their own hatcheries.
Stone Bass, also known as Meagre or Corvina, has a sweet, mild taste with large, firm flaky flesh. Andromeda Group's Stone Bass was awarded for its high quality and great taste in the 2015 International Taste & Quality Institute tasting in Brussels. In the wild, Stone Bass is found in the eastern and western Atlantic Ocean, western Indian Ocean, and the southwest Pacific Ocean. It is known as Stone Bass because it inhabits rocky ledges and wrecks in the wild. Their diet consists mainly of large ocean cephalopods, crustaceans, and other bottom-dwelling fish, which allows the flesh to taste so sweet. Stone Bass can grow very large, all the while keeping a similar silkiness and sweetness of Striped Bass. Perfect for ceviche, sautéing, broiling, and poaching, this is a fish that will impress the chef in the kitchen and the guests in the dining room with any creative spin!
Bronzino, otherwise known as Sea Bass, is known for its white tender meat and soft briny flavor, and was also awarded three stars for its high quality and great taste in the 2015 ITQI tasting in Brussels. It is a fish native to the waters off of Europe's western and southern coasts and Africa's northern coasts, though it can also be found in shallow waters and river mouths when summer comes around. They are mostly found near the banks of rivers, lagoons, and estuaries, and they migrate offshore when winter arrives. The Bronzino is considered to be the most important fish currently cultured in the Mediterranean. Bronzino is an iconic Mediterranean fish that ranges from one to three pounds and it's great for a variety of cuts, filleting, or preparing whole. When stuffed with lemon and herbs such as parsley and fennel, it is especially outstanding. Bronzino makes for an eye-opening table presentation and is extremely versatile, perfect for grilling, poaching, baking or braising. This fish is an awesome centerpiece for all traditional Italian and Greek cuisines.
Andromeda Group are truly the leaders in Mediterranean aquaculture. They have set a standard of excellence that surpasses everyone else in their region and they are producing the most superb quality fish and seafood available today. Their secret? High standards for food and safety, world class technology, and deep rooted passion and knowledge for raising the best seafood. Whether you're taking on the culinary world for the first time, or you're a well-seasoned chef with a few restaurants under your belt, you will be nothing less than impressed by Andromeda Group's line of fish and shellfish.
---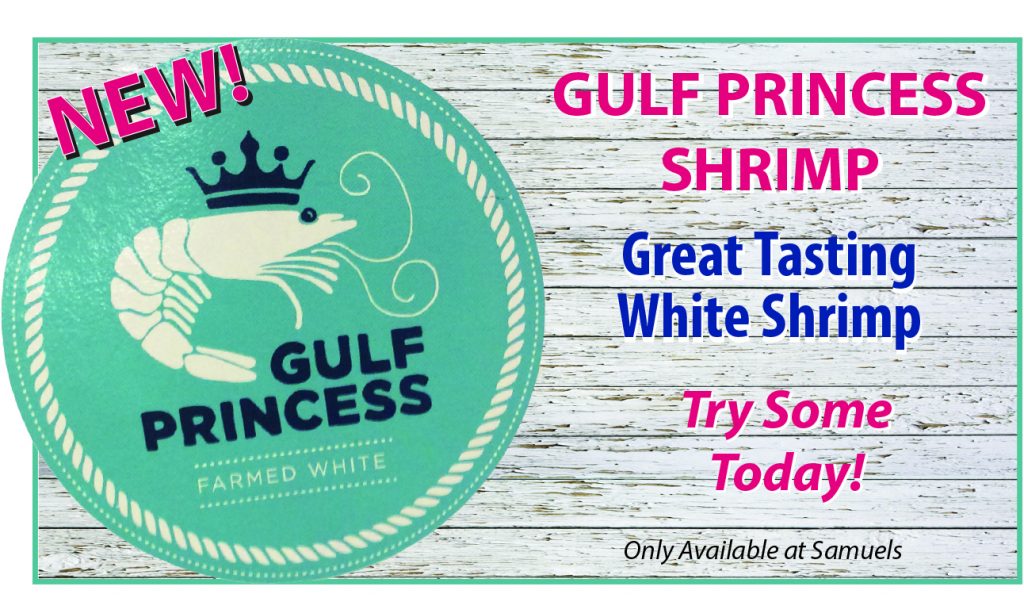 Welcome to the Future of Frozen Shrimp with Gulf Princess
By: Catherine Dempsey
Shrimp has been the most popular seafood in the United States for as long as we can remember (of course, along with all the Oysters, Lobsters, and Clams we love so much). Americans can't get enough of them. Shrimp in general represents more than 25% of the seafood eaten in the nation – that's a lot. It's also one of those sea critters with a ton of variations: You can find a vast array of different species of Shrimp, each bragging about many names and cooking preparations. You can buy them with the head on or off, the shell on or off, the vein removed or intact, tail-on or tail-off – you name it, it's there. Some are available pre-cooked; others are frozen, fresh, or previously frozen.
What's really different about all these kinds of Shrimp? And how does one wrap their head around the idea of picking just one to prepare and serve to their guests? There is one pristine, highly versatile farm-raised Shrimp that will truly knock your socks off: Gulf Princess Shrimp. A truly great tasting Pacific White Shrimp, it's farm frozen delicious – don't believe us? It needs to be tasted to be believed. With a clean, sweet taste and crisp, firm snap, Gulf Princess Shrimp are ideal for boiling, broiling, grilling, poaching, sautéing, and steaming. Think big with these delicious little guys because the possibilities are endless. They're astounding in a ceviche too!
White Pacific Shrimp are warm water Shrimp, typically found between California and Peru, and they're among the most widely cultivated of their kind in the world. What's special about the particular species is that they are extraordinary in a huge variety of cooking preparations because they soak up every flavor of the dish while keeping that crisp bite we love so much.
Gulf Princess uses the latest IQF (individually quick frozen) and rapid freezing technology with their Shrimp, providing morsels that taste like they were plucked directly from the water, just for you. Freezing technology advances over the years have essentially eliminated the negative effects of freezing seafood in general, so don't be afraid of the fresh vs. frozen argument here. Modern techniques have evolved to the point where the skin and the interior meat will freeze at almost exactly the same time.
Through this method, there is almost no damage to the Shrimp on a cellular level by ice crystals that form through the freezing process. It was this ice crystal damage that caused taste and color loss in the past. This is what separates Gulf Princess from the rest of the pack – in fact, the damage caused by ice crystals has been mitigated to where freshness is preserved with virtually zero noticeable difference in taste.
Gulf Princess draws inspiration from the passion and dedication of the legendary fishing community they reside in and by combining the values of their ancestors with innovative ideas and state-of-the-art technology, they have adopted a safer and healthier Shrimp farming method through an environmentally friendly farming approach. Even while bringing truly farm fresh quality to chefs and restauranteurs, they live up to their constant vision of revitalizing the environment and have ensured this by implementing a purely eco-friendly farming method. Their efforts have led them to be a 4 Star Best Aquaculture Practices (BAP) certified.
---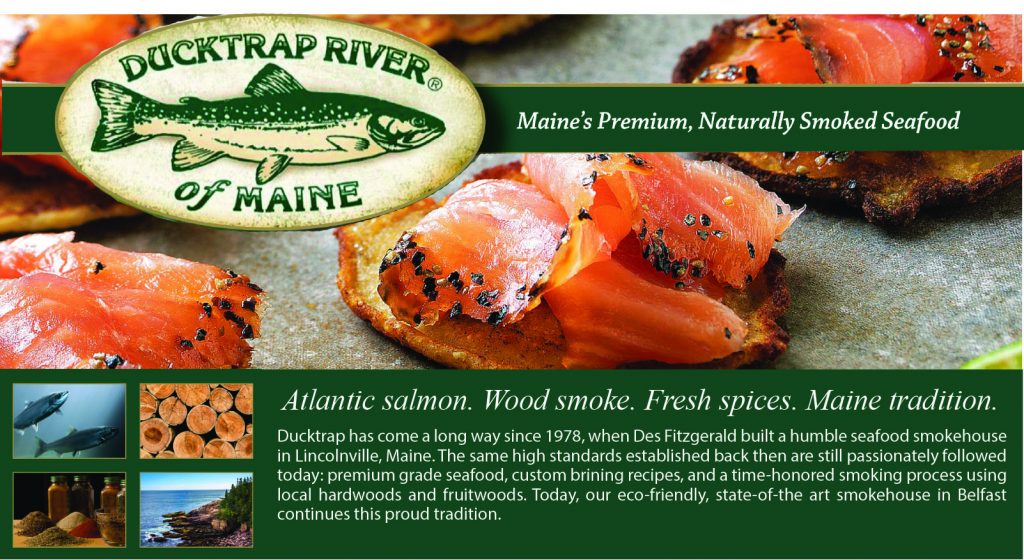 It all started with a man and his dog.
Des Fitzgerald loved to fish, and he would often bring his dog Caleb with him on all of his expeditions into the wild landscapes of Lincolnville, Maine. Along the Kendall Brook, Des found a pleasant patch of land and built a small bungalow for him and Caleb. For the love of Trout, he began farming the fish along the water's edge – it was here where Ducktrap River Fish Farm was born, named after the river into which the Kendall Brook flows. For this story, it's only the beginning of many long years of perfecting his product and making it that much more special, just like the relationship between Des and his fish.
Des started smoking his Trout with the help of a smokehouse at 4 x 4 feet. He installed a small stove buried into the ground of the smokehouse and began to forge his own smoked fish business, selling his smoked Trout to local restaurants and markets. Des' business grew with his love for the product. It was a match made in perfect harmony.
Using traditional European smoking methods, Des developed incredible-tasting smoked seafood products that continue to shine in the kitchen today – Ducktrap is thought to be the first company to smoke Mussels, one of the savory products offered by Ducktrap River of Maine. In 1990, Des purchased a mechanical pin-bone machine and an automatic slicing machine for his Salmon. In 1998, he purchased a kiln with its own environmental control system with the ability to manage the moisture within it, just one of seven that existed in the world.
Ducktrap River of Maine has an extensive list of smoked products, all of which have received wide acclaim by chefs for over three decades. Ducktrap's Spruce Point brand of smoked Salmon is to-die-for. It's a cold-smoked pre-sliced Atlantic Salmon of the highest quality and it's truly a culinary masterpiece of incredibly bold flavors. The Salmon fillets are dry brined, lightly trimmed, and cold smoked in small artisanal batches. They are then seasoned by hand with a special blend of spices. The end result is an original variety of thinly sliced smoked Salmon, especially great for sandwiches. Our favorite: the Spruce Point Smoked Salmon, Pastrami-Style. With a little bit of a kick to the taste buds, it needs to be tasted to be believed.
The Rainbow Trout Fillets are an experience to the palate as well. Smoke roasted and sustainably sourced, it is the most exquisite of all smoked fish and it is the center point of Ducktrap's rich history, from when Des and his little dog Caleb were fishing together back in 1978. The fillets are hot smoked gently to hold on to their natural juices and texture. The taste is delicate and ideal for those unfamiliar with smoked seafood. Ducktrap's Rainbow Trout Fillets are the perfect alternative to more traditional breakfast proteins and they really shine in an omelet. Available in Traditional flavor, Maple Glazed, and Lemon Pepper & Garlic flavor, there are several ways you can accompany the flavors with your own creativity.
Ducktrap River of Maine has a series of smoked Shellfish that wow guests time after time. All sustainably sourced, they make for an unforgettable smoked seafood platter paired with Ducktrap's Trout and Salmon. From Mussels, to Bay Scallops, to Shrimp, they have everything you need to make your guests full and happy. The Mussels are plump and amazingly succulent, and they are blanched after harvest to save their unique flavor. With Ducktrap's signature blend of Maine hardwoods and fruitwoods smoke, the full flavor comes in with every bite. The Smoked Bay Scallops are steamed almost immediately after being pulled from the water. They are then cold smoked with a custom-developed wood blend to enhance their all-natural sweetness. Their cold water Smoked Shrimp are especially great as well – they're cooked immediately after harvest and just mildly cold smoked.
From Des Fitzergerald's humble beginnings on the brook's edge in the thick of Lincolnville, Ducktrap River of Maine has stayed true to their commitment of quality and excellent taste ever since 1978, and they continue to showcase high standards in their catch and preparation just for you, the chef. Des Fitzgerald is regarded as a local hero to the people of Maine today, and it all began with the perfect combination of just three ingredients: a man, his dog, and his trout.
---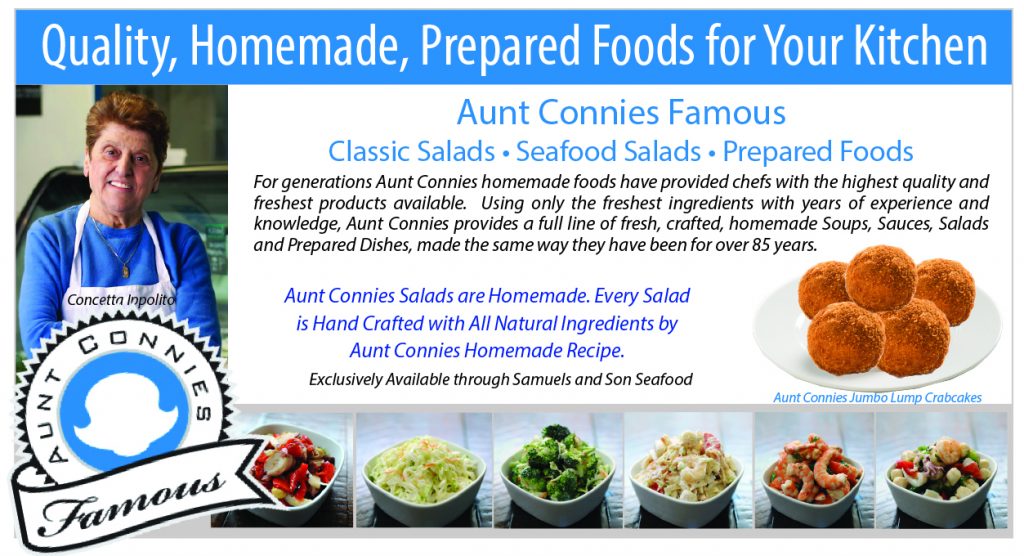 Aunt Connie's Feast of the Seven Fishes
Delivering Value and Quality and Saving You Time
By: Catherine Dempsey
It's the most wonderful time of the year – surrounded by family with good food on the table and all the joys of the winter season upon us. Aunt Connie's Famous prepared foods have created items to enhance your catering menu and save you time this holiday season. Everyone has their own holiday traditions, and in Philadelphia, many Italians go straight to Samuels and Son Seafood to pick out their fish for the Feast of the Seven Fishes meal every year. Called The Vigil in Southern Italy, the Feast of the Seven Fishes celebrates the midnight birth of baby Jesus on Christmas Eve. Some of the most popular items served during this old tradition include Baccala, fried Smelts, Calamari, stuffed Squid, and various seafood-centric foods from Aunt Connie's Famous, such as her soups, salads, freshly prepared foods, and burgers. Made to order every day, Aunt Connie's Famous foods are authentic and they're a small taste of Samuels' beginnings.
In 1919, Concetta and Guiseppe Ippolito arrived in America with a pushcart and a dream, where selling fish has become a family legacy and a way of life. Ten years later, after operating his fish pushcart with great success, Guiseppe was able to open the doors to Ippolito's Seafood on the corner of 13th and Dickinson in South Philadelphia, which led to the opening of Samuels and Son Seafood. New world fish: meet old world cooking. Their daughters, Rose and Connie, helped their mother prepare meals and later developed the Crab Cake and the Crab Gravy, recipes that have remained hallmark items on the Ippolito's menu today. The recipes remain untouched since the beginning, and they represent the family's nostalgic, old world roots. They are the same items enjoyed in Aunt Connie's Famous products of wholesome seafood dishes, available exclusively through Samuels and Son Seafood. It is homemade, flavorful recipes that separate Ippolito's from the rest: a love for food, family, and history.
For decades, Aunt Connie's wholesome and excellent prepared seafood-centric dishes have been wowing chefs and their guests time after time with only the freshest ingredients and the tenderness and care that comes with creating a good meal. Her recipes have been passed down from generation to generation and continue to shine on all occasions. Your guests will love the hearty and flavorful taste of her freshly prepared salads, seafood dishes, soups, sauces, and ready-to-eat foods on your catering menu and beyond. Aunt Connie's old world recipes have a new, modern, and delicious twist and will save you time and deliver you value. Aunt Connie's Famous soups, salads, prepared foods, sauces, and burgers can deliver the homemade touch you're looking for to bring your meal to the next level, especially when it comes to her Fish Cakes, Crab Cakes, and special burgers. They are all delicious and unique, and they're perfect for Feast of the Seven Fishes or any large event around the holidays.
Take the Shrimp Burger. It's an outstanding seafood sandwich that is perfect for a seasonal bar menu and it's sure to please even the pickiest eaters. Great and easy to make, they are a wonderful staple on any catering menu or seasonal event. There's also the Panko Encrusted Crab Cakes, with large tender pieces of sweet Jumbo Crab meat in a béchamel sauce and encased in a golden brown panko shell. Dense with meat and guaranteed to wow guests, Aunt Connie's Crab Cakes are the perfect addition to the traditional meal, and they're a great staple on a pub menu that wants to get in on the fun of the Feast of the Seven Fishes.
Make your Feast of the Seven Fishes spectacular and memorable for years to come with both highly traditional staples such as Baccala and Eels, and other new world favorites such as Crab Cakes and seafood burgers. Aunt Connie's Famous prepared foods are the perfect addition to go along with your holiday catering menu this year. Get the magic of old world Italian Ippolito's delivered right to your door. From all of us at Samuels, including Aunt Connie herself, we wish you a very happy holidays and a happy New Year!
---
---
---
---