Canterbury Cure Caviar – An Easy Flavor Profile Guide

Canterbury Cure
Canterbury Cure Caviar and Smoked Products are found only at Samuels. This premium brand takes a sustainable approach and features products that are artisan made in small batches to preserve the best quality and flavor. You really can taste the difference!
Caviar
California White Sturgeon Royale: The large, glistening, salt and pepper colored pearls offer a flavor that is rich and buttery with a clean finish and smooth texture.
Available in 1oz tins
Bulgarian Osetra: Once reserved for royalty, it's prized for its golden color and smooth texture. The flavor is abundant, boasting with traditional Caspian character and notes of nut and fruit.
Available in 1oz tins
Wild American Bowfin: Similar in size and appearance to Sturgeon Caviar, this black velvet to dark brown Caviar's claim to fame is the alluring and mildly tangy flavor.
Available in 8 oz tins.
Kaluga Hybrid: Due to the ban on Beluga Caviar, this innovative delicacy is harvested from a hybrid between two Species of Sturgeon. The dark amber pearls are a true delight with a smooth nutty flavor.
Available in 1 oz tins.
Paddlefish: a truly luxurious experience, this caviar is extremely rich and creamy with notes of earthy, briny goodness. The soft greyish-brown pearls have a natural glistening shine that is sure to impress.
Available in 30 gram and 200 gram tins.
Premium Sturgeon: Harvested from 100% pure wild American Hackleback Sturgeon, this Caviar has the utmost quality and flavor. This black glistening Caviar has a rich nutty taste that is unparalleled.
Available in 1 oz and 8 oz tins.
Poland Siberian Sturgeon: Siberian Ostera provides a medium dark pearl that is creamy in texture and follows through with a crisp and nutty taste and a mild, fresh finish.
Available in 1 oz tins.
Italian Ostra: Only 30% of the White Sturgeon we grade classifies for our "Royale" distinction. Made from the creamiest, smoothest pearls, the flavor is phenomenal – rich, nutty, buttery, and luscious.
Available in 1 oz tins.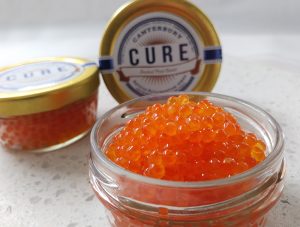 Wild Salmon Caviar: The select roe of the Keta Salmon has very bright red/orange large eggs. It's very mild yet rich and succulent with a firm texture and a crisp, buttery Salmon flavor with a sea salt finish.
Available in 2oz and 8 oz tins
Smoked Trout Caviar: From the highest grade of Trout pearls, and smoked with combination of Oak and Hickory, this Roe bursts with freshness and clean ocean brine highlighted by a perfect smokiness.
Available in 2 oz tins.
French Trout Caviar: These medium-large jewels have a bright translucent pink color and a tiny orange "eye" in the center. The firm texture and bold flavor make for a wonderful popping sensation.
Available in 8.75 oz tins.