Fire up Your Grill (and Your Imagination) for Fun Fish Tacos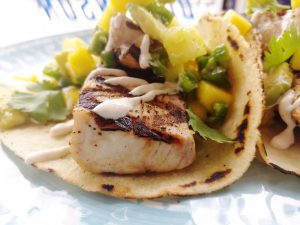 Happy National (Fish) Taco Day everyone!
It seems like some of the best foods are made when cultures come together. While the history of the fish taco is pretty unclear, most foodies tend to agree that it all started when Japanese Sailors landed in Mexico (although there is still debate of the city – Ensenada or Felipe.) During this time, between 1950 -1960, native Mexicans were influenced by the tempura frying practices of Japan. From then on, Fish were fried, placed on tortillas with various toppings and the fish taco was born!
It wasn't until the 80's however that fish tacos made their way to plates here – largely in beachy towns. The most famous first adopter of the fish taco would be… you guessed it, San Diego, California. Today, fish tacos are to San Diego what cheesesteaks are to Philly. But you don't have to go to Cali to get a great fish taco, our chefs all over have come up with some unique ideas. Plus, today is both National Taco Day Today, so let's "taco bout" our favorite fish for fish tacos!
Originally, traditional fish tacos were made with deep-fried Angel Shark. These days we have evolved to Mahi as a number one choice and Snapper, Grouper, Halibut, Tilapia, and Cod as great alternatives. Some of us have even ditched the deep fryer for more flavorful grilled fish tacos! As for preparation and toppings, the sky has been the limit for our creative chefs! Here are our three favorite unique fish to stir your imagination for fish tacos.
Hidden Palms Barramundi – Aquaculture raised in the Red Sea
This is another unique and wonderful white fish with B.A.P certification. Hidden Palms Barramundi has a sweet and clean meaty taste with a medium-firm texture, jumbo flake, and a high fat content. We love Hidden Palms Barramundi – the flavor is buttery and satisfying unlike any fish we've eaten.
The extremely high salinity of the tropical waters in the Red Sea produce healthier, tastier fish with sweeter flavor and firmer texture. This also makes for a nice thick skin that crisps up perfectly.  A very versatile fish, Hidden Palms Barramundi is great grilled, roasted, broiled, pan seared, fried, steamed, poached, smoked, and served ceviche or crudo.
For Barramundi fish tacos, we like this one tempura fried or simply baked, broiled, or grilled to get that skin nice and crispy.
True North Salmon – Aquaculture Raised in the Gulf of Maine and Canada
When you think of fish tacos, you probably don't think of Salmon first, but True North Atlantic Salmon is a great fish to add a little flair to your tortillas. True North Salmon has a mild, sweet oily flavor with medium texture and a medium flake that takes well to heavy spices and marinades. Another B.A.P. certified fish, True North Salmon is a delicious and sustainable choice. And everyone loves Salmon's versatility – It's perfect when its grilled, roasted, broiled, pan seared, fried, steamed, poached, smoked, and of course served ceviche or crudo. It time to add True North Tacos to that list!
For Salmon tacos, we like it spiced up with a really good char. As for fillings, we'll let you decide, but we recommend topping it off with some of that crispy Salmon skin.
Happy (Fish) Taco Day everyone, we'll just leave you with some last minute taco topping tips. Our favorite is using your leftover trim to make "two-way" tacos. Ceviche the trim and add it on top for an extra layer of flavor and succulence to your treat. Canterbury Cure's Smoked Trout Caviar and Smoked Fish options also make great garnishes. Samuels even provides unique, fresh produce that are perfect for any taco creation including Finger Limes for an extra "pop" of citrus, and Sea Beans for a nice ocean crunch. All and all when it comes to taco toppings, think outside of the shell.