Local, Affordable, Delicious: Overlooked Catch

Everyone seems to have an established go-to item when it comes to Seafood. Salmon is always a hit, Lobster is loved by most everyone and Shrimp is the most popular seafood in America for a reason. There are truly hundreds and hundreds of delicious seafood items available, but certain items always seem to find their way on to menus. Samuels is pleased to offer a line of affordable and unique items that can expand menus without expanding cost. Here are just a few
options:
Sometimes called "Rough Fish", Porgies, Sea Robbins, Croakers, and Whiting are all versatile and delicious fish that can help keep costs in line. The importance of eating locally has also come into the forefront of the foodservice industry in recent years, and all of these items are caught along the East Coast of the United States.
Porgies are very popular fish for their versatility. Baked, broiled, fried or even poached, Porgies are one of the most underrated fish in the sea. They have a mild flavor and a texture similar to Red Snapper, that make them an accessible and easy to prepare fish. Porgies can be found from the Gulf of Maine all the way down to the Carolinas. Their abundant supply contributes to the low cost. They a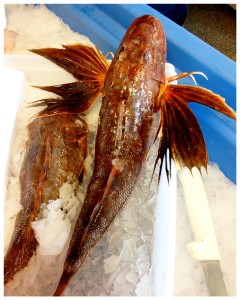 re available in a variety of sizes small, medium, large and jumbo.
Sea Robin has a flavor comparable to Fluke, and some seafood aficionado's actually prefer it. Just like Porgies, Their brownish, reddish skin is very tough and not typically eaten, but their flaky white meat is firm and mild.The Sea Robin is not usually a targeted species, it is most often a bycatch. Their European cousins on the other hand are prized seafood options, and are even used by chefs here in the U.S. Although smaller in size, sea robins found here on the East Coast are growing in popularity and are versatile and cost effective fish for any kitchen.
Whiting is best served fried with a side of French fries for a great and cost effective fish 'n' chips dish. Fish 'n' chips is a menu favorite, and using Whiting elevates this staple dish to the next level while keeping cost in line. But the fun doesn't have to stop there. Whiting is delicious baked, and can also be lightly floured and pan seared with a little olive oil, parsley and garlic.Whiting, also known as Silver Hake, is in the Cod Family and is caught in colder waters off the coast of New Jersey and up to Rhode Island.
Croakers are another fish that is popular for its great flavor. A member of the Drum family, Croakers have a similar flavor to Red Drum with a great texture and delicious white meat. Like all of these great "rough fish" options, Croakers can be used as an alternative to many other fish without sacrificing taste. Croakers are mostly prepared head off and split, or they can be prepared whole. They are great for deep frying or flouring and frying in the pan.
While there is an ocean of possibility, these fish are a great start to introduce customers to something different and delicious that will become one of their new go-to items!