Ramping it up with Jail Island Salmon

Spring is in full swing! We are enjoying the fresh spring air and renewed sunlight after a long winter.  I love that people are getting outdoors – riding bikes, running, and my favorite, gardening.  There's nothing better than planting flowers and vegetable gardens to beautify not only your yard, but your plates too.  This is a great time of year to enjoy all of the foraged produce, Ramps, Fiddleheads, dandelion greens, Stinging Nettles, Morels, Chanterelles, and watercress. Spring vegetables are coming into the local farmer's markets like peas, radishes, asparagus, Spring Onions, and rhubarb.  Whether it is fresh and local or foraged, nothing goes better with these vegetables than Jail Island Salmon.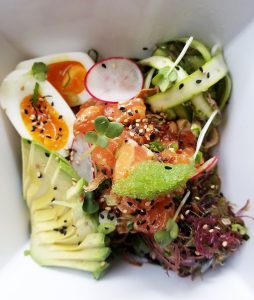 Jail Island Salmon is one of the only brands of Salmon that is raised in its natural environment in the frigid waters off New Brunswick and in the Bay of Fundy in Canada.  This enables this premium Salmon to develop a lush fat content and amazing flavor, which lends itself to both raw and cooked applications.  It's great on the grill, roasted, seared, salt crusted, and steamed. Jail Island Salmon goes well with many different flavor profiles to fit any restaurant and it is great for those that are cooking at home.  Jail Island Salmon is wonderful in sushi, sashimi, poke, tartare, and crudo. With the emerging abundance of produce, one can have a lot of fun preparing it.
Poke is all the rage now and Jail Island Salmon is a great fish for this application. This dish is great for lunch or dinner. It is light, refreshing, and very healthy as well. When the Salmon is diced skin off in one-inch cubes, a simple marinade of Tamari, chili crisp, Sesame Oil, grated ginger, and a little lemon juice make the Jail Island Salmon sing. The garnishes are fun too, sliced avocado, kimchi or Seaweed salad, shaved spring asparagus, radish, and a sprinkle of Black and White Sesame Seeds.  If one is feeling adventurous, a poached Jidori Egg or sunny side up Quail Egg takes the poke bowl to a new level. You can serve the poke over white or brown rice or any kind of grain like quinoa. Some crisp Daikon Sprouts and Sesame round out the dish. Jail Island Salmon poke bowl is not only fun and tasty but a great addition to any menu or table.
Grills are also being dusted off after the cold winter months to bring in the BBQ season!  There is no better way in the month of May, then to enjoying grilled Jail Island Salmon in your backyard, deck, or porch.  Pair the grilled Salmon with a crisp new World Sauvignon Blanc or session IPA and you will truly be "grillin and chillin."  Simply season the Salmon with a little thyme, crushed fennel seed, salt, pepper, and lemon zest. Then, grill the Jail Island to a nice medium rare or longer if desired. Great accompaniments to the Jail Island Salmon are the foraged spring vegetables. Grilled spring asparagus, charred Ramps, sautéed spring peas, Morels, and Fiddleheads complete this dish. Garnish the Jail Island Salmon with a Stinging Nettle pesto and you are sure to please your guests.
Jail Island Salmon is truly a versatile fish with great textures and fat content. There are so many ways to enjoy Jail Island Salmon this May, whether for a special Mother's Day event or for a showstopping dish at a Memorial Day BBQ.