Taste the Mediterranean in Any Season

Versatile. Healthy. Delicious. These are a few ways to describe Prodemar Turbot and Dover Sole, two gourmet fish commonly found on menus of upscale restaurants and preferred by prominent chefs. Both Turbot and Dover Sole are highly versatile in the kitchen and can be prepared in a many delicious ways.
Before we dive into some of the creative ways you can use Turbot and Dover Sole, let's start at the beginning with flavor profiles. Turbot is an immensely popular fish in Europe that is considered a genuine delicacy. Turbot has firm meat with a large flake that should be prepared in a manner highlighting its perfect texture and delicate flavor. It has a similar taste to Flounder. Dover Sole has a mild, enticingly sweet taste with a flaky texture that is easy to eat – making it a great choice to serve to children.
Dover Sole is traditionally prepared table side (see Samuels own Mark Haltzman demonstrating it here), but Dover Sole and Turbot are two of the most versatile seafood options available today. Both make great options for baking, poaching, searing, and steaming and both are great as Ceviche. Dover Sole is also excellent as Roulade. Fiola Mare, Estia, Vetri, Parc Restaurant, and Trattoria Dell'Arte are just some names on the list of restaurants that have used Turbot or Dover Sole on their menu.
Check out these amazing dishes prepared by our corporate chef: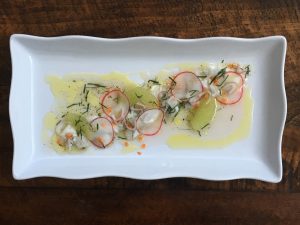 Dover Sole Ceviche
Radishes, Lime Juice, Lime Wedges, Habanero Peppers, Cilantro, Parsley, S + P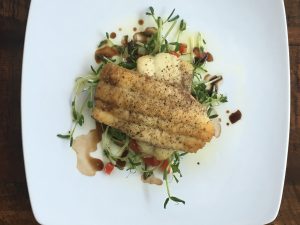 Pan Seared Dover Sole Fillet
Pea Shoots, Red Peppers, Balsamic, S + P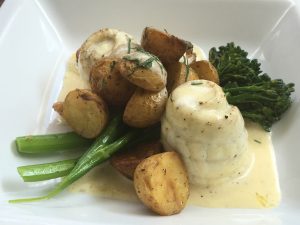 Baked Dover Sole Roulades
White Wine, Cuisson Cream Sauce, Broccolini, Golden Potatoes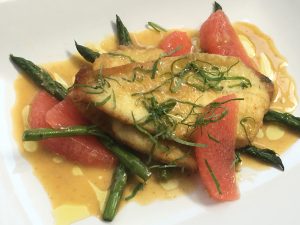 Pan Seared Turbot
Asparagus, Grapefruit and Lobster Curry
And this is just the tip of the iceberg! Turbot and Dover Sole have the versatility to fit on any menu in any season. Prodemar Premium Turbot and Dover Sole are sustainable, farm-raised fish that are available year-round. If you're looking for delicious fish for your menu year-round, give Turbot and Dover Sole a try, you'll be glad you did!
Are you already using Turbot or Dover Sole creatively on your menu? We'd love to hear about it! Shoot us a tweet @SamuelsSeafood or share with us on Instagram #SamuelsSeafood.