Scallop Season at Viking Village

For over twenty years, Samuels has been buying Scallops, Tuna, Golden Tile, and more from Viking Village, in the historic fishing town of Barnegat Light, New Jersey. Located at the tip of Long Beach Island, a very popular vacation resort on the Jersey Shore, Viking Village produces and supplies seafood up and down the East Coast as well as overseas. It is their consistent supply of product and strict commitment to quality that separates them from the rest. Viking Village also sources fresh product from North End Marina, the only other commercial producer in Barnegat Light.
The name Viking Village most likely comes from its Scandinavian roots. The fishing port was originally a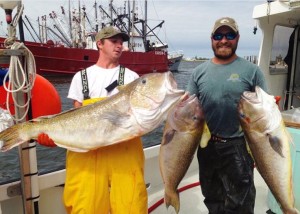 lobster co-op called the Independent Fish Co., and founded in the 1920s by a group of Norwegian fishermen. Over time, the fishing town expanded their variety of catch, adding longlines and gillnets to their fleet. Viking Village, Inc. was established in 1967 and then purchased by the current owners, the Larson and Puskas families. John Larson and Louis Puskas bought Viking Village so they could pack their own Golden Tilefish being produced by their boats, eventually naming Barnegat Light the "tilefish capital of the world".
If you ever visit Viking Village and take a tour, you might come across the Lindsay L, the scallop boat leased to Warner Brothers in 1998 for the making of The Perfect Storm. It bared the closest
resemblance to the Hannah Boden, the swordfish vessel portrayed in the movie and captained by Linda Greenlaw. But this Hollywood boat isn't the only famous thing found at Viking Village.
Viking Village has evolved to be a major sea scallop producer. High quality sea scallops make up 65% of the sales at Viking Village, and in recent years, they have landed almost two million pounds per year. Ernie Panacek has been working at Viking Village since 1980. What started as a part time job as a gillnet owner, captain and mechanic, turned into a managerial position in 1989. Panacek and the Viking Village team work closely with the National Marine Fisheries Service, the government agency responsible for prote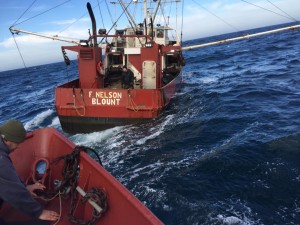 cting the nation's ocean resources. We spoke with Panacek to learn more about the scallop fishery, how it is managed, and the peak time for scallop fishing.
March 1st marks the beginning of the scallop fishing calendar year. Scallop vessels receive a part time, full time, or occasional permit which sets limits on how much each vessel can catch. These permits can be used at any time of year, but once a vessel meets its quota, it must wait for the next calendar year to begin scallop fishing again. The New England Fishery Management Council is the northeast regional council advising NOAA on their recommended management of this fishery. They advise on how many days vessels can fish for scallops, gear used, and where they can fish.

The optimal time to fish for scallops is during the months of April to July. At this time, the scallops are at their best and weigh the most.  Scallops start to spawn in late summer and early fall, which causes them to lose up to 10% of their weight. During this spawning period, fishermen need to catch more animals in order to make up for the weight loss. Prices for scallops are higher in the winter, mainly because of limited time left to fish and bad weather. Viking Village produces sea scallops year round, of course, conditions and weather permitting.
Some may argue that Mid Atlantic scallops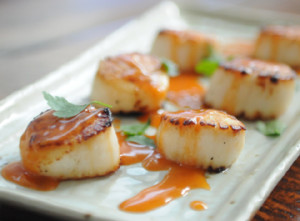 , like the ones coming from Viking Village, are sweeter, lighter textured, and have a brighter color. Ernie says that the peak quality, color and taste for their scallops is from April through August.  South of the Mid-Atlantic region, the warmer water temperatures can affect the quality of the scallops. As for the New England region, Georges Bank scallops are excellent quality, but some would say they have a denser meat and darker color.
Scallopers harvest with a dredge towed across the bottom in areas that are highly populated with scallops, minimizing the impact of the ocean floor habitat. Some areas are completely off limits to scallop dredging, including parts of Georges Bank, for protected habitat for certain groundfish. There are other protected areas where harvesting is banned or limited due to juvenile scallop populations. Keeping these areas closed will allow the scallops to mature to a larger size, maximizing the weight when caught. Permitted vessels can only make a certain number of trips to these areas due to a method of management known as "rotational fishery", which ensures that areas with an abundance of juvenile fish are closed for four to five years in order to allow these scallops to grow and mature. Since the start of this method, populations have rebounded drastically. Over the years, gear restrictions have also been put into place to allow small scallops to escape from the chain bag.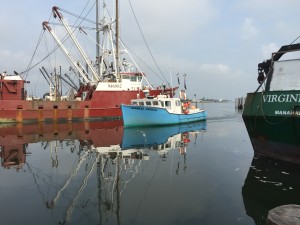 All of these efforts have helped lead to a sustainable, thriving scallop fishery here in the U.S. In order to maintain a responsible, yet profitable scallop industry, much communication and collaboration between fisherman and governmental organizations take place. Restrictions can be tough on fishermen, and in order to promote sustainable seafood from the U.S., we need to also support the livelihood of our fishermen. Without them, there wouldn't be delicious scallops to eat in the first place.