Andrew Zimmern – Global Civic Leader and Verlasso Advocate

There are many things that feel urgent as Verlasso looks to the future. They would argue that nothing is as urgent as the issues facing our oceans at this moment. You could say that we all need to pick a cause to champion as good stewards of the world. The reality is that there's likely no cause you could mention that isn't affected by the things the ocean controls. In that way, since its inception, Verlasso has believed in existing within the spirit of continuous improvement. To ensure the vitality of the Verlasso supply, they have evolved their relationship to the ocean's resources where they farm. The key is adaption, in an effort to make the harvesting of fish more sustainable for the long-term.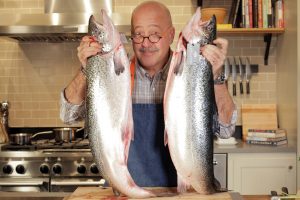 "To that end, we are in the process of moving our farms to the southern most region of the Patagonia, Magallanes, Region XII. This will give us the most pristine waters to farm in the most natural way possible. It is through our commitment in 2019 to adopt the most sustainable farming practices available, so we can ensure that this region will be well cared for in future generations." Says Verlasso General Manager, Moises Del Rio. "Verlasso can proudly say that we no longer use whole wild feeder fish like Herring, Anchovies and Sardines in the Verlasso diet. Instead, we use only trimmings sourced from the processing of feeder fish caught from certified fisheries. These trimmings help to give our Salmon the nutrients that they need to grow, along with our omega-3 rich natural algae. "
Verlasso has always reached out to thought leaders and chefs for guidance and to help give a voice to issues within our food system. Andrew Zimmern is a champion for the future of food and sustainability. He has come on board with Verlasso to collaborate and act as a thought leader for sustainable aquaculture. "With Andrew on board, we have a mentor – a beacon that will follow the process of raising the fish at every level. Lending a hand where it is most needed and capturing the essence of what we do at the most intimate level. He is acting as a witness to our hard work as we lead the industry into the future." Del Rio said.
Andrew Zimmern is a mutiple James Beard Award winning chef, thought leader, cookbook author, and restaurateur. He was one of four people that were the first to receive Verlasso Salmon, nearly eight years ago! "As you know, people like me are often sent product; some have more impact than others. A lot of products are sent to me, but there aren't a lot of products with staying power or that have the ability to change the nature of the business itself. Verlasso stood out to me. The fish itself was amazing. At this point in time, it was ground breaking. It's strange, we can't think of a time when the iPhone didn't exist but it's only 11 years old. It was hard to think of a time years ago that chefs in the food business would be thought of as culture leaders or awareness raisers or have a platform to make a difference. This fish came in and I got that feeling. I felt lucky to receive it.
As the years went by, I was on the sidelines watching this company grow; and frankly, watching them make all the right moves. There's so much grey area in this business and so many different sides to this situation in the sustainable food system we need to endeavor to preserve. Working with Verlasso compliments the work that I'm doing with U.N. and the James Beard Foundation. Caring about our food system is so essential to me. I'm a storyteller and food with a story is better. So in addition to championing this amazing effort, we're also going to be documenting the Verlasso seeding of sights in Magallanes with my production company, Intuitive Content, and I'm excited about it!" Said Zimmern.