Bristol Seafood Sets Out to Make Seafood America's Favorite Protein

Americans only consume 16 pounds of seafood each year on average, but Bristol Seafood from Portland, ME aims to change that. Bristol's mission is to make seafood America's favorite protein. "We believe if we tell the truth, put quality first, and share the story behind our products, we can get more Americans to eat more seafood, more often," said Bristol Seafood owner and CEO Peter Handy. "We do this through our 'Uncompromising Maine Standards' — by delivering trusted premium quality products on a consistent basis."
With a heritage of more than 26 years on the Portland (Maine) waterfront, Bristol knows where to find the best tasting products that come from sustainable fisheries that meet the company's relentless Maine standards. Bristol offers Dry Scallops that are fresh and frozen.
Bristol's Chef Packs, which feature beautiful, whole Scallops of the highest quality, include three options: wild Scallops plucked from the Gulf of Maine or the pristine waters of Japan and Bay Scallops from the warm waters of Peru.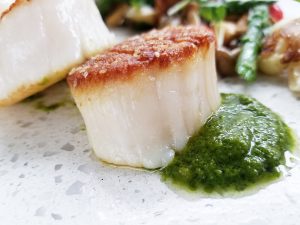 Wild and Local Scallops – Bristol's wild U.S. Sea Scallops are sustainably caught in the ice-cold waters of the Gulf of Maine and North Atlantic. Bristol's Chef Pack Scallops sear up beautifully and have a sweet authentic flavor.  Bristol and their production team understand that chefs expect Scallops with consistent quality and size and only whole Scallops. That's why all of our Scallops are hand graded for quality and size consistency and broken Scallops and pieces are graded out of the pack. The result is all-natural, sustainable seafood that is simple to prepare and a pleasure to eat, every time.
Peruvian Scallops are sustainably ocean-ranched in the coastal bays of Peru. The Scallop are collected, shucked, and packed by small-boat fishermen and rated a "Best Choice" by the Monterrey Bay Aquarium's Seafood Watch Program. Their warm water environment gives them a soft, tender texture, sweet flavor profile. These top-quality Scallops that are all-natural, dry, and moderate in size, price, and range from 30- 50 per pound, making them the perfect size for seafood pastas, chowders, and appetizers.
Hokkaido Scallops come from Hokkaido, the most northern island of Japan, with a rich natural environment formed by the warm and cold currents that meet there. The Hokkaido Scallop fishery is certified sustainable and the Scallops are prized by chefs around the world for consistently producing extremely high quality Scallops. These Scallops are grown in the sea for 4 – 5 years, which results in large adductors that are firm and succulent with a rich sweet taste and a savory melt-in-the-mouth texture. Once harvested these Scallops are hand-shucked, graded for size and quick frozen to encapsulate their freshness. Bristol's Chef Pack Hokkaido Scallops are available in 10/20's and ship in the convenient Eco Pails.
Bristol believes that quality only matters if there is consistency and high standards. The company's state of the art facility is certified by the Global Food Safety Initiative (GFSI) for food safety, the Marine Stewardship Council (MSC) for sustainability and Fair Trade for social welfare. But even with the state of the art equipment, everything that leaves the Bristol facility is hand finished, which no matter what, is always the best way.