Aureole, Mandalay Bay, Las Vegas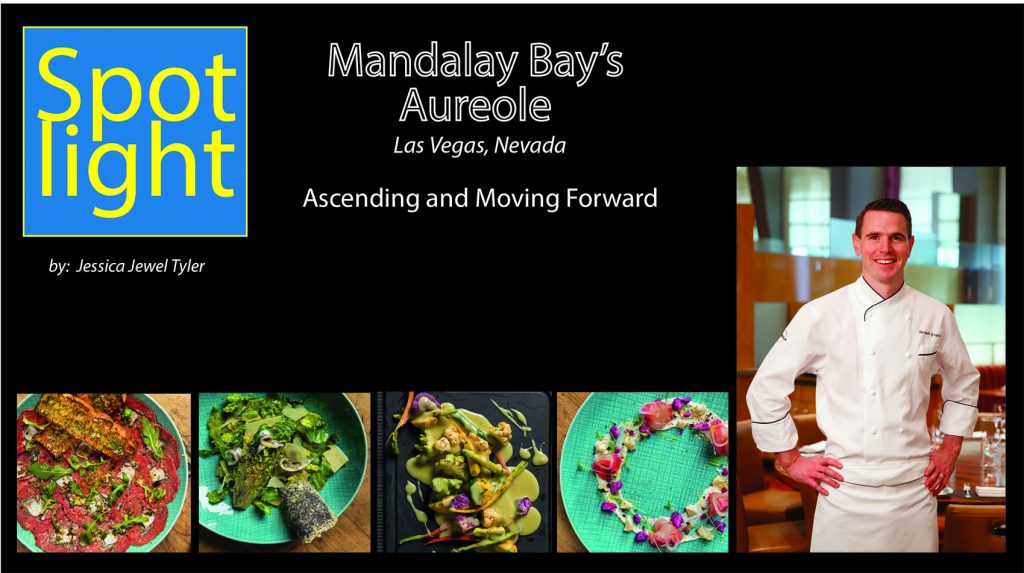 They say "what happens in Vegas stays in Vegas." But the "heavenly" experience offered at the restaurant, Aureole, in Las Vegas' Mandalay Bay Resort and Casino, is no secret. Aureole, meaning "halo," features two dining rooms with beautiful and modern opulence. Aureole gives off a celestial impression while silver and gold décor grace the walls of the main dining room and the second more exclusive dining area in Aureole's "Swan Court."
The main dining room became home to one of the world first "wine towers" in 1999. This iconic 50-foot wine tower houses over 20,000 bottles of wine in over 3,000 varieties, this even includes the Aureole exclusive sparkling wine, "Aureole Cuvée." The wine list is carefully curated by the wine director, Harley Carbery, who works closely with the chef to make perfect pairings. The main attractions, of course, are the "wine angels" who gracefully ascend the tower to grab your chosen bottle in a true Vegas-style pageantry. But though you may come to see the "angels," you'll stay for the impressive cuisine.
Celebrity chef, author, and restaurateur, Charlie Palmer, is the mastermind behind Aureole Las Vegas, its two New York locations, and several other restaurants nationwide. Chef Palmer is known for his signature style of "Progressive American Cuisine." This concept focuses on traditional American food using classical French techniques, bold, dynamic flavors, and unexpected combinations. He was quoted coining the phrase on his website: "I called it "Progressive American Cuisine" because every time I stepped into the kitchen, I felt things moving forward."
Executive Chef, Alex Gregoire, takes this concept further forward with his inspiration from childhood memories growing up in France. During this time, Chef Alex's great grandmother owned a restaurant. And when she retired, she spent more time cooking at home and became a role model for him. Chef Alex's Grandmother was also a great cook and with the many nights cooking traditional French cuisine, Chef Alex says he caught the "cooking bug." From there he went on to a very unique culinary high school in France, where all the regular classes were taken, plus hospitality, catering, and cooking. He says, "kids would travel from all around the world to attend this one-of-a-kind school."
Chef Alex is the perfect fit for Aureole's "Progressive American Cuisine" because of his love for and skill in traditional French cooking. He even trained under Chef Alain Ducasse, also known as the Godfather of French cooking, in Paris on the second floor of the Eiffel Tower. Many of Chef Alex's recipes are very similar to the traditional ones from his formative days of training and his youth. For example, the rabbit with dried plum chutney and mustard, featured on his menu, is similar to a traditional dish he would have eaten in his childhood home.
Chef Alex also likes to "experiment a lot." Although the menu is mostly based on French techniques, he likes to use influence from social media and life experiences to incorporate techniques from all around the world, like the curry and lamb dishes he sometimes features. He mentioned that he's "playing around a little bit and it's been awesome."
Although Aureole offers a bevy of carnivorous pleasures like beef, rabbit, and lamb, their most requested dishes feature both surf and turf. Some popular seafood additions at Aureole are the King Crabs, Lobsters, and Smoked Fish. Since Chef Alex is from near the Mediterranean Sea, he is very well versed in seafood and in fact claims it as his favorite thing to cook. He expressed excitement over the Halibut dish he perfected just in time for the West Coast season. The Halibut is presented on a savory buckwheat crepe with baby leeks sautéed in butter and mussels and clams in an au jus made from their own liquor that has been perfumed with saffron.
Another Chef Alex seafood creation is a spring dish with Bristol Bay U/10 Scallops paired with English peas, pearl white onions, and bacon. He plans to change about seven other dishes for his new spring menu with a focus on "following the seasons." Chef Alex plans to incorporate more of the incredible freshness from spring produce like asparagus, baby peas, and carrots. He's even expanding the vegan options with an Asian inspired dish of miso, eggplant, Daikon, Lotus Root, and Shitake Mushrooms. We can't wait to see where the season will take him next!