Baked Wolffish with Romesco Sauce

As you get past your Halloween candy induced stomach ache, and are looking to finally eat some real food again, Samuels and Son is here to remind you that the holiday season is the perfect time of year for seafood! While it is never too early to start planning your Feast of the Seven Fishes Christmas Eve dinner, don't forget about fish for you fall and Thanksgiving menus!
Throughout the Holiday season, we will be featuring unique recipes on our blog to help you plan for the holidays! What better way to start than with an amazing baked wolffish dish in a bold romesco sauce created by our own Chef Gregg.
Serves Four
Ingredients:
4 6oz. Wolffish Fillets
6 Roma Tomatoes, halved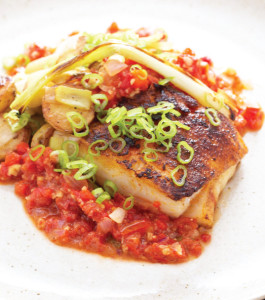 1 Each Red bell pepper, seeded and quartered
12 Each Garlic Cloves
2/3 Cup Olive Oil
1 Each White bread slice, toasted
1/2 cup Whole almonds, roasted
1/2 cup Red wine vinegar
1/2 tsp. Paprika
Kosher Salt & Flaked Red Pepper to taste
Directions:
Heat over to 425 degrees
Place tomato, peppers and garlic on an aluminum foil lined sheet pan. Drizzle with some olive oil and kosher salt
Bake for 15-20 minutes, remove from oven and allow to cool. Lover oven temperature to 350 degrees.
To make the Romesco Sauce, place vegetables and any pan juices into a food processor or blender. Break the bread into pieces and add to the food processor with the almonds, red wine vinegar, paprika and red pepper flakes. Blend until finely ground and slowly add
the remaining olive oil. Season with salt to taste.
In a baking dish, spoon the Romesco sauce onto the bottom. Season the fish with salt & pepper, coat with a little oil and place on the sauce to bake, uncovered for 15-20 minutes until fish is cooked through.
Enjoy!