The Prime Rib – Featuring Prime Seafood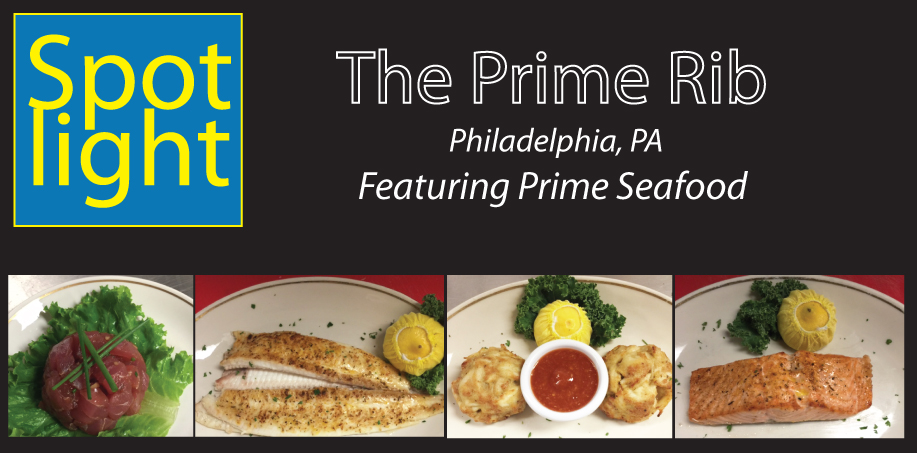 The Prime Rib
Philadelphia, PA
Featuring Prime Seafood
By: Joe Ciminera
There was a time when restaurants were simple. They were places to loosen your tie, settle into a high-back leather chair, enjoy a scotch and savor a dry-aged steak paired with a succulent Lobster tail.
That time was the 1940's, and Buzz and Nick BeLer found themselves yearning for the elegance found in the supper clubs of New York's Central Park South. As an ode to those forgotten gems, the BeLer Brothers opened their first Prime Rib restaurant in Baltimore, Maryland in 1965.
The newest Prime Rib, located in Philadelphia opened their doors in 1997 at the historic Warwick Hotel, a current Radisson Hotel destination.
"Upscale restaurants used to be limited to French concepts," said current owner of Philadelphia's Prime Rib, Garth Weldon. "There were steakhouses, but none were upscale."
The opulent décor featuring rich mahogany wood, black painted walls with silver trim and luxurious leather chairs give diners an experience of sheer sophistication at a fine white tablecloth restaurant. The menu, teeming with prime cuts of beef and premium seafood is fitting for the elegant ambiance of The Prime Rib.
It may not be a surprise to hear that the prime rib dish at The Prime Rib is a menu favorite. "I take a lot of pride in preparing this dish," said Executive Chef Eddy Castillo. Roasted to perfection, the prime rib is certainly a staple entree, as are the dry-aged cuts of beef, but it is their award winning seafood that truly sets The Prime Rib apart from other steakhouses.
"With our flagship restaurant coming out of the Chesapeake Bay area, Seafood has always been important to our menu," says Weldon.
The seafood appetizers at The Prime Rib are second to none and a great companion to steak. From Oysters on the Half Shell to Tuna tartare to Norwegian Smoked Salmon, the cold seafood appetizers are equally as sumptuous as the hot appetizers featuring Clams Casino and Jumbo Lump Crab Cake.
"We make the Crab Cake with premium lump Crabmeat, no filler," says Castillo.
Having Baltimore roots certainly established prime seafood offerings, now, when customers think of The Prime Rib, they also think of Prime Seafood. This lends to a seafood menu that features incredible Chilean Sea Bass, Brazilian Lobster Tail and Sesame Seared Ahi Tuna, or the owner's favorite, Seared Salmon.
All dishes are prepared simply, and lightly sauced. The Prime Rib lets the quality of their fresh seafood and aged beef stand on its own, offering quality diners will not find elsewhere.
The Prime Rib is a classic steakhouse first and foremost, but they are not steadfast in their approach. Much of their success can be attributed to listening to the needs of their customers. Weldon and Castillo both agree that customers are certainly more health conscious these days, and always look forward to Castillo's diligently prepared seafood creations.
"We tweak certain things here and there, we like to stay up to date," said Weldon. "We always listen to our customers," added Castillo.
With a gentle piano playing in the background of the carpeted Prime Rib dining room, their customers very literally can be heard. Weldon remarked that one thing that customers continuously praise him for is their ability to have a conversation at The Prime Rib. The upscale environment is not to be mistaken as stuffy, and the dress code at the restaurant has been altered. The same goes for staff as well, rather than bow-ties, the expertly trained waiters are now donned with sleek silver ties.
While Philadelphia has a bevy of high-end steakhouses, The Prime Rib sets itself apart through incredible service, a carefully maintained ambiance, and as the owner and chef agree, quality food.
Please visit The Prime Rib at www.theprimerib.com.