Bellini Grill, Philadelphia, PA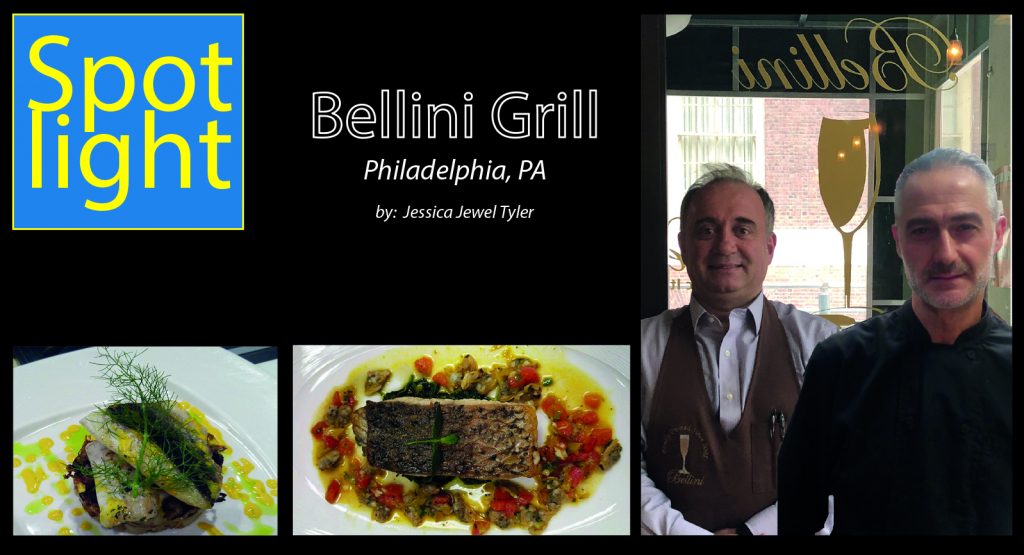 Bellini Grill, Philadelphia, PA
by: Jessica Jewel Tyler
Italian food is one of the most distinctive (and delicious) types of food – but each region in Italy has its own long, rich history of food. For example, most of the foods that Americans view as Italian, such as spaghetti and pizza, originate from Central Italy. Northern Italian dishes however, have a different influence from other European countries such as France. They use a lot of pork, along with potatoes, polenta, rice, or risotto and various cheeses. Southern Italy is where the warmer climate inspires the use of capers and olives along with olive oil and other summer vegetables. Additionally, seafood, due to the proximity of the sea, is very well utilized. The one thing all regions of Italy share however, is that their food doesn't exist solely to satisfy hunger – perfectly handcrafting and really experiencing food is part of the overall Italian tradition. It was this vast complexity, passion, and history of traditional Italian cuisine that Jimmy Daku, owner of Bellini Grill, fell in love with.
Growing up right across the Adriatic Sea, in Albania, Jimmy Daku, became obsessed with the culture and cuisine of Italy. Because of the short distance between Italy and Albania, the food is somewhat similar, but preparing food in the Italian style was very popular in Jimmy's upbringing. While watching his grandparents cook Italian food, grow vegetables in the garden, and even prepare homemade wine, he was inspired to study Italian cuisine in Milan. Soon after completing this dream and moving to the U.S., he opened Bellini Grill where he now uses his grandparent's original recipes and authentic decor to make his guests fall in love with Italy the way he did.
Walking into Bellini Grill is almost like floating on a gondola to a rustic Italian patio. Covered in artfully crawling vines and vivid murals, you may lose yourself. Jimmy says the restaurant is an expression of his favorite things "Art, Food, Love, and Wine." Jimmy, a bit of an artist himself, believes food and art are deeply connected – especially at Bellini. Located in Center City between the Kimmel Center and the oldest opera house in Philadelphia, The Academy of Music, Bellini is a hub for art. The name "Bellini," after renaissance painter Giovanni Bellini, ties this all together. Giovanni Bellini, revolutionized art with vivid uses of color and detailed shading. When the "Bellini" drink was invented, hundreds of years later, Giovanni Bellini's paintings, and the sunset pink color of the saint's robe, inspired the name. Today, if you go to the Bellini Grill and look up, you'll find this painting on the ceiling still inspiring great food and drink.
"I've always been fascinated by the history of food and drink and the processes in which new recipes are developed." says Jimmy. He often refers to a quote written by Brillat-Savain in 1838, "The discovery of a new dish does more for the happiness of mankind than the discovery of a star." Although, Bellini's menu focuses on traditional fare with fresh ingredients, Jimmy doesn't "like to be boring," he, and Italian born, executive chef, Franchesco Parmisciano, strive for innovation and discovery. They work together creating exciting daily specials and seasonal dishes that offer something unique. For instance, Bellini's signature pork dishes, like the Maialino All Albicocca with apricot jam and chili pepper, use Kurobuta Pork. Using this Japanese Pork, strategically bred for its superior taste and quality, ensures an extremely flavorful meal. Their dishes also include a plethora of traditional Italian seafood like Shellfish, Cod, Flounder, and Bronzino, but Franchesco and Jimmy have often experimented with other seafood like Hidden Palms Barramundi. Franchesco prepared this buttery and mildly sweet, large flake fish with grape tomatoes and asparagus in a white wine sauce. The modern ingredients with traditional preparations make for an unexpected and delightful treat.
Franchesco's and Jimmy's innovation and passion has gained Bellini Grill massive praise. Bellini Grill was voted one of the "1000 Best Italian Restaurants in the USA" and "Best Choice for Italian Food in Center City Philadelphia" for eight years consecutively. The success Bellini has had over the past sixteen years has been immense. Jimmy even boasts helping some, now very successful, chefs get their own start in the industry. Chef Jimmy again refers to his four favorite things by saying he owes this success to the Art that inspires him, the Food created with his amazing chef Franchesco, the Love of his family, and a bit of wine.
For more information, visit bellinigrill.com