Blue Bell Inn, Blue Bell, PA. A Piece of American History by Joe Ciminera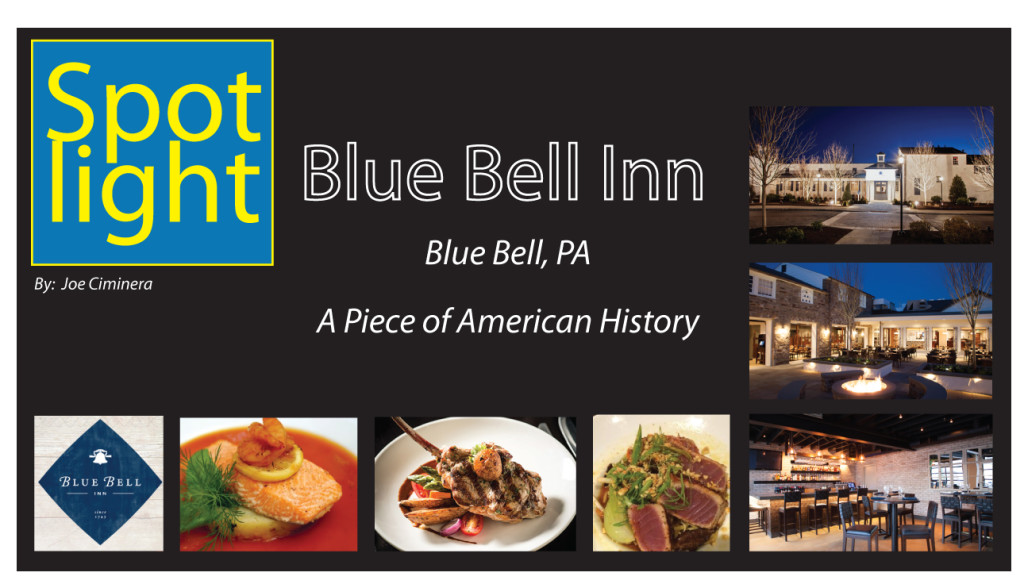 Blue Bell Inn,
Blue Bell, PA
A Piece of American History
by Joe Ciminera 
It may sound like hyperbole to say the Blue Bell Inn has been in business so long George Washington was one of their first guests, but it's not.
Opening in 1743, the Blue Bell Inn has been situated in Blue Bell, PA for 272 years. In fact, the town of Blue Bell, once known as Pigeontown, changed its name to Blue Bell based upon the success of the restaurant. The restaurant was sold in 2013 to Bruce Goodman, Kevin Clib and Scott Dougherty, who gave the space, an 18th century farmhouse, a much needed facelift. Chef Pete Sherba, a colleague of Clib's, came along to helm the kitchen at the historic restaurant.
"When we started, we wanted to keep things simple and not surprise any long time customers," said Sherba, a native of New Jersey. "Now that we've been open for a few years, we're able to experiment more with ingredients."
Sherba and the trio of owners wanted to put an emphasis on seafood at the Blue Bell Inn considering their other restaurant, Bridget's, is a steakhouse.
The Sweet Potato Lobster Bisque, Maryland Crabcake, Calamari and Ahi Tuna on the appetizer menu is enough to head to the Blue Bell Inn alone, and the Chipotle Shrimp served with black bean salsa is an unmatched appetizer, but it is their seafood entrees that keep guests coming back.
Sherba says that Branzino, served with a cauliflower puree, and Chilean Sea Bass, plated over butternut squash risotto are the two most frequently ordered dishes on his menu, and for good reason, but the Grilled Atlantic Salmon with a side of caramelized Brussel sprouts, and the cornmeal-crusted Scallops are also dishes that beg to be ordered. For Seafood lovers looking for something different, Blue Bell Inn offers an amazing Lobster Roll filled with fresh Maine Lobster, and a loaded Seafood Pasta with Jumbo Lump Crabmeat and succulent Shrimp.
One of the major additions to the Blue Bell Inn was a raw bar that features fresh east and west coast Oysters, Alaska King Crab, Colossal Crab Cocktail, Cherrystone Clams and Maine Lobster Tail. The brand new outdoor patio filled with cozy fire pits and a large bar pouring premium cocktails is a welcoming feature to the young, sophisticated crowd the Blue Bell Inn hopes to keep in the suburbs. One of the best features of the newly renovated restaurant is their space to host live music. Featuring local musicians, Blue Bell Inn offers customers a chance to enjoy a show with their meal or cocktails.
"With the renovation we bridged the gap, and elevated the cuisine at the same time," said Sherba.
His menu can be described as contemporary American cuisine, but Sherba simplifies that. "It's fresh ingredients done right," he says.
"We wanted to pay homage to the classic cuisine that was previously served at the restaurant," said Sherba. "It's truly a destination restaurant."
For those who want to dine in the same space George Washington once slept, the Blue Bell Inn is a destination indeed. The renovation kept the crux of the space, and brought it into the future. Original 18th century masonry is the focal point of the dining room, and antique glass and old-fashioned bottles reclaimed during construction were repurposed into beautiful art installations featured throughout the restaurant. While a jacket is no longer required in the dining room as once was customary, guests still feel a sense of old timey elegance when they dine at the Blue Bell Inn.
Standing for 272 years is an accomplishment in unto itself, but Sherba and the rest of the Blue Bell Inn aren't satisfied.
"I think we're getting better as time goes on."
Please visit Blue Bell Inn at www.bluebellinn.com.