Catch Seafood Restaurant – Redbank, NJ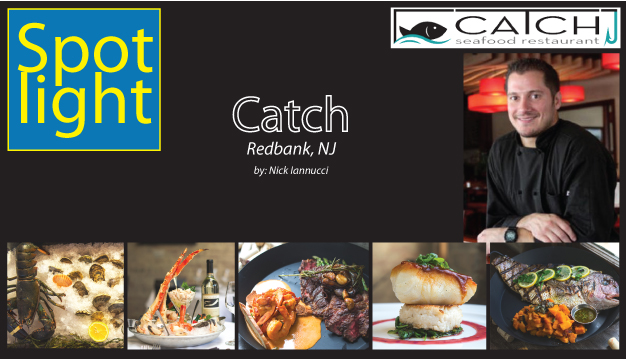 Catch Seafood Restaurant
Redbank, NJ
By Nick Iannucci
With a meal and dining experience tailor-made for each guest, Catch Seafood has quickly caught on as a top-tier seafood destination in Redbank, NJ. Managed by executive chef Dominick Rizzo, Catch is a unique blend of fresh seafood and artful dining experience. "At Catch, it isn't about what I want to serve to the customer. It's about what the customer wants to be served," says Chef Dominick Rizzo.
Chef Dominick's culinary journey started as a teenager working at Chapter House and Ivy League in nearby Howell, NJ. After graduating from high school, he enrolled at the Culinary Institute of America (CIA). During his time at CIA Chef Dominick had the amazing opportunity to intern on the weekends at Chef Daniel Boulud's DANIEL restaurant. After graduating, he worked at Chef Mario Batali's Babbo in NYC and then became executive chef for the Blue Water Bistro in Naples, FL. According to Chef Dominick, "One of the most important things I took away from my time training under Chef Gianni Scapin, Chef Daniel Boulud, and Chef Mario Batali is to cook with passion."
Catch Seafood opened its doors in November 2014 with dinning space spread across two floors. The second floor offers private dining with a modern, elegant esthetic that can host up to 70 guests. This room features a private restroom, professional catering staff, plasma TV, and a customizable menu. The amenities in the upstairs dining room makes it the perfect venue for private events.
The first floor features an open kitchen with a custom raw bar and countertop seating that fosters interaction between guest and Oyster Shucker. "The customer experience is very important to me," says Chef Dominick. "I want each customer to have an experience that is unique to them. Make it special for them." The walls are also adorned with artwork from Catch's affiliated gallery partner GOTHAM ART, adding to the ambiance – plus, each piece of artwork is available for purchase!
Some of the most popular items on the menu are the Sweet and Tangy Chilean Sea Bass, the Angry Shrimp and Lobster, and the grilled whole fish. The Sweet and Tangy Chilean Sea Bass is served with a blood orange glaze, braised wilted greens, "sticky" rice, and blood orange drizzle. The Angry Shrimp and Lobster is served in a "sinister" sauce with baguette crostini. The whole grilled fish is exactly what you're picturing: a head-on fish that's been grilled (its taste is as awesome as its looks).
But the most popular option with customers is the Fresh Catch. With this option, patrons are empowered to select and create dishes to their liking. They are able to see their choices, pick their cut, and have it seasoned and cooked to their specifications. "The customer has the opportunity to create their own dish. It's not me telling them how to eat their favorite seafood. They have the power to enjoy their favorite seafood the way they want and to make healthy decisions," says Chef Dominick "In a way, they feel like they're the chef." Guests can also pick from a list of sides and sauces to complete their dish.
The final ingredient in Catch is the customer service. For Chef Dominick, it is very important that the service the customer receives is on par with the fresh seafood and the prepared meal. "To me, each customer should be treated kindly and with respect," he says. The goal is to have customers feel good and relaxed while dining and when the customer leaves, they leave feeling happy.
Visit Catch Seafood and you'll "Catch" yourself coming back again and again.
For more information about Catch visit: catchredbank.com