Enlighted Dinners: A New Culture of Cooking.

Have you even had a dinner so good you felt euphoric or even inebriated? With the theme of enlightened dinners, also known as Cannabis Infused Dinners, that wouldn't be far from the truth.
While cooking with cannabis is not new, as more and more states decriminalize, the practice has grown and evolved. It's not just brownies and cookies anymore – renown Chef David Ansill is making world class cuisine with clever infusions that he believes are the wave of the future.
That's right, Chef David Ansill from the beloved former Philadelphia restaurant Pif! If you are unfamiliar, Chef David Ansill is widely accredited with starting the French food renaissance in Philadelphia in the early 2000's that came to its crowning point at Pif restaurant formerly located at 8th and Carpenter.
This stand out chef started making delicious dishes with kidneys, hearts, and pig's feet before most chefs in the Philadelphia food scene at that time. He is also very well versed in ahead-of-its-time ingredients like Escargot, Monkfish Livers, and Sea Urchin. Nowadays, he still uses some of this French influence, but ties in others like Asian and Jamaican. The common theme however, is the cannabis.
"What's happening across the world is the stigma is being lifted," says Chef David. He believes the next natural step is fine dining cannabis restaurants and cafes and he says it's already happening in private clubs and communities in Philly. Whether for pain relief of different ailments, or just to enhance the dining experience, cannabis dinners have hit Philly. Chef David uses regulated, medical grade cannabis and compares it to having a glass of wine with dinner or even a cigarette, except it's more of an entire body experience with enhanced senses rather than a head buzz.
Chef David Ansill does pop up and private dinners mostly, considering the nature of the business. These dinners take place at a private loft space with tons of art and an exposed kitchen. Chef David Ansill says "it's a pretty cool scene." Diners find out about the pop-ups on social media or by word of mouth. He draws a nice crowd with eclectic groups of couples and friends in every profession from 21-75 years old. He even gets regulars that have been to 3-4 dinners before. He normally caps his dinners around 16 guests.
The dinners have clever themes such as his "Three Little Birds" pop up, based on a popular Bob Marley song and featuring chicken, duck, and quail. What peaked our interest at Samuels, was Chef David's "not so traditional" Christmas seven fish dinner with very knowledgeable seafood chef collaborator, Drew  Depitmo.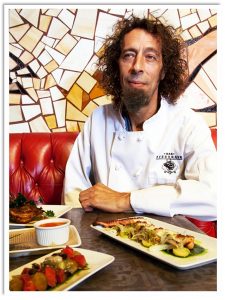 Chef David Ansill says any dish can be infused or incorporated into a cannabis creation. Technically you shouldn't cook cannabis over 350 degrees or it will evaporate. But not everything has to be cooked into the dish.
He uses tinctures, along with infused oils, butters, creams, honeys and different garnishes to either fuse with or top the main dish. He says his favorite dishes are classic like crudo. "Nothing's better than a nice raw fresh fish," say Chef David.
Whether atop Cobia or Tuna ceviche, one of his go-to simple infusions is chili oil. Sometimes he will add a second more layered infusion with the addition of toasted hempseeds. He also spoke of infused lemon vinaigrette atop Smoked Salmon and White Anchovy tartare with Bottarga and Sicilian Caviar dressing.
According to Chef David, the cannabis adds a depth of flavor, but as long as it's the appropriate product for the appropriate dish, then it will pair well. The secret is to build slowly (every dish isn't piled with 3 different infusions.) This is especially true because of the potency of the meal. Chef David wants people to leave with a smile on their face, not to pass out. And of course, the last course, is something sweet with the honey or cream infusion on top.
Chef David Ansell is hoping to have many more dinners in the new year and of course experiment a lot more with his favorite seafood like Oysters, Sea Urchin, and Monkfish Liver. We can't wait to see what he comes up with!
For more information, follow Chef David Ansell on Instagram @rasta_squirl.