Hawaiian Kanpachi: From Sushi to Sizzle

You may have heard of Kanpachi, but not like this! Say Aloha (Hello) to Hawaiian Kanpachi: the fish being taken from sushi to sizzle. In addition to being served at America's top restaurants, the fish has also been featured at several James Beard Foundation Dinners around the country and is showcased annually at the Hawaiian Food & Wine Festival. Hawaiian Kanpachi, also known as Yellowtail, is a premier member of the Amberjack family prized for its simply amazing flavor. This naturally fatty fish has a clean ocean flavor with notes of rich, nutty sweetness and a smooth, flaky texture.
Many chefs use Kanpachi for sushi or raw applications, however whether grilled, roasted, broiled, fried, steamed, poached, or smoked, cooked Kanpachi is bringing some sizzle into chef's kitchens. When served crudo style, the fresh, bold flavor and supple, delicate flesh really shines. But when cooked, the flavor is taken to another level. Hawaiian Kanpachi is steak-y, versatile, and rich in natural oils, so it stays succulent in any cooking application and works well with both simple and complex flavors. We love it seared, or lightly charred with a torch. This cooks just the top layer of flesh, but loosens up its oil content, making it extra buttery with delicious crispy skin.
Another treat Kanpachi offers are the collars. Considered a delicacy in Japan, Kanpachi Collars are the fattiest and most succulent part of the fish. This is a great way to utilize every part of this no waste fish. The collar gets cooked directly on the bone, which seals in it's rich, sweet flavor and tender juicy meat. And when grilled or broiled, they are just as addictive as chicken wings.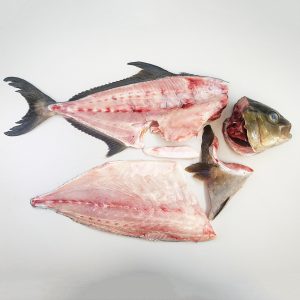 This versatile fish is also a sustainable U.S.A fish with amazing quality. Hawaiian Kanpachi is aquaculture raised, by Blue Ocean Mariculture, in the tropical waters off Kona Coast, Hawaii. Blue Ocean (the only Kanpachi Open Ocean Aquaculture operation in America) uses the most sustainable production methods.  In fact, Hawaiian Kanpachi has been rated a "Good Alternative" by the Monterey Bay Aquarium's Seafood Watch program.
Blue Ocean's facility is fully integrated to mimic and optimize the natural life cycle of the fish from hatch to harvest and each step of the process is carefully monitored and controlled. The fish are hatched from native, locally and sustainably caught brood fish. The juvenile fish from the hatchery are then transferred to offshore ocean pens where they fed only the best feed from certified sustainable fisheries. The sea pens are fully submerged in the powerful currents of the deep, open ocean to minimize the impact on water quality and maximize fish health. The fish also benefit from very low stocking densities which promote less stress among the stock.
Hawaii's warm, tropical waters also promote faster growth; the fish grow to full maturity in 18 months, half the time of other species such as Salmon. When Hawaiian Kanpachi reach the ideal size, they are harvested to order and then rapidly chilled to ensure the freshest product from water to plate. The fish are available fresh year-round. If you're looking for an easy environmental choice, that's also versatile and delicious, say Aloha to Hawaiian Kanpachi, now on special for the month of January.
Hawaiian Kanpachi is available in 5-7lb whole fish and Collar on or off Fillets. Talk to your Samuels Agent for more information