Featured Monthly Special: Fremantle Octopus

Caught in the clean blue waters off Australia's Western Coast, Fremantle Octopus Hands are loved by Chefs all over the world. A joy to work with, our Fremantle Octopus has already been tenderized, ensuring easy cooking and a delectable texture. And what makes this product truly unique is that it is a 100% usable, zero-waste product that's ready to be cooked immediately! That means there's no need to worry about removing beaks or waste, just defrost it and throw it on the grill!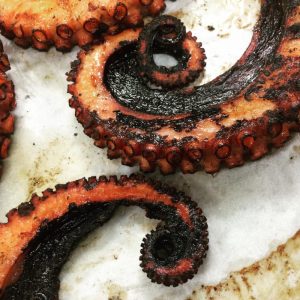 The species of octopus (O. tetricus) found off the Western Australian coast is considered to be one of the best species of Octopus in the world due to the quality and color of its flesh when processed, its tenderness and flesh structure, as well as its generous size.
Frozen for your convenience and loaded with flavor, these raw Hands are ready for the cooking application of your choice. Grilled Octopus skewers are a crowd-pleasing favorite, but this product is also a great choice for Sushi dishes! Feel free to get creative and mince or dice the Octopus on your way towards making Takoyaki, a popular Japanese snack made with Octopus, flour, pickled ginger, and green onion! And if you're feeling spicy, why not try your hand at an Octopus taco? The possibilities really are endless for this product!
You can find these 11 lb cases of Fremantle Octopus Hands on special all month for $11.99/lb! Get them before they're gone!
Product Highlights:
High in Omega-3
Tenderized by Unique Freezing Process
Ready to Cook
Sustainably Caught in Pristine Australian Waters
18 Month Shelf Life When Frozen
All-Natural, Western Australian Product