Go Gator This February!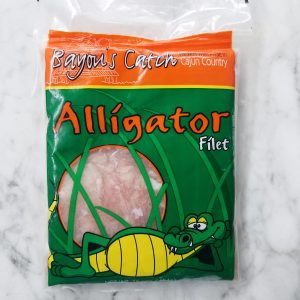 Have you always wanted to try out Alligator, but could never find the spot to buy it, or weren't sure how to cook it? Well look no further! Samuels is offering a great product that will give you your chance to try out delicious Gator meat!
From 'Bayou's Catch', double-tenderized Alligator loin and tail meat is here! Sold in cases of 12 x 1 lb packs, this frozen, cleaned meat is ready to prepare and serve! Wild Gator Eggs are harvested, then farm-raised in Louisiana until they reach maturity and are ready to be cut.
Mildly flavored with a firm texture Gator Meat is absolutely delicious in gumbo, and is also great for the fryer! So whether you're making Gator Gumbo or Crocodilian Nuggets, this is the perfect item for you.
And right now, Samuels is offering an unbeatable deal…You can find "Bayou's Catch" Gator Meat on special all February for $10.95/lb. You won't want to miss the chance to give your customers a taste of true Louisiana cooking on Mardi Gras!
"Gator done!"