Featured Special: An Unbeatable Deal on Chilean Sea Bass

Our featured special this week is Chilean Sea Bass. While Chilean Sea Bass is probably already on your menu or dinner table, we're offering it for a great price, and in a unique way. For $15.995/lb, we'll send you a whole side! This is a true bare-bones product, as it is a belly-on, skin-on, and bone-in cut.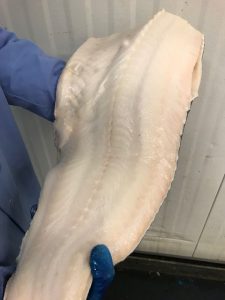 No doubt about it, this product requires a little work before serving. This is a great item for chefs who love a hands-on approach. Ordering a whole side means that pin-boning, trimming, and skinning falls on the chef. But ordering this whole side gives you the opportunity to get creative. Fish bellies are often discarded, but can be quite delicious (and not to mention, nutritious) when used properly. The high fat content makes bellies a good option for small portions, or for cutting into small pieces for pasta dishes. Chefs also recommend curing and/or smoking pieces of the belly to create a new flavor and consistency while cutting down on waste. So while you will have to spend some time working on the product, you're actually getting an opportunity to try your hand at some new options for your menu.
Additionally, $15.995/lb is a tremendous price point. A Chilean Sea Bass fillet can cost you nearly double the price! If the high price of Chilean Sea Bass has kept if off your menu in the past, now is the time to add it to your menu. This great price will not last forever – but you have until June 30th to place your order!