A Passion for Astan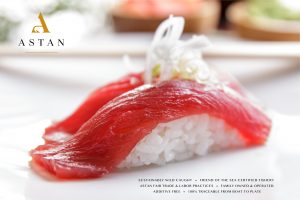 The Astan family have been fishing pioneers since 1818. The founder, Max Astandoust's grandfather, started this legacy when he fell in love with seafood and the Caspian Sea. He then went on to invent the first modern technology for extracting Caviar. The Astan family continues this trailblazing with their innovative, new product: Astan Tuna. Providing chefs with some of the world's first traceable Tuna, Astan is here to shake up the seafood world with Tuna that comes with a reputation of quality, sustainability, and trust.
Today, their last name, Astandoust, further emphasizes this acclaim – "Doust," meaning passion, and "Astan," which relates to a Caspian Sea province, used together translates to "passionate fisherman." After 200 years, the Astan family knows excellence and continues to stake their famous name on the unsurpassed quality and freshness of their wild-caught Tuna.
This passion also comes through in how the fish are caught and how the business is run. The Astan family employs a single supply chain with full transparency protocol. By owning and operating all their own vessels and processing factories, Astan ensures that Astan Tuna is completely traceable and of the utmost quality.
This fully-integrated company also uses fair trade and labor practices, along with sustainable fishing practices like shorter long line catch methods. This method of catch uses a fraction of length on the long line for better control, meaning less by-catch and more pristine quality.  In fact, they are Friend of the Sea Certified and produce zero unused by-catch. The company also prides itself on attention to detail and a never-ending pursuit of supreme freshness.  In most instances coming from hook to your plate in less than 72 hours, Astan Tuna is incredibly fresh with the succulent flavor and firm texture you expect from amazing, wild-caught Tuna.
This Yellowfin Tuna is caught daily from the beautiful waters off Sri Lanka and graded using a rigorous inspection of unique characteristics and a meticulous eye for excellence. Astan Tuna Premium Gold Loins are then skillfully carved and prepared by artisan Tuna carvers. The loins are lastly, packed carefully in Astan's exclusive "BLOOM-Naturale" wrapping that naturally maintains the exceptional freshness, color, and amazing taste unique to Astan Premium Gold. After the loin has been graded, carved, and packed by hand, it will not be exposed to oxygen until you open it.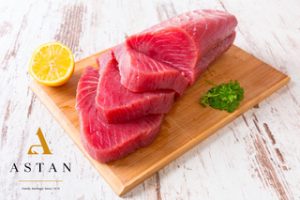 When ready to be served, Astan Tuna Loins simply need to be exposed to air for 45 minutes and they will "BLOOM" to their perfect, natural state just like they were when freshly caught. With every Astan Tuna purchase, you'll receive pristine Tuna wrapped in this exclusive technology, along with a golden certificate stating where, how, and when your Tuna was caught and processed, and the confidence in knowing you purchased the best tasting, most sustainable, and truly traceable Tuna.
Astan is making history in the world of Tuna. Increasingly restaurant customers want to know with certainty where their food is coming from and how it affects the world around us. Astan is at the forefront of the movement to provide these answers along with an immaculate, bright and beautifully red Yellowfin Tuna Loin that tastes impeccably delicious in any application.