Ford's Fish Shack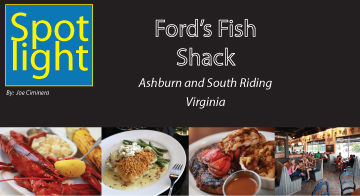 Ford's Fish Shack
Ashburn and South Riding Virginia
By:  Joe Ciminera 
Tony Stafford, the Executive Chef and Owner of Ford's Fish Shack, has been walking a tightrope since 2010 when he opened his first location in suburban Virginia.
"When we first opened, we were compared to Red Lobster," said Stafford. "We wanted to be a step up, but not the Morton's of seafood either."
Striking the proper balance between chain restaurant and upscale dining was not an easy task for Ford's Fish Shack, a New England-style seafood house with locations in Ashburn and South Riding, VA. Stafford attributes their ability to do so by creating a menu that features unique fish options along with traditional plates, served by a knowledgeable and friendly staff in an upbeat environment.
"We wanted to keep it casual and friendly, while serving quality dishes," said Stafford.
The menu at Ford's is a blend of everything that customers love about seafood. Staples such as Fish 'n' Chips, which have recently been hailed as a Top 40 dish by The Washington Post, and decadent Crab Cakes served with a remoulade sauce are perennial hits. Even the handheld options offered at Ford's are among the best in the country. Their Lobster Roll has become legendary, and the blackened Fish Tacos are a customer favorite.
"Customers want to see value, and Samuels Seafood does a great job at sourcing center-of-the-plate fish at a value," said Stafford.
Some of those options include Pecan Crusted Trout, Atlantic Salmon and blackened Scallops. The fish of the day is often a unique item that customers just have to try. Past favorites include Corvina and Tripletail.
Ford's is a welcoming environment for customers who want to sit at the bar, which is the centerpiece of both restaurants, and have a bowl of Mussels or Oysters while they enjoy a beer. In fact, Stafford estimates Ford's going through over 800 thousand pounds of Oysters last year.
"Fresh fish, simply prepared," is how Stafford best describes his cooking style.
Stafford, a native of West Virginia, attended culinary school in Louisville, Kentucky, and made his way to Virginia as the head chef of a brew-pub. It was when he took a position with a local Bonefish Grill franchise that he began considering a seafood restaurant of his own.
Started alongside his wife, Stafford admits that they probably should have been more scared when they opened the restaurant, but he knew that serving quality food and conducting business the right way would pay off.
"Without having any partners, if you make a mistake, there's no one else to blame," said Stafford. "We made some mistakes in the beginning, and we corrected them and continue to do so."
Stafford joked that his restaurants aren't called "Stafford's Fish Shack" because when they first started out they couldn't afford the extra letters on the sign, but through their dedication, experience and ability to prepare incredible seafood creations, the Ford's brand continues to grow.
"We cultivate our brand on a daily basis, and we protect it because it's so important to us," said Stafford.
The Ford's brand is known throughout Virginia for their outstanding seafood served in a fun environment, the perfect middle-ground between casual and upscale. As long as Tony Stafford is walking that tight rope, Ford's Fish Shack will maintain its perfect balance.
For more information visit: www.fordsfishshack.com