Four Dogs Tavern, Destiny for Chef David Cox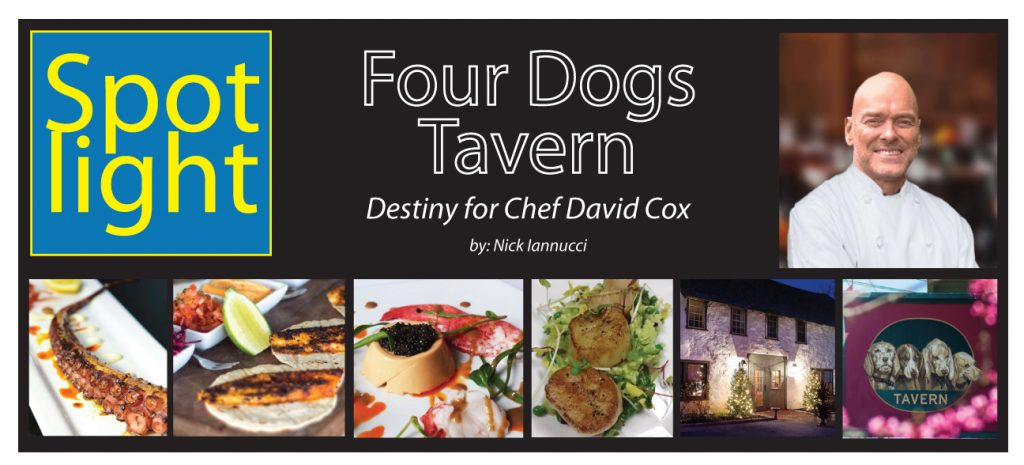 Four Dogs  Tavern, Destiny for Chef David Cox
by: Nick Iannucci
Sometimes life takes you on an unexpected journey. For Chef David Cox, a series of serendipitous events led him to find his culinary calling and to his destination restaurant in West Chester, Pennsylvania, Four Dogs Tavern.
A native of West Chester, PA, Chef's culinary career began at 15 years old, when he started a job as a dishwasher for the Philadelphia Eagles while they were in training camp at West Chester University. Through his strong work ethic, he was promoted to cooking lunch every day for the team. It was at this time a passion was ignited within Chef David to pursue cooking as a career.
After graduating from Johnson and Wales, Chef worked at several renowned five star hotels in Hawaii, California, Florida, New Mexico, and Puerto Rico. Through his hard work, he earned the position of Executive Sous Chef at the famed Waldorf Astoria Hotel in New York City. His next career move introduced him to Chef Terrance Brennan and he began his tenure as Executive Chef at Picholine and Artisanal. Later, he worked for Chef Laurent Gras at the Peacock Alley at the Waldorf Astoria.
Destiny would play a role in the next chapter of Chef's life and career. He and his new wife were visiting family when they purchased a house near his hometown of West Chester, PA. Chef continued to work in New York City for several years when fate tipped its hand. One night, Warren Scott was dining at the restaurant where Chef David was executive chef. Wildly impressed with his dishes, Warren started a conversation with Chef and mentioned he was looking for a partner and chef for his restaurant, Four Dogs Tavern, located in West Chester, PA, and just so happens to be 80 yards from the house Chef David had purchased years earlier.
Using the skills he learned from working in world-renowned restaurants and hotels, Chef applied them to Four Dogs Tavern creating a delicious and tasty menu. Knowing the key to a successful restaurant, he stressed the importance of having an educated staff, paying attention to the details, and maintaining consistency in the dishes. Chef David personally spends three to four hours every day prepping product for the menu, aiding in his goal to present consistent dishes. Every recipe is one of Chef's own and over time, the menu has transformed into his image and now Four Dogs Tavern is an American brasserie with French fundamentals.
A few highlights of the menu include delicious seafood items like Charred Octopus, Colossal Shrimp Lejon, and Sautéed Scallops. The Charred Octopus is an utter delight to feast on. Seasoned with paprika, chorizo, balsamic, and lemon, the Octopus if first braised in a red wine coulis. Charred to perfection, this dish is a fantastic array of flavors blended together. With the perfect amount of horseradish and finely cooked bacon, the Colossal Shrimp Lejon is simply mouthwatering. A real treat for the taste buds is the Sautéed Scallops served with Black Truffle mashed potatoes and local spinach. The mild sweetness of the Scallops is complimented wonderfully by the nutty flavor of the Black Truffle mashed potatoes. Another nice touch to the menu is the desert options are made in-house by Chef David's wife.
The exquisite menu is accentuated by the casual, welcoming atmosphere Four Dogs Tavern offers. When the weather is warm, diners are lured to the beautiful outdoor patio and when the air turns cold, the fireplace in the bar beckons guests. The building that is now Four Dogs Tavern was originally the Marshalton Inn's stables, a popular destination when Strasburg Road was the major road between Philadelphia and Pittsburgh. In 1978, the building was converted into a restaurant and in 1996 became Four Dogs Tavern. The name Four Dogs Tavern was inspired by a painting by Louis Godefroy Jadin of four foxhounds that was found in the attic. The picture now hangs in the entrance.
Chef David has come a long way from washing dishes for the Philadelphia Eagles. His hard work, dedication, and a little bit of serendipity has lead him to Four Dogs Tavern. Under his vision, he's made Four Dogs a must eat destination.
For more information, visit: thefourdogstavern.com