Friday Saturday Sunday, Philadelphia, PA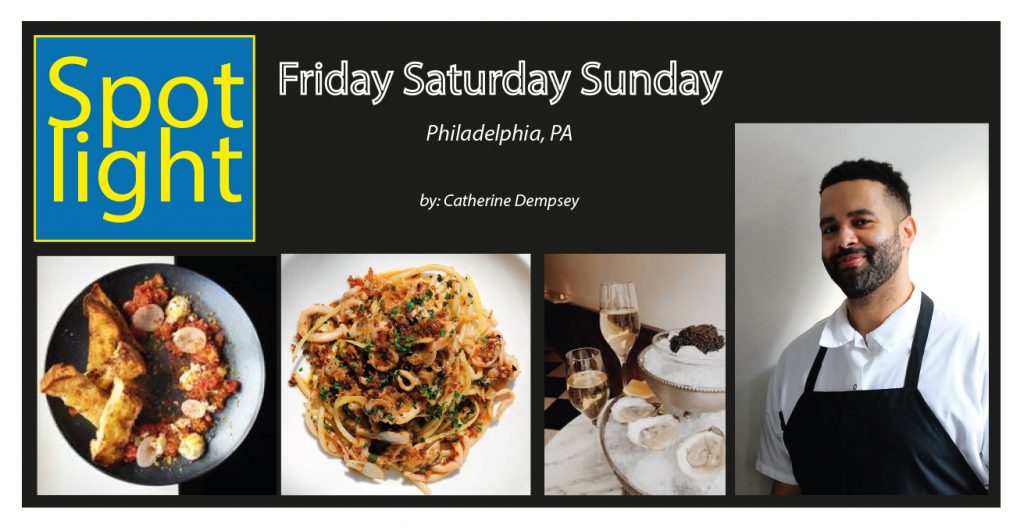 Friday Saturday Sunday, Philadelphia, PA
by: Catherine Dempsey
Born in the time of bell-bottom jeans and fish tank platform shoes, Friday Saturday Sunday was a staple of the '70s restaurant scene in Philly with plenty of locals, self-identified as food-obsessed, flocking to the establishment for the cream of mushroom soup and expansive bar (which boasted a groovy fish tank). The spot thrived into 2015 when it was sold to power-couple and Garces alums Chef Chad Williams and Hannah Whitaker, who have altered just about everything but the classic name. Their 18-month renovation included a total facelift of the old fish tank located in the lower half of the restaurant that once emitted a blue glow and illuminated the bar; it's been replaced with white Vermont marble counters and checkerboard wood floors. The dining room has been shifted to the upstairs, now airy and full of light. The space is classic, chic, warm, and yet noticeably upscale without being stuffy.
"Friday Saturday Sunday was pretty revolutionary in the Philadelphia dining scene," says Chef Chad. "There weren't too many big name restaurants 40 years ago, and we wanted to respect that it was there." Inside the kitchen is where the old apparitions of Friday Saturday Sunday hide, undoubtedly smiling upon Chef Chad's hands (and his taste buds) as he tirelessly crafts his New American menu. His stubborn determination to pass on the menu offerings of old is admirable; gone are the days of Dijon chicken and that old school cream of mushroom soup which once frequented the restaurant's past menu. Chef Chad, beaming with inspiration and creativity, is taking the basics of good food and giving them life (something the ghosts lack).
The sprawling raw bar is our favorite aspect of the menu (obviously, we're fish people). There's no shortage of Oysters and they're served with frozen Meyer lemon mignonette. The "plateau" is for the true seafood lover including Oysters, Clams amada, Shrimp, and King Crab. Chef Chad makes one whopping seafood specialty with his Scallop Ceviche – created with Cape May day boat Scallops with grilled pineapple, radish, and tosazu to bring it all together. The Shrimp Cocktail is simply elegant with marie rose sauce and yuzu koshu. This new menu demands to be tried; the patrons of old will feel refreshed by Williams' edgy and well-executed approach to tackling food of all kinds.
Into the realm of all this incredible seafood comes the Halibut. Cooked to perfection and including a generous amount of brussels sprouts, sweet potato, and coconut citrus, it is an adventure to the senses – aromatic, yet hearty and highly delectable. Chef Chad's Grilled Shrimp are equally as well-accomplished with castle valley mill grits, crispy cabbage, and a shellfish butter. Friday Saturday Sunday is making seafood infinitely cool. "The flavors are so amazing," says Chef Chad. "Seafood brings an ocean-y depth you can't get anywhere else. It's so versatile and pairs well with different meats and vegetables. We'll add fish to meat dishes just to amp the flavor up."
By now, you may have heard about Friday Saturday Sunday's beef tartare which was referred to as being "the city's best" by Philadelphia's own mysterious restaurant critic Craig LaBan (he gave them 3 bells in his review). Topped off with crispy shallots, smoked beef heart, and creme fraiche, it really is wonderfully impressive and unforgettable.
It's hard to talk about this restaurant without mentioning their top-notch bar offerings with clever names. Bartender Paul MacDonald is the mastermind behind the drink menu (he hates the term "mixologist"). Take the Control State: a fabulous splash of vodka, lime, grapefruit, honey, and savory bitters. It will elevate your meal to something you have yet to experience in dining. The 28th Emotion (which begs for a couple curious questions regarding the name) contains white vermouth, madeira, montenegro, benedictine, and orange blossom water. MacDonald is delivering flavors, aromas, and ingredients that are highly unusual in cocktails, but absolutely welcomed. His inventive sense and sought-after palate are what make his drinks so special.
Chef Chad has some advice for those who love to eat seafood out while dining out, but are afraid to dabble in cooking it at home: "Treat it gently, you've got two minutes and you have a fish that's overcooked," he says with a laugh. "Treating it with kindness brings you a more delicate, better product." Take it from the guy who knows the dish on fish!
For more info, visit FridaySaturdaySunday.com.