Gabriella's – Simplicity Creates Beauty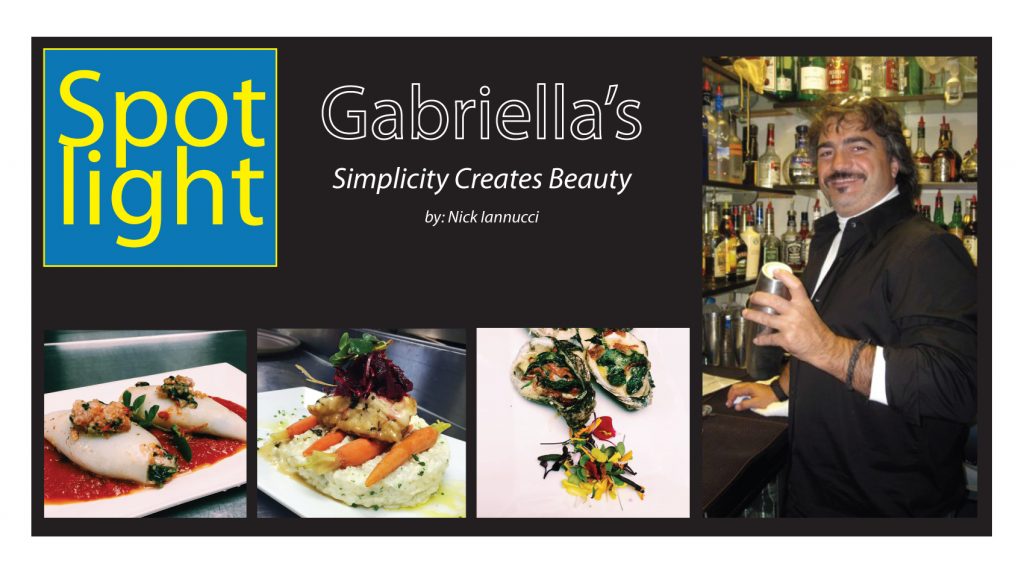 Gabriella's
Simplicity Creates Beauty
By: Nick Iannucci
In a world full of restaurants serving elaborate concoctions with a laundry list of ingredients, Gabriella's Italian Restaurant in Harrisburg, PA is eschewing this method in favor for creating delicious authentic Italian dishes made using a handful of fresh ingredients.
Pietro Carcioppolo, owner and executive chef, opened Gabriella's 20 years ago with one purpose: to serve simple, delicious Italian food. His vision for what makes great food comes from cooking with his mother growing up. The time he spent in the kitchen with her taught him that melding a few high-caliber ingredients will yield savory meals you won't forget.
Gabriella's menu is an exciting mix of classic Italian dishes and creative new specials. One of the most popular items on the menu is the Piatto Di Mare, a delightful blend of Clams, Mussels, Shrimp and Calamari sautéed in a red or white garlic sauce and served over penne. This aromatic and delightfully full-flavored masterpiece holds a special place in Pietro's heart as it is a combination of the seafood he ate growing up in Sicily. He started making it 40 years ago and to this day, it always leaves guests satisfied.
Another popular mainstay menu item is Flounder Francese. The Flounder is perfectly sautéed in a light egg batter and served over a twirl of capellini. The added light crunch of the batter blends perfectly with the natural delicate, sweet taste of the Flounder, making it a delight to eat from the first bite. Specials have included a mouth-watering Pan Seared Halibut with roasted garlic butter sauce, a zesty Lemon Broiled Skin-on Snapper Filet, and Grilled Whole Bronzino that has the perfect amount of char flavor. There is one constant to all the dishes Pietro serves, regardless of if it is a regular menu item or a special: they all follow Pietro's mantra 'simplicity makes beauty.'
The styling of Gabriella's mimics Pietro's approach to cooking as well. The unassuming exterior gives way to an enchanting interior that takes cues from classical Italian styling. The design choice provides an air of rustic Italian for the dining experience, making you feel warm and comfortable. Gabriella's welcomes guests with open arms and a warm embrace. A friendly wait staff leaves patrons feeling relaxed as they enjoy their meal.
It is very important to Pietro for the ingredients he's using to be both complimentary to other products and have the strength of flavor to stand on their own. This means each item doesn't only act as a compliment, but is also tasty enough that you would feel satisfied eating it on its own. He personally inspects every product that is brought into the restaurant to check that it meets his quality of freshness and taste requirements.
For Pietro's style of cooking, he needs a steady supplier who understands his need for premium, fresh seafood products; and that's just what he found in Samuels and Son Seafood. The superb product arrives fresh and in pristine condition, with the respective flavor profiles he's looking for. This past Christmas, Pietro visited the Samuels' Holiday Retail Center where he was able to see first-hand some of the diversified offerings Samuels offers. Everything from live Eels to Baccala to Santa Ines Olive Oil were on display. While he waited for his order to be processed, he was able to sip coffee in the Samuels' Taste Kitchen and speak casually with Sam D'Angelo, owner of Samuels Seafood.
There's something special about Gabriella's Italian Restaurant. The cozy atmosphere and simple, savory Italian dishes have created a comfortable space where you can relax and enjoy a high-quality meal. Backed by a reliable supplier, Pietro is primed to continue serving his delectable dishes for years to come.
For more information, visit: gabriellaristorante.com