Head True North for Tasty Salmon

When it comes to delicious, sustainable, and traceable Salmon look North – True North that is. If you are looking for the delicate, buttery flavor and smooth texture of the freshest Atlantic Salmon you can get, it's swimming up North, on the Atlantic coast. Blacks Harbor, New Brunswick in Canada and the Gulf of Maine are where the cold, pristine waters provide the most perfect conditions for delicious fish and where True North Seafood has mastered the art of aquaculture in open sea enclosures.
Thirty years ago, the family-run company, True North Seafood was born in a small fishing village of Canada. Their goal was to provide fresh, naturally-raised, and environmentally responsible Atlantic Salmon. And today they are the largest and most trusted producer in North America.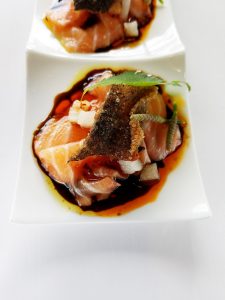 The company utilizes natural methods mixed with ground breaking technology in aquaculture to further pursue their goal. It's a step-by-step approach that mimics the natural life cycle of the fish. The process begins in freshwater hatcheries where the eggs are nurtured until they hatch. Then, the baby Salmon (fry) are moved to indoor freshwater enclosures where they are raised until they are ready to be moved.
The next stop is True North's open water enclosures in the Atlantic Ocean, where they live and grow for 18 to 24 months before they are harvested.  The Salmon thrive under True North's care in the brisk waters of their natural habitat. True North Seafood produces their own feed using all-natural ingredients including, omega-3 fatty acids, vitamins and minerals to promote healthy growth. True North takes the utmost care in raising the fish and even uses underwater cameras and sensors to monitor the Salmon to ensure that there is no overfeeding or stress.
True North also utilizes technology in their tracking and breeding. Researchers have developed the Offspring 50K Chip, which is essentially a genetic road map for Atlantic Salmon in North America. This allows for pin-pointed traceability and selective breeding of the best tasting Atlantic Salmon.
To ensure the freshest Salmon, True North harvests to order. This creates a process of harvesting and shipping daily and all year long, resulting in fish that typically arrive one week faster and one week fresher than other raised or wild Salmon.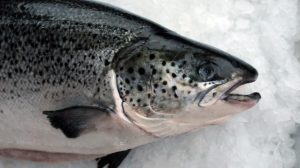 Raising a market sized Salmon is a 3-year process, so True North goes above and beyond to raise it sustainably. They are even certified with Best Aquaculture Practices (BAP) – recognizing them as a company dedicated to the health and wellbeing of both the fish and their natural environment.
True North has spent the past 30 years perfecting their techniques to bring you fresh Salmon that tastes good and makes you feel good about serving it. This is a great, versatile fish for any cooked application, and it's simply amazing raw. We are proud to offer whole fish in 8 – 10lb through 14-16lb sizes in addition to fillets, portions, steaks, and even specialty cuts. Talk to your Sales Agent about adding the freshest sustainable and traceable Atlantic Salmon to your menu.  Now it's a great time to head True North.