Heyo! It's Kewpie Mayo!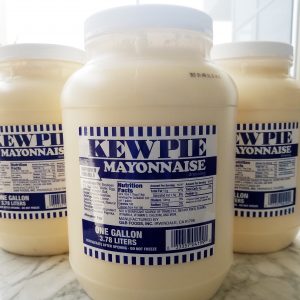 Our March Special of the Week is Kewpie Mayo!
Vastly popular in Japan, Kewpie Mayo is now making a name for itself stateside. Kewpie is a smoother, creamier mayonnaise, made with rice vinegar rather than distilled vinegar. Additionally, this Mayo is made with egg yolks rather than whole eggs, resulting in a richer and sweeter flavor. Kewpie Mayonnaise has become a sensation among chefs who use it to make dressings, dipping sauces, and sandwich spreads.
"The best mayonnaise in the world", according to Food & Wine, you can use Kewpie Mayo as a topping for fried Cod sandwiches, a dressing for Calamari salads, or a dipping sauce for breaded Clams. No matter what application you choose, you will definitely be back for more! Kewpie Mayonnaise is available now on March Specials, sold in one gallon unites for $18.99 each. Call your Samuels agent today to help take your sandwiches, salads and appetizers to the next level!