Invasive Species of the Chesapeake Bay

During the lunch portion of the fist-ever East Coast Seafood Forum, hosted by the National Aquarium, Samuels and Son Seafood, and Monterey Bay Aquarium, cornmeal fried, Blue Catfish sandwiches were served. As the event took place at Baltimore's National Aquarium, and focused on the topic of Sustainability, with special attention paid to the Chesapeake Bay Watershed, eating an invasive species was certainly apropos.
.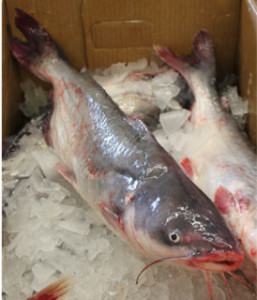 Blue Catfish was introduced into the Chesapeake Bay watershed in the 1970's, and as opportunistic feeders, they have wreaked havoc on native species of the Chesapeake. Despite this negative reputation, Blue Catfish is surprisingly delicious and has incredible bright white, mild tasting meat. Unlike some fresh water Catfish, Blue Catfish does not have any muddy flavor, probably due to the fact that it feeds in brackish water. Growing to up to 150lbs., they are available year round from Maryland waters. Blue Catfish is amazing when fried, but it is also versatile enough to be cooked in other ways including grilling, poaching, and blackening. With a price point that can't be beat and the environmentally friendly impact it has on the Chesapeake Bay, Blue Catfish is a perfect sustainable option for menus.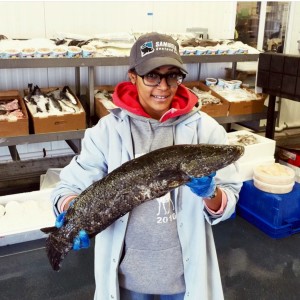 Native to Eastern Asia, Snakehead Fish is another invasive species that was introduced into the Chesapeake in 2002. Most scientists believe these fish were held in personal aquariums and dumped into the Chesapeake Bay where they have become a volatile and fearsome fish. Snakehead Fish are extremely aggressive when it comes to protecting their young which in turn leads to them to feeding on native species of the region. Snakehead has a firm flesh that stands up to most cooking preparations, and comes out flaky and delicious. Fishing for Snakehead can be quite the challenge because they can be difficult to find and even more difficult to reel in.
By serving Snakehead and Blue Catfish, Chefs are doing their part in restoring balance in the Chesapeake Bay ecosystem, all while providing tasty and cost effective dishes.