Recap of First-ever East Coast Seafood Forum

On Monday, October 5th, Samuels and Son Seafood, National Aquarium and Monterey Bay Aquarium kicked off National Seafood Month by hosting the first-ever East Coast Seafood Forum. Watermen, wholesalers, chefs, NGOs, government organizations, and academia gathered at the National Aquarium's Pier 4 Atrium to discuss topics such as sustainability, traceability, and the future of aquaculture and how it relates to the Chesapeake Bay watershed. Underneath a beautiful art installation of 600 colorfully painted jellyfish, we met as a community to share all sides of the seafood industry story.
The day began with keynote speaker Michael Shuman, an economist and expert on community economics. His talk centered on how local, sustainable businesses can actually out-compete global corporations. The talk aligned perfectly with the mission of National Aquarium's Seafood Smart program: to promote seafood from the Chesapeake Bay by incentivizing sustainable practices and helping consumers to easily find regionally sourced seafood.
The topic of promoting local seafood continued in the form of an interview with Bret Veerhusen, executive director of Seafood Harvesters of America, an organization that represents commercial fishermen. During the discussion Veerhusen explained the importance of accountability and how it is the foundation of traceability. Accountability ensures that product coming from our waters is responsibly managed and traceable, which instills more consumer confidence in domestic seafood.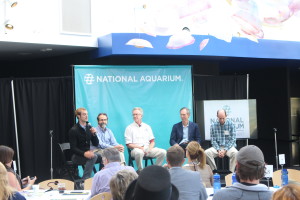 Later in the day, Barton Seaver, chef, author and director of the Healthy and Sustainable Food Program at the Harvard T.H. Chan School of Public Health, led a panel discussion on the future of aquaculture.  The panelists were all experts in the field from organizations like NOAA Fisheries Office of Aquaculture and University of Maryland Biotechnology. The panelists debunked some of the misconceptions about aquaculture by detailing innovations in technology that have vastly improved farming over the last 20 years. The panelists stressed the importance of developing aquaculture here in our own backyard to create more opportunities for coastal communities and to promote local seafood sourcing.
With up to 90% of our seafood coming from outside the U.S., it was clear to see why regional sourcing was such a focus. The day also included round table discussions, giving attendees the opportunity to brainstorm and add to the conversation. In a way, the forum was also a big networking event. It was a time for watermen to connect with chefs, and wholesalers to connect with NGOs. It is through these connections that solutions are made.  And we need every part of the supply chain to help promote sustainable fisheries here in the U.S.
Thank you to all of our customers who attended the forum. We appreciate you taking the time to come to such an important event and for sharing your perspective on the issue of sustainability. We hope you join us again next year!