Jail Island Salmon

Samuels Seafood is excited to announce an exclusive distribution partnership with Jail Island Salmon.  Jail Island is among the finest quality Atlantic Salmon from Canada.
With a truly delicate flavor and a satisfying medium-firm texture, Jail Island Salmon provides a superior food handling experience for chefs, and a first-class dining experience for guests. Straight from the natural ocean environment of Atlantic Canada, chefs and restaurateurs can count on Jail Island Salmon to deliver exceptional Canadian quality, freshness, and taste – Just like nature intended.
Jail Island Salmon are sustainably raised in the cold, clean waters of the North Atlantic off the East Coast of Canada. These are the very same waters that have seen countless generations of wild Atlantic Salmon on their epic journey out to sea and back.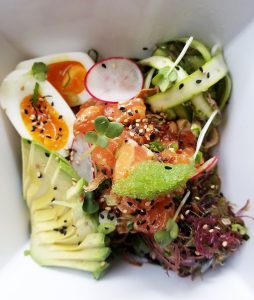 Special care is taken to ensure that Jail Island Salmon's life cycle mirrors that of wild Atlantic Salmon's as closely as possible. Much like their wild ancestors, Jail Island Salmon start their life cycle in freshwater before making the trek out to the natural salt waters of the ocean. Hand-graded for consistent quality year-round, Jail Island Salmon is delivered to Samuels Seafood in as little as 48 hours from harvest for peak freshness. From East Coast Canada to East Coast USA – it is not a long journey. The journey is, however, completely traceable, from egg to plate.
Beyond sustainably raising Salmon, Jail Island producers are just as preoccupied with preserving a healthy marine ecosystem in and around their ocean sites. This is why, in a nod to Atlantic Salmon's wild heritage, for every dollar spent on Jail Island Salmon, Samuels will donate a portion of the proceeds to the Fundy Salmon Recovery project. The goal of the project is to increase the number of spawning Salmon in the inner Bay of Fundy, a currently endangered species. The project has already seen record breaking numbers of wild Atlantic Salmon returns thanks to the World's First Wild Salmon Marine Conservation Farm on Grand Manan Island in New Brunswick, Canada. Samuels is proud to support an initiative that is working to enhance and sustain such an important ecosystem.
Jail Island is more than just a delicious center of the plate option – it is fish to feel good about. Jail Island is an authentically Canadian and genuinely delicious Salmon that is impacting an earnest cause. And now it's available exclusively through Samuels Seafood. Contact your Samuels Agent to get a taste.
For more information on Fundy Salmon Recovery, visit: fundysalmonrecovery.com.