Tis the Season for J.O. Crab Seasoning

Looking for a simple way to spice up your Crabs this summer? It's as simple as adding J.O. Crab Seasoning to your shopping list. This spicy seasoning comes to us from the home of the world's most famous Blue Crabs, Baltimore Maryland. As the label reads, each batch of this seasoning is "Made in Maryland with Pride." A legendary family recipe, this seasoning has now made its way up and down the East Coast thanks to its custom blend of spices that uses a special salt which adhere to the steamed crab. You may not realize it, but if you've eaten Maryland-style Crabs or Crabcakes, chances are you've already gotten a taste of J.O. Crab Seasoning.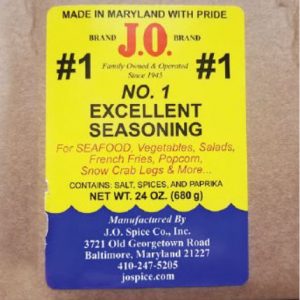 But you don't have to use it just for Crabs! This seasoning can add flavor to any seafood dish. Our chefs love to use J.O. Seasoning on Fluke, Lake Victoria Perch, and Grouper. The spicy, herby, 100% Chesapeake flavor is a perfect complement to the buttery, white meat of these fish. The spice also enhances the natural flavor of Shrimp, Crawfish, and other shellfish. You can even try your hand at Maryland Crabby Fries, the perfect side dish for a well-seasoned Catfish sandwich or fried Oyster po'boy.
It's the perfect time to add J.O. Crab Seasoning. After all, the weather is getting warmer, the sun is shining brighter, and families are planning their annual trips to the beach. But more importantly, people are starting to crave their favorite seafood choices. J.O. Seasoning can take their flavors to the next level, and leave your customers hungry for more.
J.O. Crab Seasoning is on special for the month of May for $68.00 per 50 lb case. Now is the perfect time to grab this seasoning so that you can have your Summer menu perfected by June. Call your Samuels Agent to place an order, or join the Seven Fish Club at Guiseppe's Market to get access to this tremendous deal. We can't wait to see what you come up with, so be sure to tag us in your creations on social media, @samuelsseafood on Instagram and Twitter.