Jansen – Where Fine Dining and Warmth Meet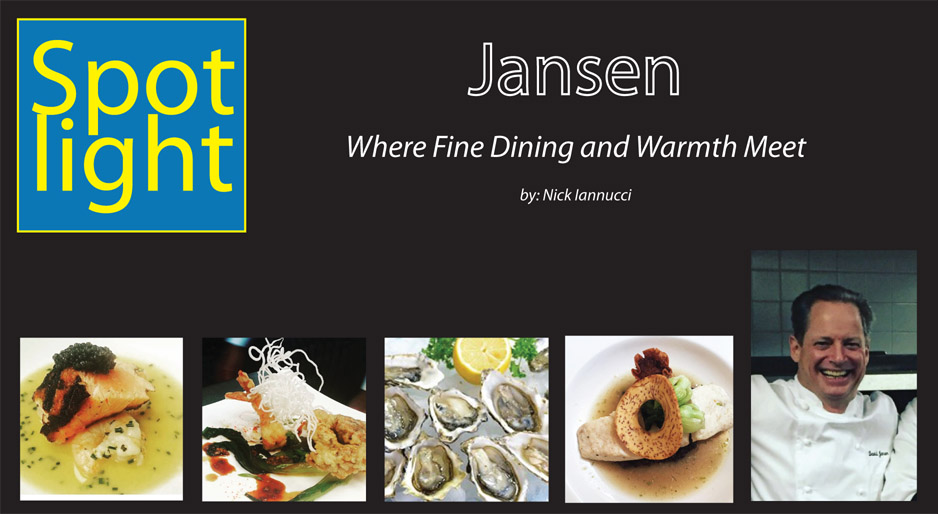 There's something special going on in the Mount Airy neighborhood of Philadelphia. In the oldest building on Germantown Ave. you'll find Jansen, the namesake restaurant of Chef David Jansen. A 22-year culinary veteran of the former Fountain restaurant, Four Seasons Hotel, Philadelphia. After taking time out to stay home with his children, Chef David reentered the culinary world from a six-year hiatus, creating a restaurant that blends white-tablecloth quality with family-style warmth.
There were two things chef absolutely knew he wanted for his restaurant. The first was it had to be small, intimate, and full of character. He wanted Jansen to be a restaurant where people would feel comfortable and relaxed while enjoying a fine meal. The other was an emphasis on shellfish, with a Raw Bar featuring Shucked Oysters, Crab, and Lobster. Chef knows that a good Shucked Oyster and properly dressed Crab and Lobster are a great way to get the customer's palette rolling.
After hunting for six months, he found his ideal location: a two-story stone building built in 1700 that looks and feels like you're walking into a friend's home. The upstairs has a private dining area and an intimate dining room with a cheese/charcuterie counter. Downstairs, you will find the two main dining rooms and an impressive outdoor patio looking out onto a personal garden with lots of green space.
The garden holds a special place for Chef David. Designed with the help of a local farmer, the herbs and tomatoes he grows are used in all of his dishes. There is something special about feeling and tasting the warmth of the sun on an ingredient you're about to use. Chef David has plans to continue to expand the garden and incorporate additional personally grown produce in his dishes.
Chef David's love for freshness extends beyond produce. For his love of seafood, he only buys enough for the day and cuts everything in-house, this way, he can see the bloodline, feel the meat, and use the other parts for stocks and sauces. Chef David has a long and established relationship with Samuels and Son Seafood. He understands the value of Samuels as a reliable and trusted resource for the best seafood available.
His relationship with Samuels also helped him over-come his biggest menu challenge: the seafood industry has evolved during his six-year hiatus. Before, not all products were available all the time as fishing seasons opened and closed. Now with the expansion of aquaculture, there is a greater variety of product and fish stocks have risen thanks to fishing quotas and other efforts to replenish populations. Chef David faces this challenge head-on by being open and willing to take risks and using a variety of fish on his menu. For example, he recently introduced Turbot, an underused product. The combination of his culinary talent and educated staff made it a hit with his guests, many of whom were unfamiliar with Turbot, tried it and loved it. Now chef is using a new seafood item: Dorade.
The final part to making Jansen so special is the superlative staff. Chef David understands you can serve the most delicious meals but if you hire the wrong staff, you'll never succeed. He's hired people who are passionate and excited about the work they do. Now older, his children are also involved with the restaurant: his son works in the kitchen, his eldest daughter works the front when she's on college breaks, and his youngest can often be found doing her homework in a quiet room upstairs. Every month he takes the team out on field trips to see what's different, what the products look like, and to share knowledge. The camaraderie he and his team share has a notable positive impact on the overall dining experience at Jansen.
By artfully combining a beautiful location, an excellent menu, and a great staff, Chef David has made Jansen the destination for upscale American cuisine with a personal touch.
For more information, visit jansenrestaurant.com