Jules@Market, Bristol, PA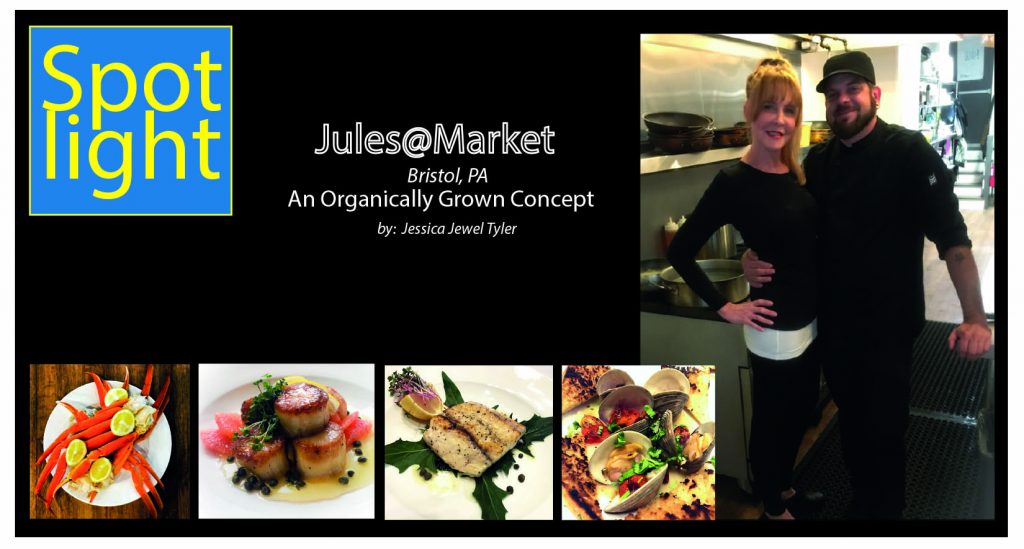 Jules@Market, Bristol, PA
An Organically Grown Concept
by: Jessica Jewel Tyler
"People come to Bristol and ask when did this happen?" say Jules Soto of Jules@Market. This cute town on the water is now booming with businesses, events, and experiences. Look out Philly! Moreover, Bristol, PA is in its restaurant renaissance and Jules@Market, a farm-to-table, sustainable eating concept, has been a huge hit.
After only eight months in business Jules@Market became one of the three finalists in Best of Bucks (county) 2018. Customers were shocked to see such a "big city concept" in a small town. Jules accredits the choice to start her restaurant here to the passion and progression buzzing in Bristol. "There's so many projects popping up and once they're finished, another starts." Another attribute to building in Bristol is the great relationships she's formed with farmers in town.
Jules was so proud to show off her herbs, including big beautiful basil leaves, from the hydroponic farm, "Noah's Dove," less than ten minutes away. This excitement is really telling of Jules' passion for food. When asked for her inspiration behind her menu, she stated the inspiration behind her food is "food." Jules@Market takes farm-to-table one step farther by promising only the best, fresh, organic food served with "real integrity." She says "starting with a good sustainable product as a foundation, it's hard to mess up."
Her exposed kitchen is an expression of this idea of integrity. Jules@Market keeps it simple and literally bares it all. In fact, in the kitchen, the line is all saute, with no bake or fry. Jules says with her menu and with high quality seafood from Samuels, they "don't really have to do a whole lot."
Despite the simplicity of her plates, she serves quite the variety of seafood. The menu is comprised of some classics like Texas Gold Shrimp and Chilean Sea Bass along with underutilized selections such as Copper Shoals Red Drum and Hidden Palms Barramundi. Jules takes pleasure in helping her guests explore new options. She even gives a lot of education to her customers about fish and sustainability. She says some of her favorites to talk about are Hawaiian Kanpachi, Verlasso Salmon, and.
Jules has come a long way to be the seafood specialist she is now. In fact, Jules said if she had known how much was required to start a restaurant, she might have been too intimidated to do it in the first place. Jules@Market really just formed, much like the vegetables and herbs on her menu, organically.
In the basement of a church for 18 years, Julia held a successful catering business. When her catering started to flourish beyond the walls of the church, the devoid Bristol building was used as a new venue. Although Jules had never considered having a restaurant, her catering launch party attracted over 200 people and her friends convinced her to take it a step further. Seven days later Jules@Market was born, funny enough, without chairs, capital, or a concept.
Jules didn't give up; her restaurant was staged with rental furnishings for the first 9 months and they did all dishes by hand until they could afford a dishwasher. They started the menu with basics, only buying what they could afford like Salmon, Scallops, and tenderloin. Seafood and farm-to-table really caught the customers interest, so Jules gave the people what they wanted. Now they have over 20 seafood items including an Oyster raw bar featuring a delicious dill and shallot mignonette.
This restaurant stays very true to their humble roots. The interior is still a bit of a blank state with white walls and black table cloths. The design features understated elements of a farmhouse theme like wooden cross back chairs and homey touches like a movie projected on the wall. But purposefully, there isn't much color. Jules loves focusing the color in the food with fun pops of unexpected produce and greenery, like the biting, bright purple amaranth microgreens and avocado served along with the blackened Wahoo in cilantro crema. Another one of her favorites examples is the Scallops married with fresh ruby red grapefruit.
Although Jules was doing almost everything on her own at first, today she remains executive chef and owner while Chef Robert Williams handles most of the line. She says her new year's resolution is to allow herself to "savor this experience because a lot of restaurant owners don't truly get to enjoy their passion." Well, Certainly Jules passion for food was the real concept behind everything after all.