La Scala Restaurant – Old World Charm with Fresh Classic Dishes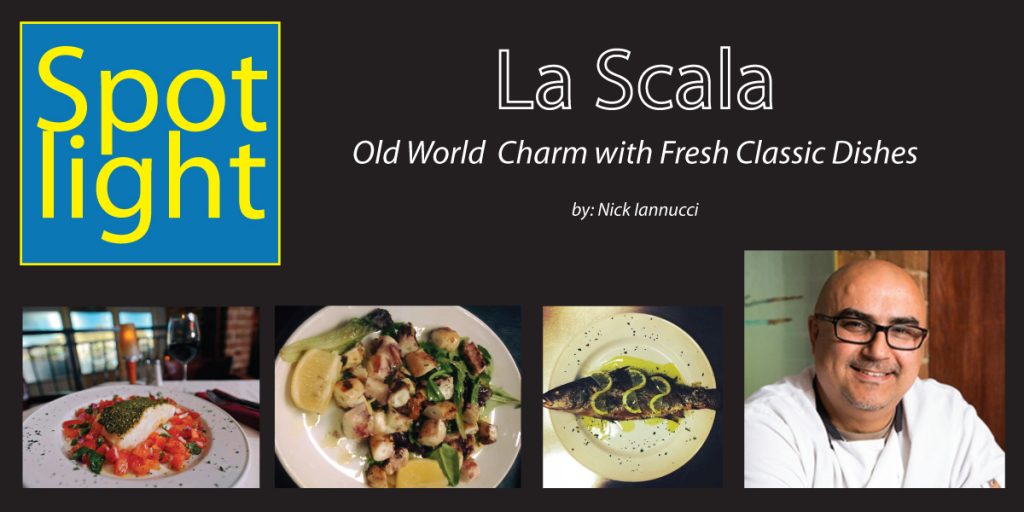 La Scala Restaurant
Old World  Charm with Fresh Classic Dishes
It is often our experiences growing up that shape the person we become in the future. For Chef Nino Germano, his experience growing up around fresh seafood and a mother who made the most of every cooking ingredient influenced the chef he is today.
Chef Nino's exposure to fresh seafood started at an early age. Born in Bafia, Sicily, he and his friends would visit his uncle's house near the beach, where they would watch fisherman go out fishing with their nets. When the fisherman returned to shore, the fish were so fresh, they were still moving! He would buy what he could and bring it home where he learned a valuable lesson in cooking from his mother: simple dishes, using fresh ingredients to the fullest.
His mother was master of the kitchen growing up. She would use every bit of every ingredient she had. Shrimp was a favorite of the household, as she would cook the Shrimp and use extra juices for stew stock. His mother's dishes were simple and delicious.
When Chef Nino turned nine, his family immigrated to the United States. They moved to Little Italy in Baltimore, MD with relatives and his father started a very successful construction business. Chef Nino's passion for Italian food continued to grow during this time as his mother tutored him in the kitchen. His first foray into the restaurant business was a pizzeria called Zia Pina. The restaurant thrived for seven years under Chef Nino until he decided to sell it to care for his ailing father.
He would return to the restaurant business a few years later in 1995 when he opened up La Scala in Little Italy, Baltimore. The restaurant grew to seat 200 guests and recently installed an awning for additional outside seating. La Scala also features an indoor bocce court! This popular attraction has been used for everything from New Year's Eve dance parties to annual bocce tournaments benefiting charity. La Scala proudly serves a diverse menu of Italian fare from across Italy and each dish stays true to the lessons Chef Nino learned in his mother's kitchen. In fact, many of the dishes on La Scala's menu are dishes his mother used to make with a contemporary twist.
La Scala's menu holds to Chef Nino's roots: simple dishes with fresh ingredients. The menu features a number of seafood dishes, including the Shrimp dishes his mother used to make when he was growing up. Chef Nino's cooking philosophy can be boiled down to this: If you put too many ingredients into a dish, you're trying to hide something. Chef believes that you should be able to taste the fish, vegetables, and sauce used in each dish. For him, if you use too many ingredients you end up with no taste.
Another key ingredient is using fresh products. Chef holds very high standards when it comes to the freshness of the seafood he uses. Luckily, he has found a top notch supplier in Samuels and Son Seafood. He knows the seafood he receives is held to the same high standards as his. Over the years chef has worked with Samuels, he has grown to trust his product rep to provide him with consistent quality seafood.
His philosophy of simple dishes is working out extraordinarily well for Chef Nino. Some of the most popular dishes on his menu are the simplest. Take his Grilled Octopus: the dish is one of the top sellers in his restaurant and it is very straightforward – Grilled Octopus, Sicilian olive oil, garlic, and lemons. Other popular dishes are Grilled Bronzino in a light broth served in a pot and Swordfish served with grilled tomatoes, olives, and capers. Each dish keeps with his belief of simple dishes where you can taste all the ingredients, and each one is in high demand.
Chef Nino has created a highly successful restaurant by staying true to the lessons he learned growing up. By using premium ingredients and keeping the dishes simple, Chef Nino has truly brought the taste of Italy to Baltimore.
For more information, visit: lascaladining.com