Monthly Featured Item – SKYE Steelhead Trout

SKYE Steelhead Trout are raised in the open ocean of the Isles of Skye in Scotland. This Trout's life cycle begins in fresh water, closed containment land-based circulation tanks. This zero waste sustainable system allows the Trout to be born and raised in fresh water as they would in the wild. Once the fish have matured, they are then introduced to the salty sea. It is here where the Trout swim against strong 5-15 knot ocean currents, mimicking the true life cycle of the wild Sea Trout. SKYE Steelhead is loved by chefs not only for its superior flavor and texture when cooked, but also for its versatility of cooking applications.
If you're looking to bring a new and unique item to your Winter menu, you can find this delicious SKYE Steelhead on special for all of February only at Samuels! These skin-on, PBO fillets are vibrant orange with delicious flavor, and you can get them for $11.95/lb all month. We hand cut these fillets from beautiful 13-15 lb Whole Fish, which can also be purchased by contacting your Samuels agent! With a bevy of potential applications, a great price, and a beautiful color that makes for an amazing presentation, SKYE Steelhead is sure to impress!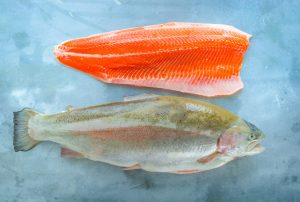 SKYE Steelhead Product Profile
Availability
Sustainability
Best Aquaculture Practices Certified
Cooking Preparations
Grilling, Roasting, Broiling, Pan Searing, Steaming, Poaching, Smoking, Crudo
Flavor Profile
Flavor: Mild
Texture: Medium-Firm
Flake: Medium
Fat Content: Medium-High