Radicchio Restaurant, Philadelphia, PA and Voorhees, NJ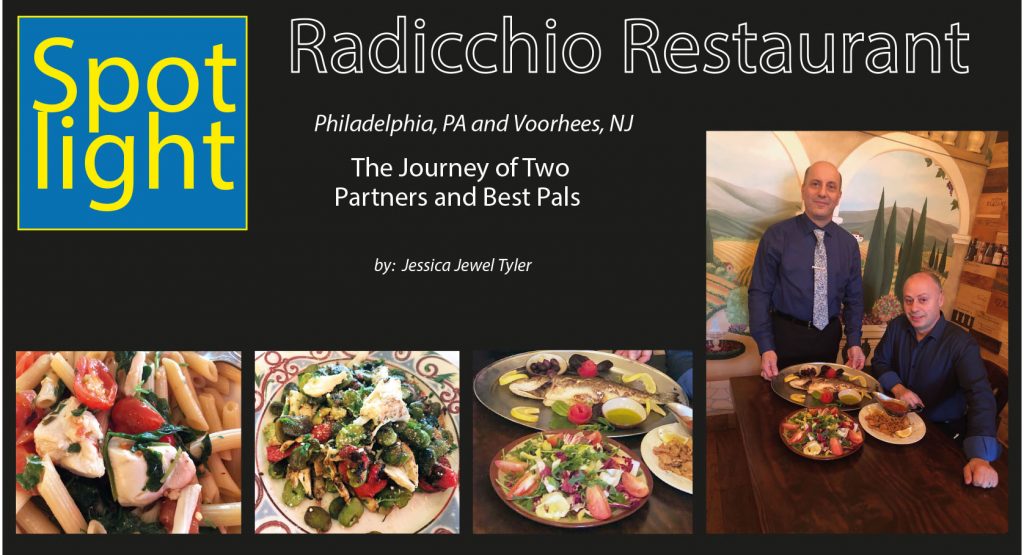 Radicchio Restaurant, Philadelphia, PA and Voorhees, NJ
The Journey of Two Partners and Best Pals
by: Jessica Jewel Tyler
In the very beginning, Massimo Coscia and Luigi Basile held a passion for Italian food. Growing up together in a small town in Southern Italy, 60 miles from Naples, Massimo and Luigi became fully immersed in Italian cooking as if it were just a language they had accidently picked up. In fact, when asked how they learned to cook, Luigi stated that "It was the only thing they ever did." He also says cooking ran in his blood, both his aunt and sister owned restaurants in Italy at the time.
According to Luigi, their passion for cooking was fully trained and developed on Lake Garda, in Sirmione, Italy. From as young as 12 and 13, Luigi and Massimo started working in some of the most well-known restaurants and resorts there. This is where they learned almost everything they know and this is where a lot of their inspiration behind Radicchio's menu comes from.
Their menu features authentic cuisine from Southern Italy with touches that incorporate Northern Italian Cuisine as well. During the formative years of Massimo's and Luigi's cooking careers, they traveled all over Italy and the world learning new techniques. Luigi enchanted us all with tales of working with Massimo in California, London, and in the resorts in Switzerland every winter.
Luigi and Massimo take great pride in these experiences, even the name of the restaurant is an expression of what they have taken from their travels. "Radicchio," meaning radish, is a very typical vegetable in the North of Italy used for many things especially salads. When traveling North to the Veneto Region of Italy, Luigi and Massimo fell in love with radicchio and all its possibilities.
During their travels, they also fell in love with seafood. According to Luigi, "Everybody loves seafood, especially in Italy." However, when they first visited America in the 90s, fish consumption was low and what he saw being eaten was mostly Flounder. When they opened the original restaurant in Voorhees, NJ in 1994, they really wanted to bring attention to the whole fish, Squid, and Cockles that people from the Mediterranean had been eating. Today Radicchio has locations in Philadelphia, PA and Voorhees, NJ and Luigi says they "specialize in fish." In fact, his menu is 60% seafood and he "couldn't picture it any other way."
He says that whole fish dishes that he's always loved like Dover Sole and Dyer Aqua Pompano are just starting to be appreciated. Whole Bronzino of course, is one of the most popular in his restaurant. His whole fish applications are grilled, filleted tableside, and dressed simply to allow the flavor of the fresh fish to shine. According to Luigi, fresh, quality ingredients and simplicity are the key to his perfect meals. He also says he doesn't use "too many ingredients" and "when you make a dish you know when it's too many."
One of his favorites fish is True North Salmon. He says it has a perfect flavor that works great simply grilled and topped with a salad of diced asparagus, tomato, basil, and balsamic. He also spoke highly of Blu brand Colossal Crab Meat, which he uses in a number of dishes including an appetizer made with fava beans, peppers, garlic and white wine vinegar. In addition, the Blu Colossal Crab Meat highlights a light, flavorful pasta with arugula and cherry tomato in white wine sauce.
The pair aim to make authentic dishes that invite your taste buds to Italy. Matching the warm and inviting food is the rustic, tuscan style and décor. Murals and narrow cobblestone hallways will almost transport you to the Italian villas where Luigi and Massimo grew up. There is even a large photo of Lake Garda where everything started.
That's what really sets Radicchio apart, Luigi and Massimo still hold on to their passion for food that brought them together on their journeys and it shows in every aspect of what they do. The pair work closely on every detail of the restaurant including, menu planning, cooking, and carefully sourcing only the freshest ingredients. In fact, they can even be found serving and bussing tables, just like the good old days when they were very young. Luigi lovingly stated, "we still work together every day and we really are best friends."