Nunzios in Collingswood: The Perfect Place for Your Seven Fish Feast!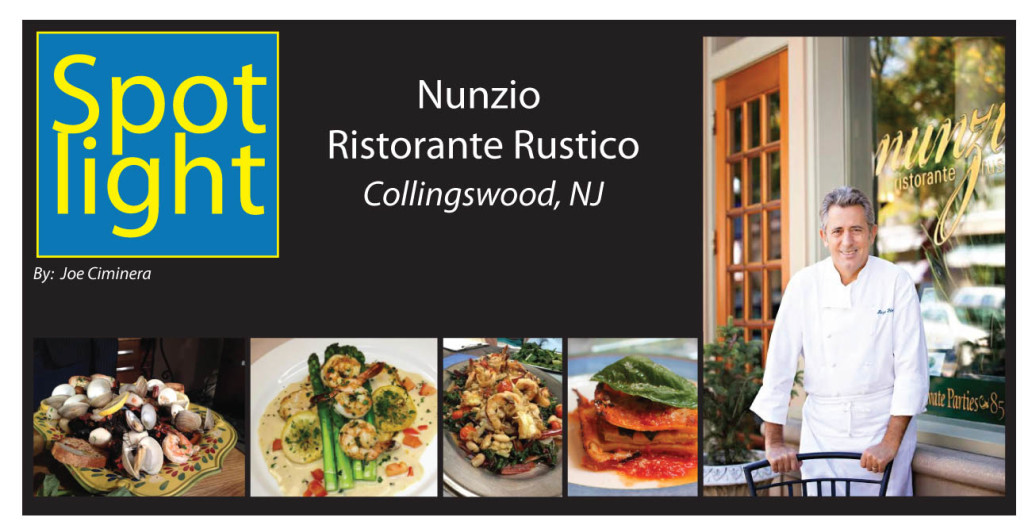 Nunzio Ristorante Rustico
Collingswood, NJ
By: Joe Ciminera 
Growing up on his family farm in Castellana Grotte, Italy, near the Adriatic Sea, Chef Nunzio Patruno became accustomed to eating nothing but fresh produce and seafood.
If you ask the well regarded Chef what his favorite seafood to prepare is, he will answer you in the simplest way possible. "Any fresh fish," Patruno said deliberately. "Freshness speaks for itself, freshness is the key."
The chef and owner of the critically acclaimed Nunzio Ristorante Rustico in Collingswood, New Jersey for 11 years, Patruno developed a deep and meaningful appreciation for fresh food that would carry him across Italy, through France, and into America at a young age.
"As a kid, my friends and I used to go to the Sea and gather Mussels and Clams," said a reminiscing Patruno. "I'd bring a lemon and loaf of bread and that would be lunch."
With a bevy of unique and traditional seafood dishes on his menu today, you can see that Patruno's enthusiasm for seafood has never wavered. Zuppetta dell' Adriatico, an ode to his childhood, features Mussels, Clams, Calamari, Shrimp and Scallops served with garlic bread. His Linguine Pescatore is an ever popular dish with Mussels, Shrimp and Scallops tossed in tender pasta with spicy tomato sauce. A customer favorite is Grilled herb crusted Salmon served with tomato and basil.
Seafood has always been a part of Patruno's culinary and personal life. He first began cooking as a young man when his mother tasked him with preparing meals for his siblings. Beginning with tomato sauce and pasta, he soon realized he was hungry for more. After attending a culinary vocational school when he was 16, Patruno began working in kitchens throughout Italy.
"I had jobs all around Italy, many of them on the water," said Patruno. "When I moved to France, I worked on the water."
It was in France when Patruno first floated the idea of opening his own restaurant. He was 26 years old, and wanted to open a small bistro and mentioned it to two Italian waiters he worked with. Instead of France, they suggested heading to America.
"I quit my job, I sold my car, I closed my bank account, I even broke up with my girlfriend, and I moved to America," said Patruno. "It was tough in the beginning."
Along with his partners, Patruno opened six successful restaurants in Philadelphia and its surrounding suburbs. After 20 years in Philadelphia, he went on his own and opened Nunzio Ristorante Rustico. He has received rave reviews ever since.
When he went out on his own, Patruno knew from the very beginning there was something he needed to do. Every Christmas Eve night, he would host a traditional Feast of the Seven Fishes dinner. One of the most popular events of the year, guests make reservations in October to get a seat for the Seven Fishes.
"I just try to be traditional with it," said Patruno. "Bacalao is mandatory, Squid, Eel, pasta with Shrimp, Clams and Mussels, Smelts of course, they're also mandatory."
While keeping the meal true to his roots, it is the spirit of the Seven Fishes, and his restaurant in general, that Patruno finds the most rewarding.
"When you sit down to eat with friends, food just tastes better."
For more information please visit Nunzios at www.nunzios.net.