Out of the Fire, Donegal, PA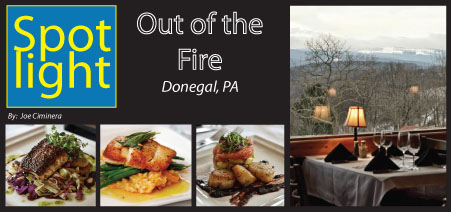 Out of the Fire
Donegal, PA
When Jeff Fryer decided to leave his job in a blown glass shop to move into the restaurant business, where he would stand in front of a piping hot stove all day, his wife remarked "you just can't get out of the fire, can you?"
Luckily for residents of Western Pennsylvania, Fryer came out of one fire and entered another. In fact he named his restaurant Out of the Fire.
Located in Donegal, Pennsylvania, just east of Pittsburgh, Out of the Fire has established itself as the go-to destination for fresh seafood, bold dining concepts and breathtaking mountain views in Western Pennsylvania. What started as Fryer selling Smoked Salmon and Pork has evolved into a menu featuring New-American cuisine.
"Not a lot of ingredients, but a big flavor," says Head Chef Bob Hawk explaining his cooking style.
Chef Hawk prides himself in building layers in every dish he prepares, and this makes for some incredible and unique flavors brought out from commonplace ingredients. A prime example of this is the much adored Pan-Seared Mahi Mahi with a Sweet Potato & Granny Smith Apple Puré and a fresh Brie & Grapefruit Salad with White Balsamic Vinaigrette Grapefruit Coulis. Another favorite dish is the Pan-Roasted Salmon adorned with Sage and Tarragon Jasmine Rice with Roasted Fall Vegetables, and a Mesquite Roasted Tomato Beurre Blanc.
"Salmon is one of my favorite seafood to work with because it has great versatility," said Hawk.
While Salmon can indeed be prepared in numerous ways, the item that put Out of the Fire on the map is their award-winning house-smoked Salmon. The Salmon is cured with Fryers original rub recipe and is then hot smoked to perfection. The Smoked Salmon platter is a very popular appetizer served with Spicy Chipotle Honey & Chili Roasted Pineapple & Cranberry Relish.
It is not always easy to find fresh seafood in Western Pennsylvania, but Out of the Fire is at an advantage, having Samuels as a supplier, they have product delivered six days a week to meet their customers demand for seafood.
"We took Scallops off the menu once and had an uproar," quipped Hawk.
Don't worry, the Scallops are back on the menu, seared and served with a Tri- Colored Carrot and Bacon Risotto along with a Granny Smith Apple, Red Onion, Candied Pecan and Arugula Salad with Bacon Vinaigrette. Other seafood standouts on the menu are Mussels, served with a garlic and white wine sauce, or cider, sage, bacon sauce, and classic Crab Cakes served with a candied jalapeno hollandaise.
"We keep it simple," said Hawk. "Our customers like simple, good food."
For customers looking for a smaller bite, fresh Mahi Mahi Tacos, and the Salmon Cake sandwich served on a pretzel bun are big hits. Everything is prepared fresh and all meats are cured and smoked in house.
Out of the Fire is not just about food though. The relaxed yet refined ambiance of the dining room, boasting large bay windows with scenic mountain views make it a destination not just for locals, but for those on weekend getaways from nearby Pittsburgh. The dining room is flanked by an open kitchen design with counter seating, giving lucky diners the opportunity to see the magic going on in the kitchen.
"I've worked in an open kitchen before, and it's a fine line between temper control and cooking," joked Hawk. "What I love about it, though, is being able to interact with customers."
Out of the Fire takes a customer first approach in everything they do. The welcoming environment and perfectly paced meals allow customers to take in the charm of the restaurant and enjoy the view while they dine on expertly prepared food.
"We don't want you to come in for an hour and leave," said Hawk. "Good food takes time, it may take longer, but it's so worth it." For more information visit outofthefirecafe.com.