Penn Ave Fish Company, Pittsburgh, PA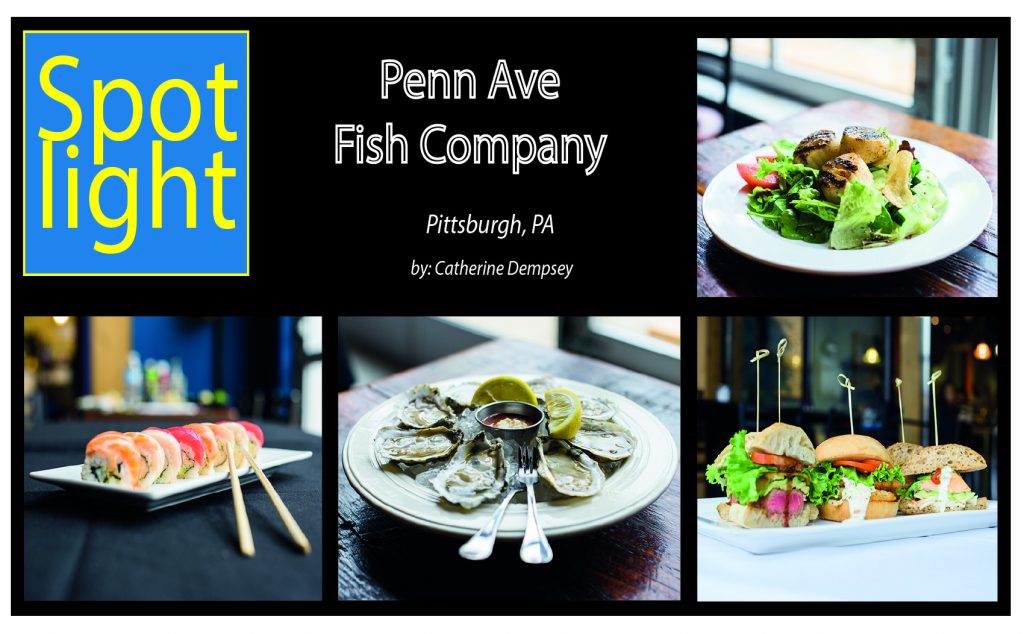 Penn Ave Fish Company
by: Catherine Dempsey
"We're always trying to be the first in the city to get the Copper River King Salmon," says Henry B. Dewey, a co-founder of Penn Ave Fish Company. "It's definitely the top of the food chain."
Henry knows a ton about seafood. He plays the role of director of operations and friendly local fish monger at Penn Ave. He and his business partner and president, Angela Earley, are taking the city of Pittsburgh by storm with their high quality selection of fresh fish. The space they call home is a combination of retail and restaurant, serving both the general public of seafood foodies and a local restaurant scene that depends on Penn Ave Fish Company for their exceptional line of fresh menu options.
Their success story wasn't penned overnight. Ten years ago, Angela had a hankering for some seafood, as she often did. The self-identified Pescatarian made her way over to Benkovitz Seafoods for a bite when she ran into her pal Henry. He was working there as a fish monger at the time. "I noticed there was a need for a place that provided fresh fish and seafood and I heard that they were closing Benkovitz," says Angela. The gears were turning, and she ignited the idea to open her own seafood restaurant. "I went to Henry with this pipedream and I didn't think it was actually going to happen," she says with a laugh. Henry, conveniently enough, had dreams of his own. "He was like, 'Well I want to open up a fish market so we should talk,'" Angela says. "Ten years later, here we are."
Over the course of the decade in business, they've been doing much more than simply selling fish. The pair are changing the culinary landscape of Pittsburgh by offering the best seafood in the city. Henry was one of the first people to bring Black Cod into the area, elevating the culinary scene tenfold. People were able to gain access to seafood they normally wouldn't be exposed to, which was an exciting new venture for the western Pennsylvania city. "For instance, people take the Black Cod home, cook it, and come back and tell us it was just amazing," Henry says. "You can get a fresh Skate Wing cut up for you here at Penn Ave, where a couple years ago, you would've been hard pressed to find a Skate at all in Pittsburgh."
Penn Ave Fish Company has evolved into a foundation block in the culinary aspect of Pittsburgh, where people love to get some great Tuna. "We cut whole #1 Tuna's here and we're one of the few places on the east coast that cut sushi grade Tuna in a retail environment," says Henry. "We try and get a full crowd for a busy lunch and we'll be cutting it, throwing a 200 pounder up on the board."
People who frequent Penn Ave can often be found filming videos of the mongers cutting up a big beautiful #1 Tuna and then immediately buying a couple pounds of it right after. "Sometimes we take little soup spoons and scrape some meat right off the bone and put one drop of soy sauce on it," Henry says. "People eat it right up and it's amazing. It's one of the freshest picks of Tuna you can get."
The second location includes Penn Cove, a fast casual eatery and The Warren, a neighborhood bar. The new location will feature grab-and-go sushi in the daytime, along with salads and quick sandwiches. It will also have a nice bar menu slated to include crispy Frog Legs and burgers, among other tasty options. "We recently bought the building next to us," says Angela. "We're constantly transitioning and growing and expanding and evolving, so it's always exciting. Never boring."
As for having a favorite fish, the pair shows off their opposing dynamics in their choices. Angela, the true-to-form fish foodie, can't possibly pick just one. "It's always changing for me, like picking my favorite color," she says. Henry, on the other hand, states his answer with little hesitation. "That fresh Turbot is my all-time favorite fish," he says. "It's a beautiful fish and the only place I'm able to get that is from Samuels. I always say how much I respect everything that Samuels does. If I weren't owning my own business here in Pittsburgh, I'd probably be working for Samuels."
For more information, visit www.pennavefishcompany.com.