Philadelphia Country Club, Chef Fritz Gitschner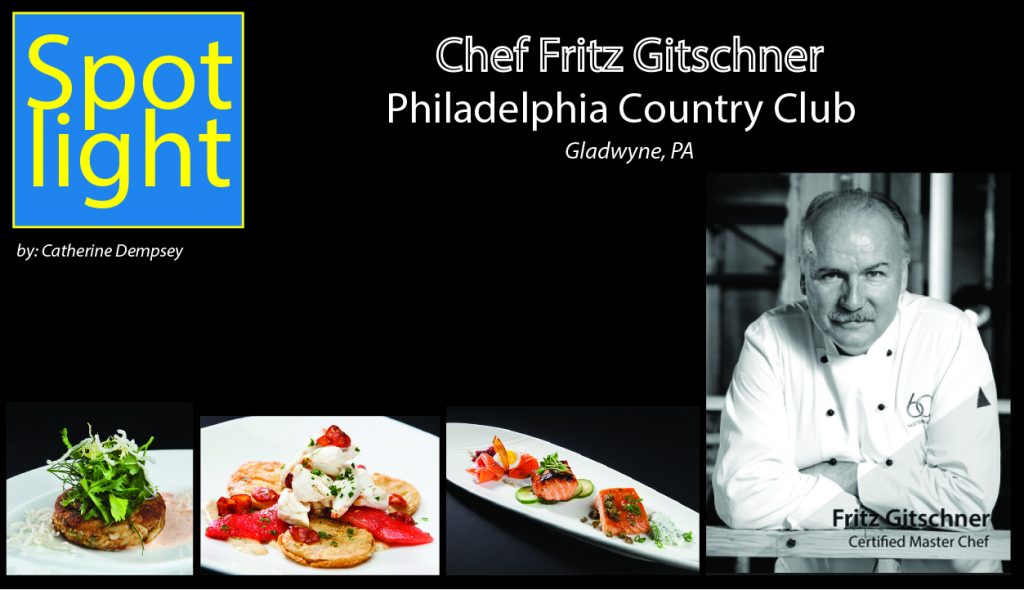 Philadelphia Country Club, Chef Fritz Gitschner
by: Catherine Dempsey
There are only about 70 Certified Master Chefs who call the United States home. One of the most renowned is Master Chef Fritz Gitschner, the Austrian-born chef who cooked around the globe before finding himself in Philadelphia as the executive chef of the Philadelphia Country Club.
In 2005, Chef Fritz was in the highly-acclaimed International Bocuse d'Or competition in Lyon, France, representing the USA, widely thought to be the true test of culinary skill in the industry. After 17 great years, Chef Fritz moved on from the Houston Country Club and opened his restaurant 60 Degrees Mastercrafted in Houston in November 2013, pioneering ranch-to-table cuisine while working with local ranchers and farmers to create dishes encompassing his vast knowledge of global cuisine and seasonal products. Chef Fritz has helped train hundreds of chefs, and today he stands as the executive chef at the prestigious Philadelphia Country Club which dates back to the 1890s.
"What got me into the culinary industry was my upbringing back in Austria, I remember when I was 10 years old watching my grandmother in the kitchen preparing food," says Chef Fritz. He remembers growing vegetables in the family garden, making his own jams, and slaughtering pigs – just a few of the things that Master Chef Fritz was exposed to as he grew up. "That stuck with me throughout my career and I remember those flavors, smells and the taste of freshly cooked food. I made the decision to become a chef and to see the world."
Chef Fritz traveled for 24 years, all over Europe, the Middle East, the Caribbean and the United States. He developed a strong palate and understanding of various cuisines, techniques and cultures during his travels. While working in the Middle East he had the opportunity to have as many as 18 nationalities working in his kitchen. "It's pretty amazing to work with cooks from all over the world, experience their food, the ingredients, and understating their culture."
Chef Fritz followed his calling to take the 10-day Certified Master Chef exam. "It was a lifelong preparation and you don't realize it until you take the test," says Chef Fritz. "I studied, practiced, read and prepared myself for about two years and questioned everything and anything I ever did." Chef Fritz was working in Aruba during his prep time for the test and just about to take a job in Houston. "A lot of preparation went into that test, not just skill set, but also physical and mental preparation. I remember telling myself 'I'm going to take it and pass it and then I'm going to Houston,'" he says. "Failing was never really an option."
At the Philadelphia Country Club, Chef Fritz can be found updating the menu weekly, planning themed dining, and finding new ways to feature the freshest local food. Master Chef Fritz has also hosted farmers' markets on the property of the club, exposing members to fresh local produce, meats, and seafood, while also showcasing their fresh flavor by running a special for the week with dishes created from ingredients from the market.
Chef Fritz has one firm belief about his ingredients: you cannot cook a great dish without having a great product. "A lot of people ask me about seafood and they wonder what I'm doing to the fish – what I'm doing is cooking it properly and letting the product speak for itself," he says. "If it's fresh, you can't get anything better than that." One of his best is the Blackened Chilean Sea Bass, including ragout of cannellini beans, barley, mushroom, red bell peppers, and shaved parmesan cheese. Are you in the mood for a tasty cold appetizer? His Gulf Shrimp and Lump Crabmeat Cocktail includes grilled melon, fresh mint, and zesty marinade, perfectly bright and fresh with all the right flavorings. What about trying something warm? Try Chef Fritz's Mini Crab Cakes with Tampico sauce, black bean relish and cilantro sour cream.
At the end of the day, Chef Fritz believes that what counts is your skill and your knowledge. "Everyone wants to be the next TV chef and that's not reality. Reality is hard work, long hours, persistence and repetition," he says. Chef Fritz says he's lucky to work with people who are inspired by food and enjoy keeping things interesting for the club members. "Our goal is to serve seasonal, fresh products and have the memberships look forward to dining at the club," he says. "We have accomplished this when the member walks into the club and the first thing they say is, 'What has Chef created today?'"
For more information, visit www.philadelphiacc.net.