Spasso Restaurant Features Feast of Seven Fishes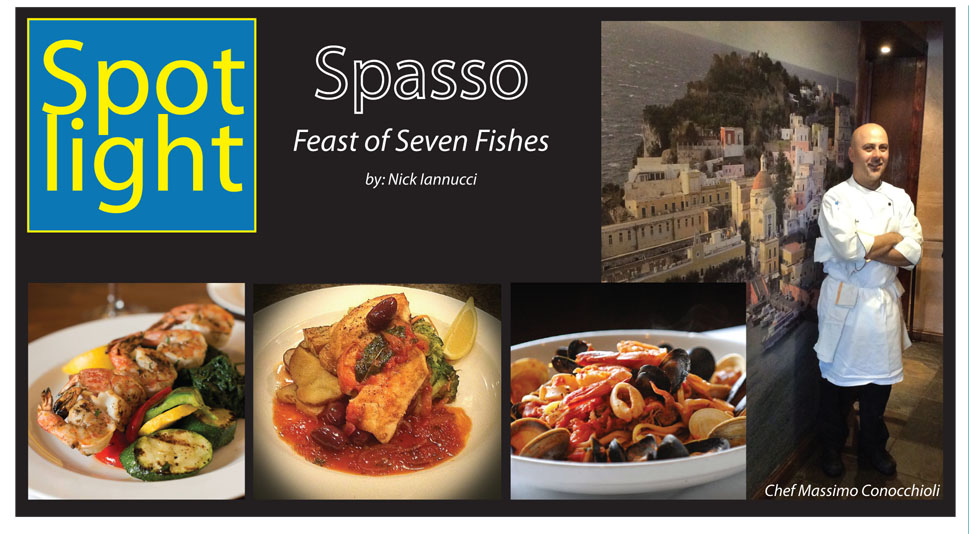 Spasso
Feast of Seven Fishes
by: Nick Iannucci
Spasso Italian Grill prides themselves on serving their customers unassuming, delicious Italian comfort food. With a location on Front St. in Philadelphia and another in Media, PA, Spasso focuses on creating a space where anyone can drop by and feel good with a delicious meal in a warm rustic environment. With growing popularity, both locations invite their loyal patrons to join them for a meal that's all about family: The Feast of the Seven Fishes.
Spasso has been celebrating The Feast of the Seven Fishes since 1999., an Italian-American tradition for family members to gather together and celebrate Christmas Eve. The meal traditionally consists of seven simply prepared fish, but has since grown to include a multitude of modern seafood dishes. Why make an annual event out of The Feast of the Seven Fishes? For the team at Spasso, The Feast of the Seven Fishes is way for them to celebrate the holiday season with their customers.
The success of The Feast of the Seven Fishes depends on Chef Rob, head chef at the Media, PA location, Chef Massimo, head chef at the Philadelphia location, and their partnership with a premium seafood purveyor. "We need a lot of seafood and it needs to be fresh and of the highest quality. It's a wonderful feeling to know I can count on my Samuels and Son Seafood order to arrive promptly and without issues," says Chef Massimo. "I call my Samuels sales rep, place my order, and it's simply delivered." Chef Rob echoes the sentiment: "With all that goes into The Feast of the Seven Fishes, knowing our rep understands our business needs and the quality product we use is a huge load off my mind."
Held on Christmas Eve every year, The Feast of the Seven Fishes at Spasso is a three course meal starting with a selection of hot appetizers, a cold appetizer, and an entrée choice. The seafood selection has stayed mostly the same over the years, but Chef Massimo and Chef Rob do like to tweak the main entrées every year. One thing that definitely doesn't change is the inclusion of Baccala, one of the most traditional fish used in The Feast of the Seven Fishes. Baccala has been a staple of Italian Christmas Eve dinners since the 17th Century, being used for La Vigilia, which is where The Feast of the Seven Fishes originates from. "We cook each item from scratch," says Massimo. "It's really an all-day event in the kitchen." The menu for this year's feast is still being considered, but a look at previous year's will make you wish it was Christmas Eve already!
The yearly feast has involved Fried Calamari, Grilled Calamari, Fried Smelts, Mussels, Baked Clams, and Baccala Pizzaiola as a hot appetizer. The cold appetizer is an Italian classic such as a seafood salad made with fresh Shrimp, Scungilli, Calamari, and Sepia, marinated with Extra Virgin Olive Oil and fresh lemon over Italian greens. Main entrée options have included favorites such as Positano and Filetto di Cernia. Positano consists of pan-seared Sea Scallops, Shrimp, and Jumbo Lump Crabmeat in a chopped tomato white wine sauce over linguini. Filetto di Cernia is a Grouper filet topped with seasoned breadcrumbs and Jumbo Lump Crabmeat in a delicious lemon beurre blanc sauce.
The popularity of the evening has increased over the years. In fact, it has become so popular, at the Media location, Chef Rob typically is doing 300-400 covers in one night. While much of the food is used, any leftovers are also put to good use. "The kitchen really becomes like a family," says Chef Rob. "I cook all the leftovers for the staff and we sit down as a family to celebrate Christmas Eve. It's really something special for both the guests and the staff to celebrate the holiday family tradition together."
Visit spassoitaliangrill.com for more information on both locations.