Stachowski's Deli and Market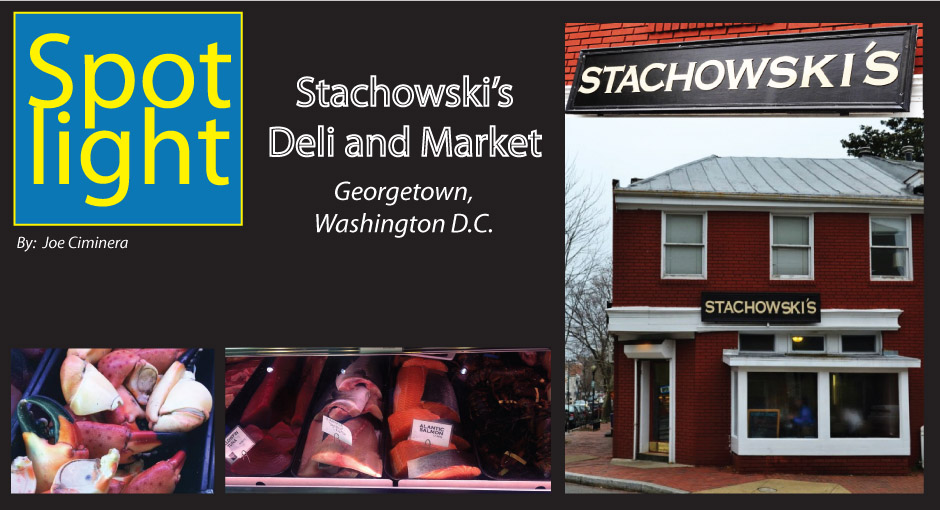 Stachowski's Deli and Market
Georgetown, Washington D.C.
By: Joe Ciminera
In the Georgetown section of Washington D.C., the name Stachowski is synonymous with high-quality sausages, choice meats and fresh seafood.
When Jamie Stachowski and his wife Carolyn sold their well-regarded Restaurant Kolumbia, customers realized there was something missing in the Washington D.C. restaurant scene. Stachowski's culinary friends took note as well. A void that was once filled with handcrafted galantines, smoked sausages, and pates was now empty.
"We were known for our charcuterie," said Stachowski, a native of Buffalo. "We were the first to do it in that area."
Shortly after closing, Stachowski's chef friends began commissioning him to make his famous charcuterie for their restaurants. The distribution operation which began in his garage soon grew to over 75 customers, and Stachowski moved into a small processing facility and office space to handle the demand. It wasn't until his son, Josef, mentioned it to him that Stachowski considered opening a brick-and-mortar deli.
"My son basically demanded a retail space," said Stachowski. "I asked him 'who's going to run down the street for pate'?"
As it turns out, just about everyone in Georgetown would, and Stachowski's Market and Deli became a sensation known for their mammoth sandwiches, quality meats, and premium sausages. Opening in 2011, Stachowski's, located in a storefront which was gutted and rebuilt by Josef himself, has become the go-to shop for all of Georgetown's carnivorous needs.
"I call it the candy store for carnivores," Stachowski said with great enthusiasm. "We smoke and roast and cure all of our own meats."
When a friend of Stachowski's who owned a fish store in town closed up shop, Stachowski saw there was a need for premium seafood in the community, and began selling it at his deli. His candy store for carnivores began to see more and more piscivores.
"After about a year, people started to see the quality, and accepted that we were selling seafood," said Stachowski.
Always catering to the needs of their Georgetown clientele, Stachowski's offer big, versatile fish that can be easily prepared such as Salmon, Halibut, Swordfish, and Tuna.
"Our customers are busy professionals, they need something they can put on the grill, flip once and be done," said Stachowski. "And they love it!"
For customers who don't want to toil in the culinary arts at all, Stachowski's offers prepared dinners on weeknights, including seafood options. Favorites are baked Salmon with lemon and Fish 'n' Chips made with tender and flaky Black Cod.
"Our community needed a place like this," Stachowski said acknowledging his sons idea. "We bring some old world charm to Georgetown."
Growing up in Buffalo, in a family that owned bars and restaurants, and then owning three restaurants of his own, Stachowski is perfectly happy now doing what he truly loves in his deli and distribution operation, and he doesn't see changing that any time soon.
"I may not have a restaurant," said Stachowski. "But I'm on every menu in this town."
For more information, please visit www.stachowskimarket.com.